Story and Photos by Christian J. Stewart (ISN)
June 10, 2015, Victoria, BC (ISN) – The Kitsap BlueJackets would erase an early 3-0 deficit to battle back and scratch out a dramatic tenth inning, 5-4 victory over the Victoria HarbourCats in West Coast League (WCL) action Tuesday evening at Sports Traders Diamond at Royal Athletic Park in Victoria.
Victoria's Chris Fougner gets tagged out at second by Kitsap shortstop Colby Brown on this stolen base attempt (Photo: Christian J. Stewart / ISN)
The HarbourCats looked like they would be on their way to a second consecutive easy win over the BlueJackets when they would score a run in the second and two in the third off Kitsap starter Lance Simpson to jump into an early 3-0 lead.
The HarbourCats runs would come courtesy of a Jackson Thoreson RBI single in the second that would score Chris Fougner, and RBIs from Kyle Francis and Kevin Collard, on a double, in the third, that would score Kevin Amezquita and Brady Rogers respectively.

Victoria's Kyle Francis would have an RBI to help the HarbourCats to an early 3-0 lead (Photo: Christian J. Stewart / ISN)
HarbourCats starter Preston Ryan, who flirted with baserunners in each of the first three innings without damage, would finally run out of luck in the fourth, issuing three one-out walks to load the bases, before giving way to reliever Sean O'Toole.
O'Toole would promptly give up a two-RBI single to Jake Scudder and another RBI single to Bautista (all runs charged to Ryan) and the score was tied.

Victoria relievers Sean O'Toole (left) and Josh Mitchell (right) would keep Kitsap scoreless through to the eighth inning, but Mitchell would give up a lead-off homer to Kitsap's Mitchell Robinson in the ninth to tie the game (Photo: Christian J. Stewart / ISN)
The 'Cats would respond with a run in the bottom of the fourth thanks to an RBI single from Amezquita and after that both bullpens took over with the HarbourCats O'Toole keeping Kitsap scoreless into the eighth and Kitsaps Cameron Weinberg and Nate Simmons keeping the 'Cats off the board over that same span.
HarbourCats closer Josh Mitchell would come in to the eighth to relieve O'Toole and stop a Kitsap rally to hold the slim 4-3 lead, but he was greeted in the top of ninth by a lead-off bomb over the left field screen by Surrey, B.C.s Mitchell Robinson, to tie the score 4-4 and send it into extra innings.

Victoria's Chris Fougner makes a nice running catch in right field (Photo: Christian J. Stewart / ISN)
In the top of the tenth, Josh Walker would take the mound for the 'Cats and after striking out the first batter, would give up a single to Caylen Cardy and a double to Jake Scudder. A sacrifice fly from Brett Bautista would then score Cardy to give the BlueJackets the 5-4 lead.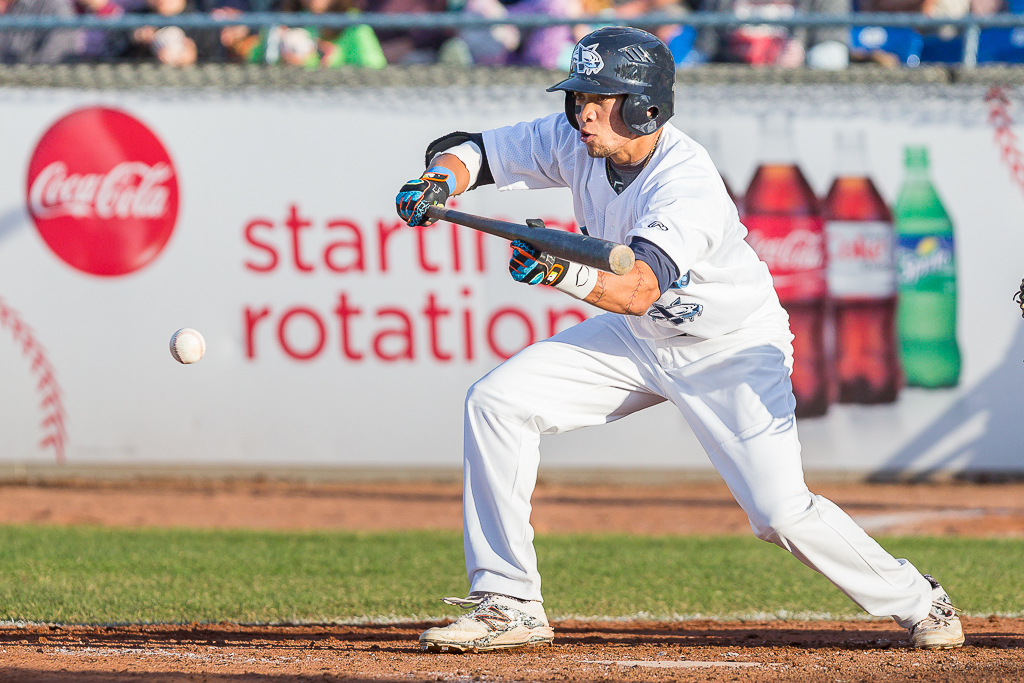 Victoria's Reno Rankin lays down a perfect sacrifice bunt during Wednesday's game (Photo: Christian J. Stewart / ISN)
The 'Cats would mount a small threat in the bottom of the tenth when pinch hitter Torin Goldstein would reach on a lead-off walk and then be sacrificed to second. That would be as far as they would get though as KItsap reliver Simmons would retire the next two batters to close out the dramatic 5-4 win.
Offensively the BlueJackets were led by Scudder, with four hits and a pair of RBIs. Bautista also had a big night with three hits, a walk and two RBIs.
For the HarbourCats, Collard had a three hit evening, including his double, with an RBI, while Thoreson chipped in a pair of hits, an RBI and a run scored.
Nate Simmons with 5 innings of scoreless relief gets credit for the Kitsap win while Josh Walker takes the loss for the HarbourCats, who fall to 2-3 on the young season.
The HarbourCats close out the three game series with Kitsap on Thursday, AFTERNOON. Yes, a 1pm start at Sports Traders Diamond at RAP, and it's SCHOOL SPIRIT DAY sponsored by Independent Sports News.

Kitsap reliver Nate Simmons would throw 5 innings of scoreless relief to get the win for the BlueJackets on Wednesday (Photo: Christian J. Stewart / ISN)
The HarbourCats hit the road after that, for games Friday-Saturday-Sunday in Bend, Oregon, then in Longview, Washington on Monday-Tuesday-Wednesday for games against the division-rival Cowlitz Black Bears.
The HarbourCats are then home to the Black Bears on Friday, June 19, the first game of a three-game set that concludes with the first FATHER'S DAY home game in team history, on Sunday, June 21.
Game Notes: The HarbourCats have made a number of roster moves in advance of and following Wednesday's game. Prior to the game the team released Victoria infielder Morgan Varley – a planned move, since he had planned to spend his summer in Ecuador on a humanitarian mission.
The HarbourCats also welcomed IF Brandon Feldman (Otero JC and a Victoria native), OF Austin Guibor (Fresno State), IF Torin Goldstein (Fresno State), C Nick Meyer (Cal Poly), and C Zach Bonneau (Washington). Guibor and Goldstein made appearances in Wednesday night's game. Joining the team in Bend, Oregon, on Friday, will be RHP Cameron Schneider from Cal Poly.
Following the game, the team released LHP Connor Suing (Western Oregon) and OF Matt Bryan (McPherson College). C Evan Willow (McPherson College) and IF Zane Takhar (Northeastern Oklahoma) have also left the team and will not be on the impending road trip as planned.
Gabe Clark, Nathan Lukes, Quentin Torres-Costa and Logan Lombana, all players from the 2014 season, have been claimed in this week's MLB draft. Clark and Lombana have been offered spots on with the HarbourCats this summer, and the team awaits their decision, with Clark expected to sign with the Jays. Lukes is expected to sign and leave Sacramento State, where he set many records. Robbie Nesovic, from UC-Santa Barbara, and Brett Helton, who played for the HarbourCats in 2013, were also selected.
Your sports. Your teams. The ISN Daily Digest.
Sign up to the ISN Daily Digest and sit back while we pick the previous day's best headlines and speed them straight to your inbox every morning.