Story and Photos by Christian J. Stewart (ISN)
June 30, 2015, Victoria, BC (ISN) – The Langley Senior Blaze emerged with a 2-1 victory over the Victoria HarbourCats in a tightly played West Coast League exhibition game on Tuesday evening at Sports Traders Diamond at Royal Athletic Park in Victoria.
The HarbourCats show off their spiffy new jerseys prior to Tuesday's exhibition game against Langley (Photo: Christian J. Stewart / ISN)
The game kicked off the Canada Day Series that will see the HarbourCats play the Blaze again tomorrow on Canada Day in a 1:05 pm start. There was also a fabulous fireworks display following Tuesday's game.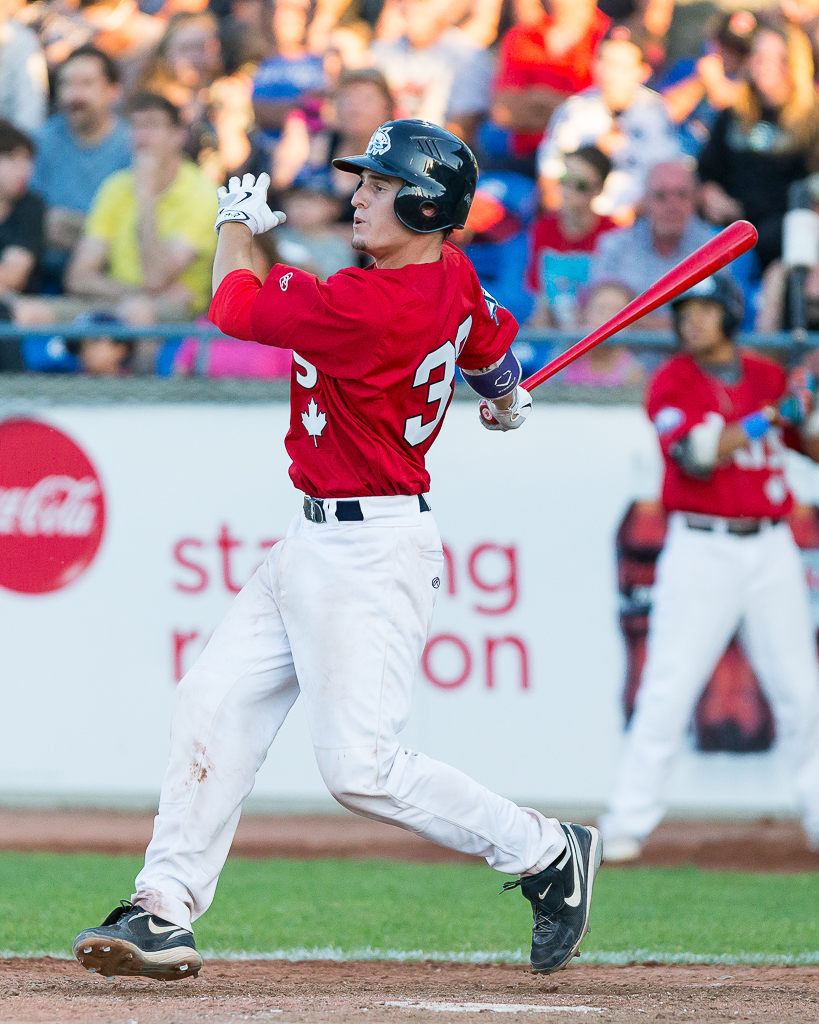 Zach Bonneau would use his shiny new red bat to bang out one of Victoria's 10 hits on the evening Tuesday (Photo: Christian J. Stewart / ISN)
The Blaze started Jordan Broatch on the hill and while he scattered ten HarbourCats hits, he was able to hold them scoreless until the bottom of the eighth when a Kyle Francis RBI single would score Jake Pries.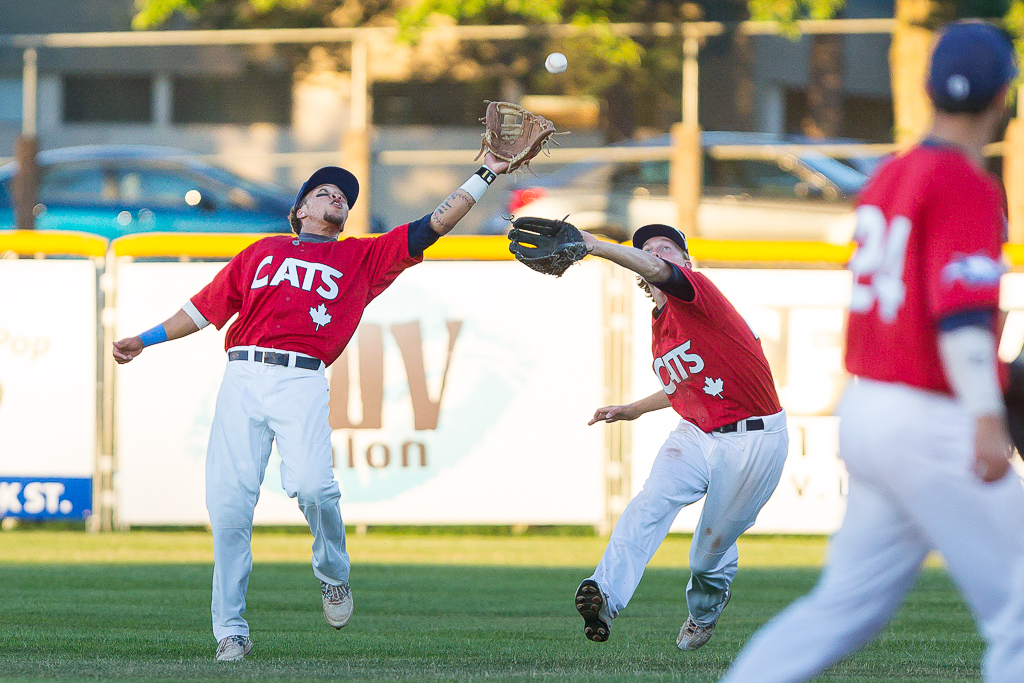 Reno Rankin (left) and Chris Fougner (right) almost collide, but Rankin would make a nice catch on this pop-up Tuesday agaist Langley (Photo: Christian J. Stewart / ISN)
That run for Victoria halved the score, as the Blaze had scored once in the third, on a RBI single by Liam Rihela and again the seventh, when the HarbourCats committed a pair of throwing errors on one play, to open a 2-0 lead before the HarborCats responded in that eighth.

Langley's Liam Rihela would have a pair of hits and an RBI against the 'Cats on Tuesday (Photo: Christian J. Stewart / ISN)
The HarbourCats would keep battling though and in the bottom of the ninth, after a Torin Goldstein single and walks to Reno Rankin and AlexDeGoti, the latter by Langley reliever Davis Dejarlais, the 2,441 in attendance were hopeful for a second HarbourCats walk off win in a row, as Jake Pries came to the plate.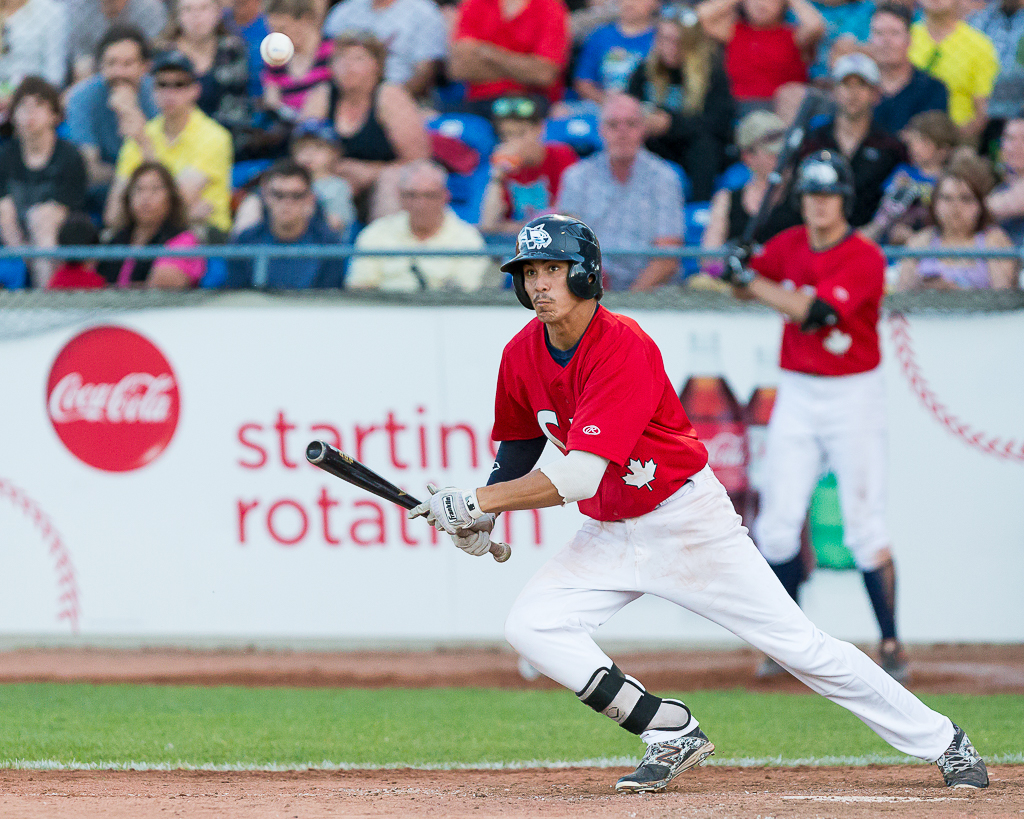 Victoria's Kevin Amezquita would have a pair of hits, as well as a nice sacrifice bunt in the eighth (Photo: Christian J. Stewart / ISN)
The walk-off would not happen though, as Pries would scorch a hard one-hopper to third, where Langley third baseman Bob Foerster made a great play to snag it, step on third and then throw across to first for the game-ending double play.

The Blaze would use some solid defence to secure their win Tuesday including this sixth inning double play turned by shortstop Liam Rihela (Photo: Christian J. Stewart / ISN)
For Langley, Keenin Chanin and Rihela led the way with two hits each, with Chanin and Mason Verge scoring the Blaze runs. Kyle Francis led the way for Victoria with three hits and the only RBI, while Kevin Amezquita had a pair of hits.

Langley first baseman Scott Webster would fight a losing battle with the sun while trying to catch this throw from third on a Reno Rankin ground ball (Photo: Christian J. Stewart / ISN)
Broatch with his 8.1 innings of work gets the win, while Desjarlais gets the save. The loss was given to Victoria starter Matt Blais, even though he only pitched three innings, giving up one run on five Blaze hits. Shawn Kennedy, Sean O'Toole and Alex Rogers also saw relief action, with the second Langley run coming off O'Toole.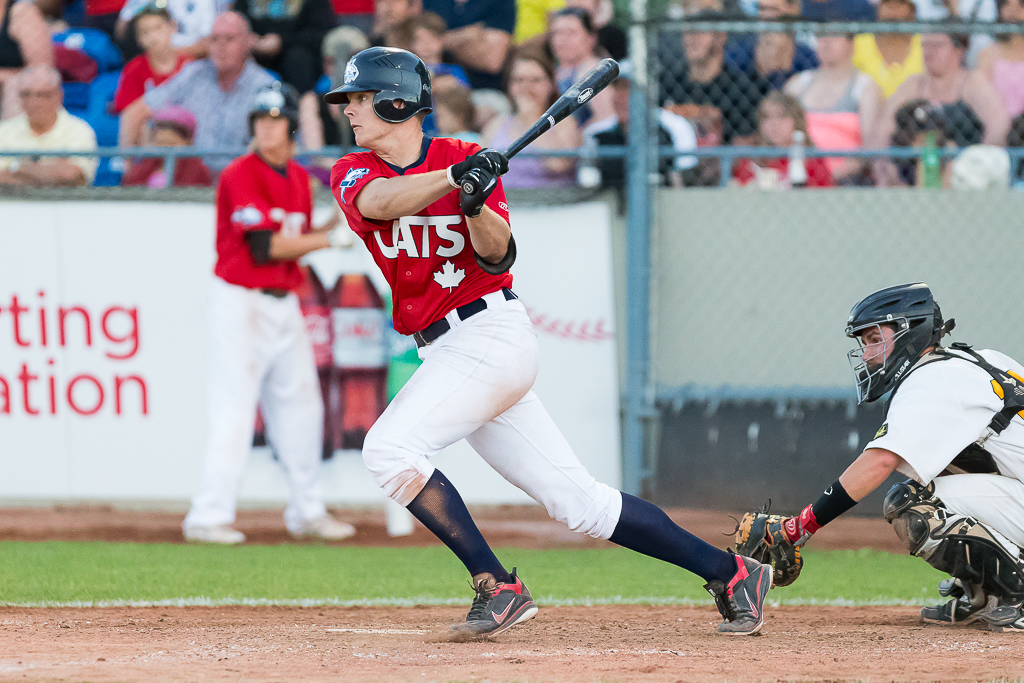 Kyle Francis would have a nice day at the plate with three hits and an RBI against Langley (Photo: Christian J. Stewart / ISN)
The 'Cats and Blaze are back at it in a 1:05 pm start on Canada Day. The game will feature paratroopers and an Oath of Canadian Citizenship prior to the game. Get your tickets now and come enjoy a great day at the park and then head downtown to enjoy the Canada Day festivities.

Langley second baseman Michael Dagg prepares to throw to shortstop Liam Rihela who was covering third, in an effort to catch HarbourCats baserunner Ben Polshuk in this eighth inning rundown Tuesday (Photo: Christian J. Stewart / ISN)
Game Notes: The HarbourCats were wearing spiffy new "Cats" red jerseys tonight in honour of Canada Day tomorrow. They are sure to be popular with fans. AJ Alcantara was a late scratch from Tuesday's line-up due to a lower body injury. Twelve Langley batters struck out in the game compared to just three for Victoria. The Cats outhit the Blaze 10-9. Game time was a short (ish) 2:54 forcing the 'Cats promo team to kill some time before the fireworks began just before 10:00 pm.
Your sports. Your teams. The ISN Daily Digest.
Sign up to the ISN Daily Digest and sit back while we pick the previous day's best headlines and speed them straight to your inbox every morning.