Story and Photos by Christian J. Stewart (ISN)
June 19, 2017, Victoria, BC (ISN) – Victoria pitcher Adam McKillican worked a stellar, one-hit performance through 6.2 innings of work and the HarbourCats scored six runs in their last three at bats to defeat the Port Angeles Lefties 6-1 in West Coast League action Monday afternoon at Royal Athletic Park in Victoira.
Port Angeles shortstop Seth Freed awaits the throw as Victoria's Davis Wendzel slides safely into second on this steal attempt Monday (Photo: Christian J. Stewart)
The 6'4″ McKillican, pitching in front of 3,137 fans – mostly elementary school students on School Spirit Day – gave up his only hit in the first inning, a double to the Lefties Jake Portaro and then promptly retired the next 17 batters in a row before Portaro reached again in the seventh on an error.
Victoria's Kevin Collard tries to avoid the tag from Port Angeles first baseman Michael Ciancio on this pick-off attempt Monday. Collard was called out on the play (Photo: Christian J. Stewart)
A two-out walk to Michael Ciancio later in the inning ended McKillican's day and he gave way to right-hander Taylor Prokopis who did his job in fine fashion, using one pitch to get Sean Roby to fly out to left field to end the inning and keeping the shut-out intact to that point.
Meanwhile, the HarbourCats offence was taking its time getting going against Port Angeles starter Cam Walker and fourth inning reliever Keiran Shaw, who both kept the 'Cats off the board through five innings of play.
Davis Wendzel had a good debut for the HarbourCats with a triple, two RBIs, two runs scored, a walk and a stolen base in the 6-1 win over Port Angeles (Photo: Christian J. Stewart)
Victoria would finally break through on Shaw in the bottom the seventh on a RBI-single from Kekai Rios that scored Tucker Johnson, who had earlier doubled.
In the seventh, the HarbourCats would tack on four more runs, taking advantage of Lefties' reliever Garrett Smith, who walked four batters in the inning and gave up a run on a wild pitch, but also gave up a 2-RBI triple to the 'Cats Davis Wendzel and an RBI-single to Johnson.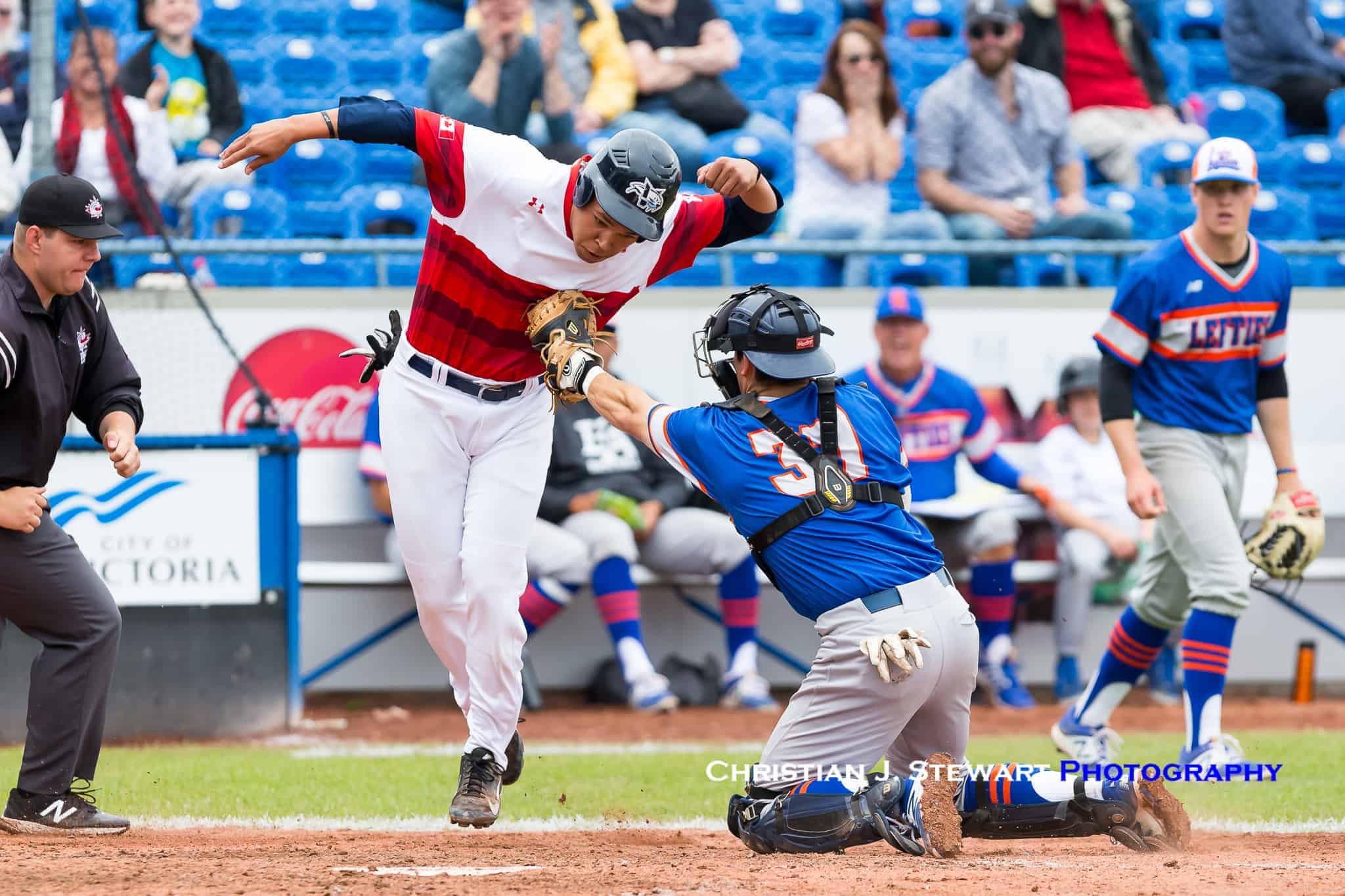 HarbourCats baserunner DJ Porter does his best to avoid the tag from Port Angeles catcher Benny Kaleiwahea during this play at the plate Monday. Porter was out on the play (Photo: Christian J. Stewart)
Victoria would add another run in the eighth, courtesy of a RBI-double from DJ Porter that scored Wendzel and that would be enough for two-inning closer Travis Kuhn, who gave up a run to the Lefties in the top of the ninth, but shut it down after that to preserve the 6-1 win.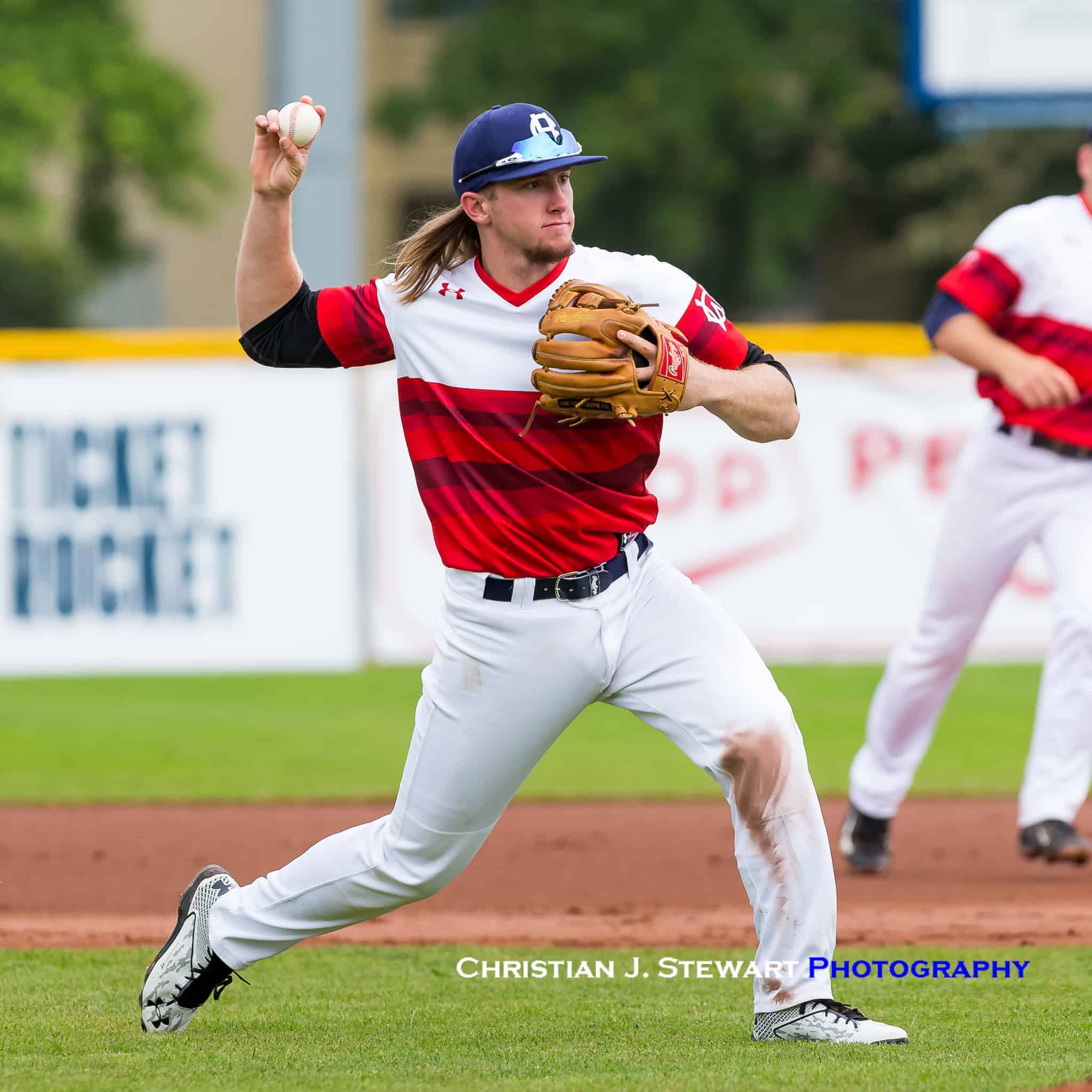 Victoria's Davis Wendzel also had a busy day in the field at third Monday, with five assists (Photo: Christian J. Stewart)
The HarbourCats had 11 hits in total on the day, two each from Johnson and Kevin Collard, including a double. Wendzel also scored twice and had a pair of RBIs.
Victoira's Tucker Johnson, with a double and a single Monday has now hit safely in four of the five games he has played since joining the team (Photo: Christian J. Stewart)
McKillican gets the win to move to 2-0 on the season, but more importantly move the HarbourCats to 8-8 on the season and keep them within two games of North Division leading Bellingham. The win also keeps the HarbourCats undefeated (4-0) against the Lefties this season in the Battle of the Strait of Juan deFuca.
Port Angeles second baseman Kevin Kendall dives over a sliding Tucker Johnson in an effort to catch an errant throw on this steal attempt in Monday's game (Photo: Christian J. Stewart)
Next up for the HarbourCats are the South Division leading Corvallis Knights who come to town Tuesday for the first time in three years to open a three-game set with the HarbourCats. Walla Walla then comes in Friday to begin the HarbourCats first full weekend home series of the season. All games are scheduled for 6:35 pm starts, except for Sunday's finale with the Sweets which goes at 1:05 pm.
DJ Porter had a 2-RBI double Monday to give the HarbourCats an insurance run in the eighth (Photo: Christian J. Stewart)
Cat Scratches: Outfielder Will LaRue who injured himsef sliding into second base on Sunday has been diagnosed with a dislocated shoulder and will be heading home Tuesday for rehab. Infielder Andrew Vaughan will also be leaving Tuesday to join the USA National Collegiate team. Pitcher Radd Thomas (UCSB) arrived Monday and will likely suit up for Tuesday's game with Corvallis. Also expected to arrive Tuesday is catcher Shane McGuire.