Story and Photos by Christian J. Stewart (ISN)
June 29, 2017, Victoria, BC (ISN) – In one of the wackiest baseball games to be played perhaps ever at Royal Athletic Park, the Victoria HarbourCats scored 10 runs in their last four at bats, including six runs in the bottom of the ninth inning, to overcome 7-1 and 11-6 deficits and walk-off with a 12-11 victory over the Cowlitz Black Bears in West Coast League (WCL) action Thursday in Victoria.
The dramatic comeback, in a game that featured 10 different pitchers – five for each team – and 36 hits – 21 for Cowlitz and 15 for Victoria – gave Claire Eccles, who entered the game and pitched the top of the ninth, the win, her first ever in the WCL and sent the just over 1,000 fans in attendance home with big smiles on their faces.
Victoria started Xavier University's Matt Kent on the hill and he acquitted himself well, working his way out of trouble a few times and escaping with a 1-1 tie through his three innings of work, giving up five hits in the process.
The HarbourCats actually gave Kent a 1-0 lead in the bottom of the first, thanks to an RBI double from Kevin Collard off Bears starter Davis Baillie that scored Hunter Vansau, but the Black Bears would get that run right back in the top of the second on a Jace McKinney single that scored Nick Roberts.
The Black Bears offence would kick into high gear in the middle frames, scoring three runs off reliever Jack Tagget in the fourth and another three off Connor Whitney in the sixth to open what seemed like an insurmountable lead.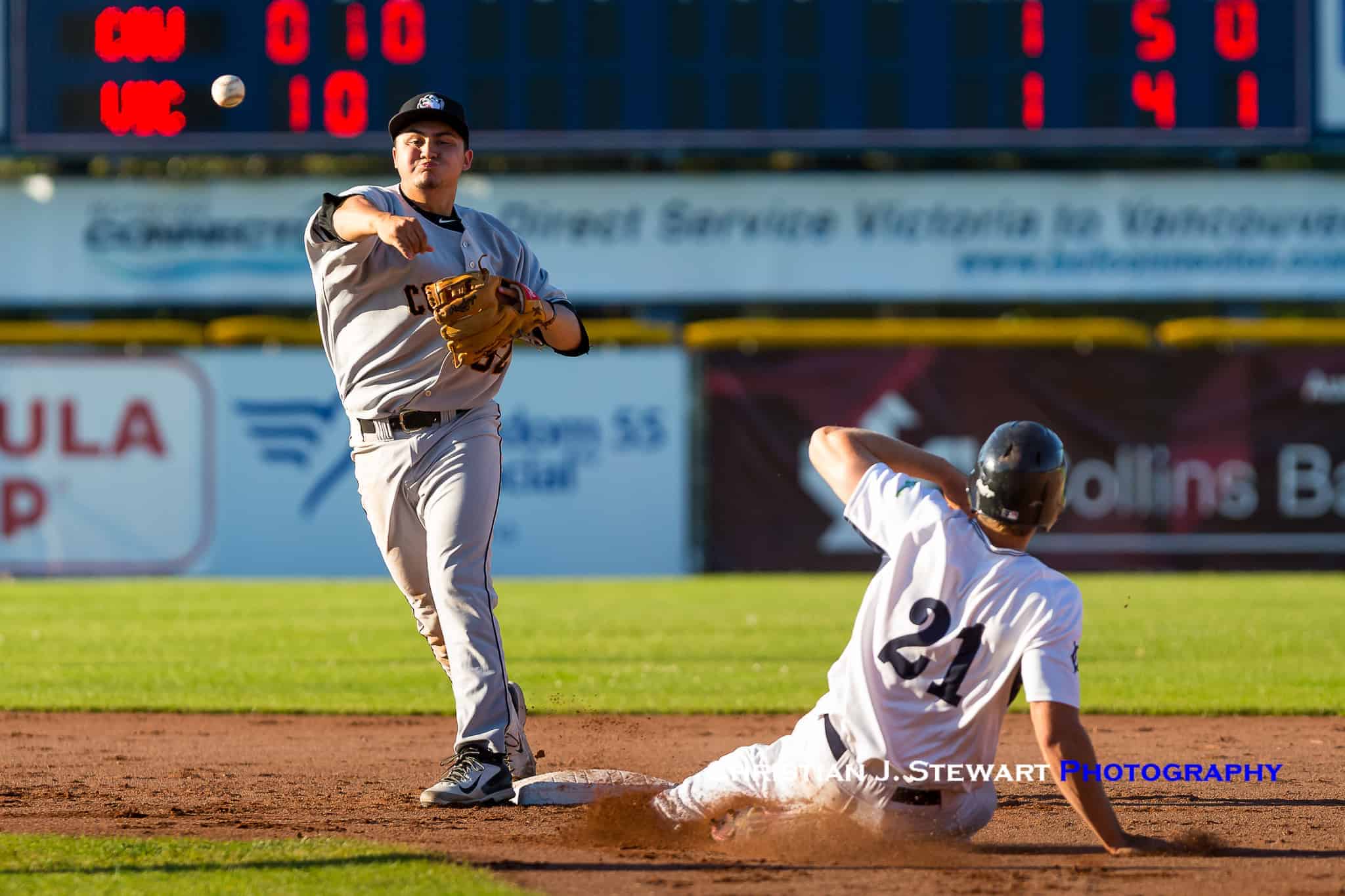 The teams exhanged runs in the bottom of the sixth and top of the seventh respectively and then the HarbourCats, who this year seem to have a knack for scoring runs in the latter innings, finally began to find their bats and thanks to a Riley Zayicek three-run homer in the bottom of the seventh, pulled to within three at 8-5.
A Kona Quiggle two-run blast in the top of the eighth upped the Bears lead to 10-5, again seeming to dash any comeback hopes.  Victoria's Tanner Rempel would get one of those back with a solo shot of his own in the eighth, but another Cowlitz insurance run in the top of the ninth, off HarbourCats Eccles, pushed the lead to 11-6.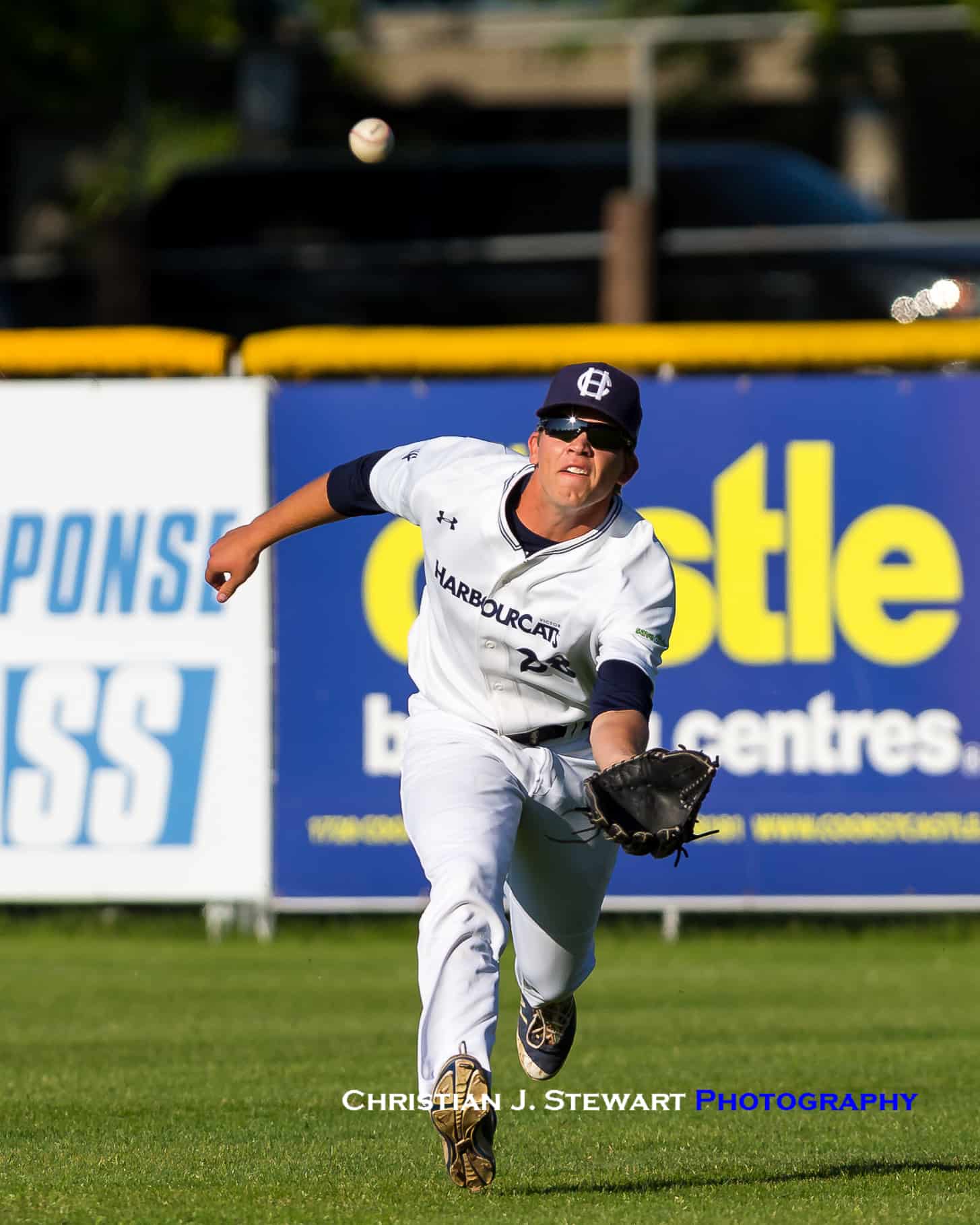 Victoria kept battling however and in the bottom of the ninth, Zayicek led off the inning with a single and then came home to score on a two-run homer from Vansau, his fourth hit of the evening.  Harrison Bragg then singled for his third hit of the night and then a two-run homer to left by Collard, also his third hit of the night, cut the lead to one, 11-10.
Enter Ethan Lopez who was hit by a pitch and newcomer Andrew Shaps who walked, with both advancing on a wild pitch from Cowlitz reliever Kevin West. After pinch hitter Po-Hao Huang was hit by a pitch, Lopez would then come in to score on another wild pitch tying the game 11-11.
That set the stage for Noah Prewett, who after fouling off four pitches in a row, stroked a base hit, his second of the night, to score Shaps and give the HarbourCats and Eccles the incredible win.
Lost in the HarbourCats comeback was a pretty impressive offensive performance from the Bear's  Devlin Granberg who had three hits, including a home run and a double, four RBIs and a pair of runs scored. Ryan Kim also had a four-hit night with a double and a pair of RBIs, while Roberts finished with three hits and a pair of runs scored. Jace McKinney also chipped in three hits in the losing cause.
The HarbourCats comeback also put a bit of a dent in the Black Bears first-half South Division playoff hopes, as in a quirk of WCL scheduling, heading into tonight's action, Cowlitz still had six games to play in the first half and at 3.5 games back of Corvallis in the South Division, have a mathematical shot at the Division title.  Thus, every game for them in this series has some deeper meaning and tonight's loss hurt those chances significantly, as they now fall four games back of the idle Knights.
Victoria on the other hand, had just two games remaining in their first-half schedule and given that they started the night 3.5 games behind Division leading Kelowna (15-9), they have no chance of winning the first-half title, so tonight's win will go down as an incredible character builder and a game that will get them nicely prepared for Friday's Fireworks NIght and then Saturday's matinee finale with Cowlitz that will will be the 'Cats first game of the second half and one that then counts toward a possible second-half Division win and ultimate playoff spot.
Game time for Friday's match is set for 6:35 pm with Isaac Mullins getting the start for Victoira while Corbin Powers goes for Cowlitz.  After the game, fan will be treated to an 18-minute fireworks show, which many feel is one of the best around.
Saturday's Canada Day matinee starts at 1:05 pm and the 'Cats will roll out 3-0 Adam McKillican while Cowlitz will start Nico Tellache.