Story and Photos by Christian J. Stewart (ISN)
August 23, 2017, Victoria, BC (ISN) – The Baseball Canada Senior Men's Championships kicked off in Victoria on Wednesday night, with the first ever "Harbour Derby" in Canadian history, where participants from each of the teams in the tournament tried to hit home runs into the ocean between the cruise ship piers at Ogden Point in the outer Harbour.
"Tried" was the operative word on this night, as a stiff ocean breeze blowing straight in off the water toward the batters severely limited anyone's ability to reach the boom in the water, approximately 316 feet from home plate at its closest distance.
A few batters came close despite the breeze, with Dartmouth's Jake Sanford being named the winner thanks to his longest shot that landed just a few feet short of the target.
Despite the lack of home runs at the home run derby, the players and fans had a good time watching the event in a unique environment and a group of kayakers got their exercise in, retrieving balls from the water and returning them to the pier to be used again.
Wednesday's fun event was a precursor to the more serious tournament that begins in earnest Thursday morning at 9:00 am with games at Royal Athletic Park (RAP) and Lambrick Park in Victoria.  Other games on Thursday go at Noon and 3:00 pm at both parks, with opening ceremonies at 6:15 pm at RAP followed by the host Victoria Mavericks playing New Brunswick at 7:00 pm.
On Friday, games continue at 9:00 am, Noon, 3:00 pm and 7:00 pm at RAP, while games at Lambrick go at Noon, 3:00 pm and 6:00 pm. Saturday sees round-robin games at 8:00 am, 11:00 am and 2:00 pm at both parks, while quarter-final games take place at 5:00 and 8:00 pm at RAP.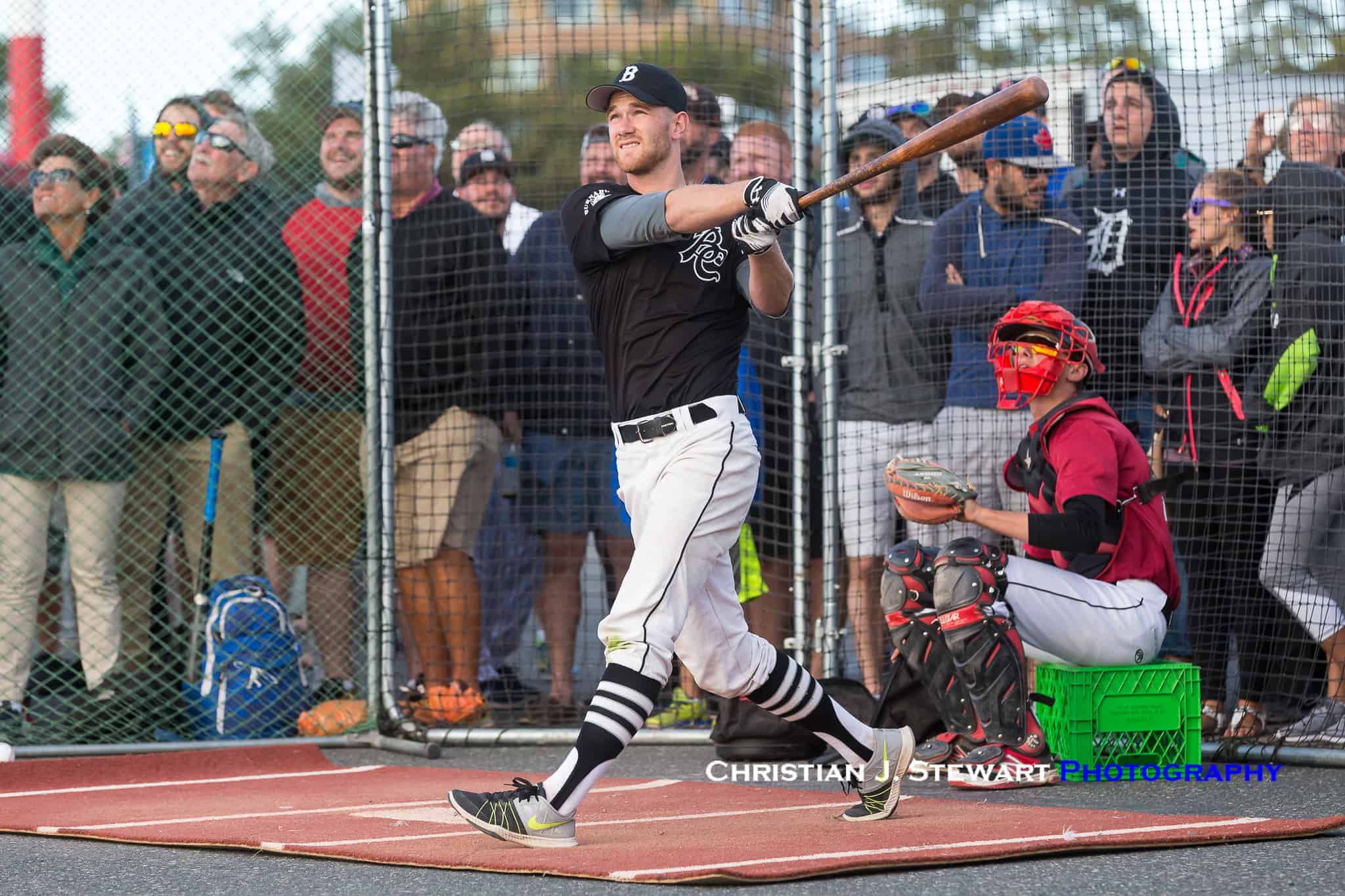 Team BC's Josh Larson watches his bid for a home run head toward the water on Wednesday night (Photo: Christian J. Stewart)
Final day action is all at RAP, with semi-final games at 9:00 am and Noon, with the bronze medal game at 4:00 pm and the championship final at 7:00 pm.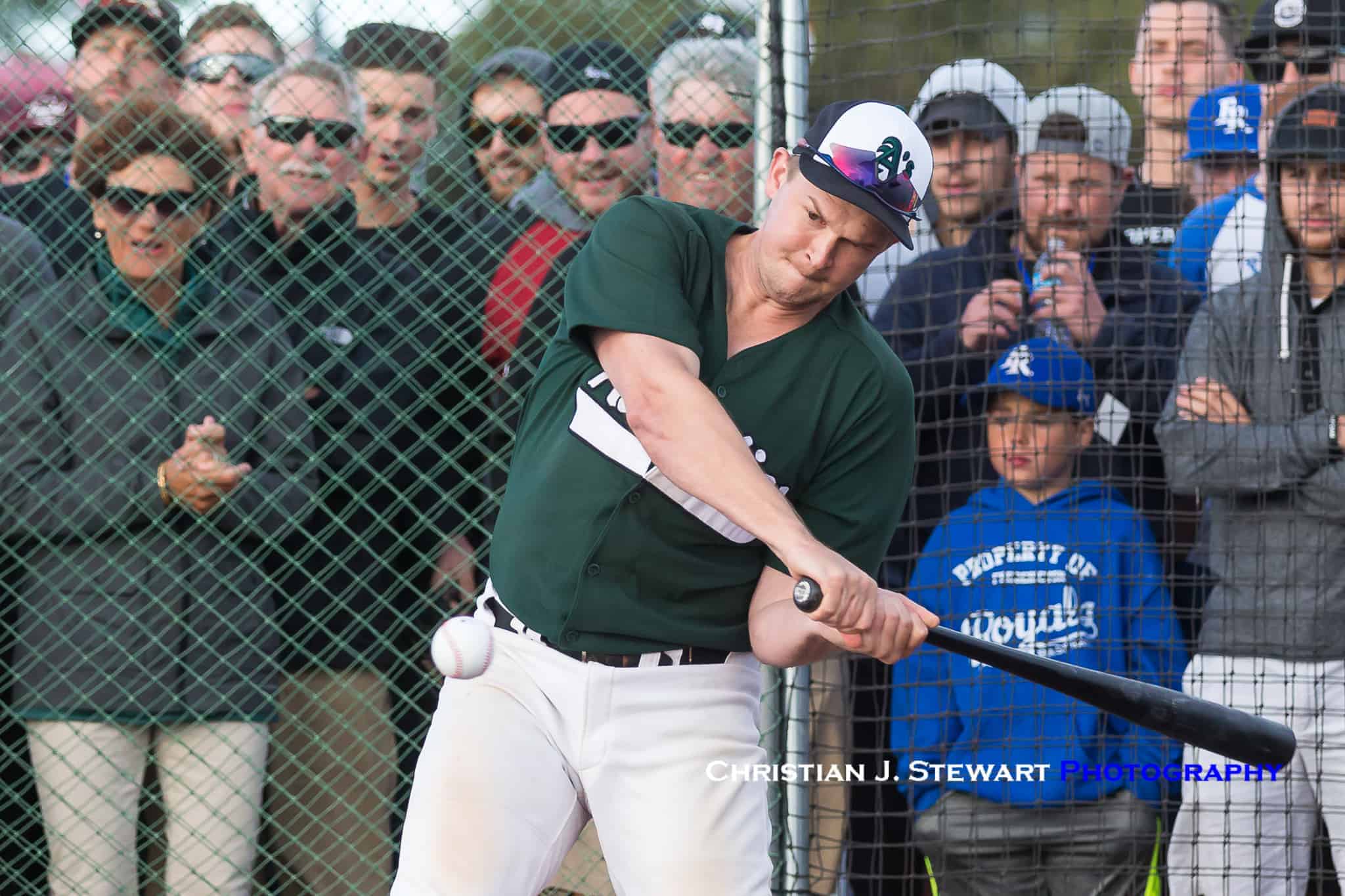 The teams in the tournament include the host Victoria Mavericks, British Columbia (represented by the Burnaby Bulldogs), Alberta 1 (represented by the Sherwood Park Athletics), Alberta 2 (represented by the Red Deer Riggers), Manitoba (represented by the Winnipeg SBL), Ontario 1 (represented by the Tecumseh Thunder), Ontario 2 (represented by the Mississauga SW Twins), Nova Scotia (represented by the Dartmouth Moosehead Dry), New Brunswick (represented by the Fredericton Royals) and Newfoundland and Labrador (represented by the RMM Gonzaga Vikings).
The host Mavericks play round-robin games Thursday at 7:00 pm (New Brunswick), Friday at Noon (Techumseh – Ontario 1), Friday at 7:00 pm (Red Deer – Alberta 2) and Saturday at 2:00 pm (Manitoba). All the Mavericks games take place at RAP.
British Columbia is represented by the Burnaby Bulldogs who open the tournament at 3:00 pm against Sherwood Park -Alberta 1 at RAP. They continue at RAP on Friday morning at 9:00 am against Nova Scotia and 3:00 pm against Mississauga SW -Ontario 2. They close their round robin Saturday at Lambrick Park, taking on Newfoundland and Labrador at 2:00 pm.
For details on the tournament including scores and schedules, visit the Baseball Canada web site at http://old.baseball.ca/seniormen/index_eng.cfm?