UBC speedster Trivel Pinto, along with Calgary Dinos Sterling Taylor and Niko DiFonte have been named the Canada West football players of the week.
Pinto sparked the Thunderbirds Saturday in their 30-11 win over the Alberta Golden Bears, as UBC secured a playoff spot for the fourth consecutive season. The receiver and return man accounted for 294 all-purpose yards in the victory.
Meanwhile, the Calgary Dinos ran their record to a perfect 7-0, with Taylor recording a pair of fumble recoveries, a pass break up, but most importantly a Canada West record 110-yard interception return for a touchdown.
On special teams, DiFonte went 4-for-5 on field goals, including a long of 51, as Calgary cruised to a 58-6 victory over the Regina Rams.
CW OFFENSIVE PLAYER OF THE WEEK: REC – Trivel Pinto
UBC Thunderbirds
4th-year
Toronto, Ont.
Arts
STATS: 11 receptions for 198 yards, one receiving touchdown, and 96 return yards for 294 all-purpose yards
Dynamic receiver and return man Trivel Pinto helped propel the UBC Thunderbirds into the playoffs Saturday, as the fourth-year posted 198 receiving yards, along with 96 return yards in a 30-11 win over Alberta.
Pinto hauled in 11 catches, as UBC ran their record to 4-3, clinching a Canada West playoff spot in the process. His 198 receiving yards are the most in a CW conference game this season, as the Toronto, Ont. product leads the conference in yards per game, averaging 121.7 in six games played.
The Arts student found the end zone once Saturday, giving UBC a 6-0 lead thanks to a 13-yard TD pass from Michael O'Connor on the final offensive play of the first quarter.
UBC now looks to secure a home semifinal date this weekend when they take on the Manitoba Bisons (Saturday, Oct. 27 / 2 p.m. CDT).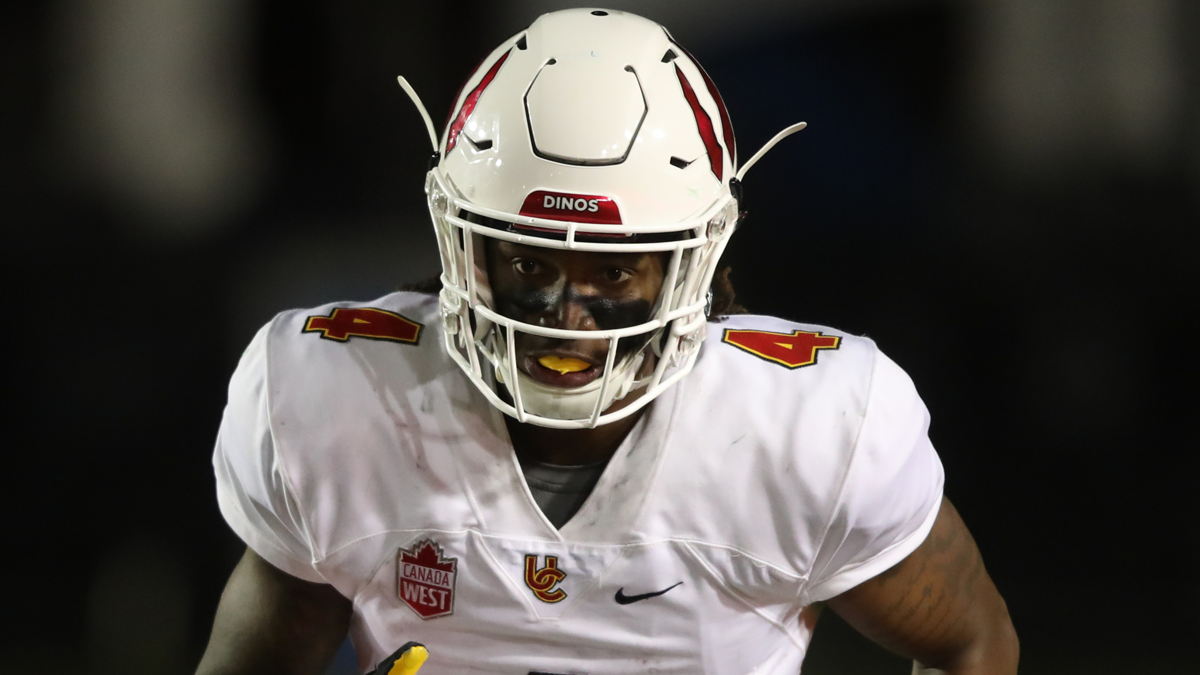 CW DEFENSIVE PLAYER OF THE WEEK: DB – Sterling Taylor
Calgary Dinos
4th-year
Atlanta, Ga.
Arts
STATS: 110-yard interception return for a TD (CW record), two fumble recoveries, pass breakup, and two tackles
With his dad travelling more than 3,000 kilometres from Atlanta, Georgia to Calgary to see his son play, Sterling Taylor IV didn't disappoint.
After redshirting last year as a transfer from Murray State University, Taylor posted his best game as a Dino in a dominant 58-6 win over the Regina Rams.
Taylor recovered a pair of fumbles, and recorded a pass breakup for the Dinos, but those stats paled in comparison to the longest defensive play in Canada West history.
With under a minute to play in the third quarter, Taylor picked off Rams quarterback Josh Donnelly on the Calgary goal line, and ran the interception back the distance for the major.
The 110-yard interception return surpassed the previous record of 109 yards held by former Saskatchewan Huskie Eric Duchene, who was the Canada West record holder since 2001. Taylor's play is tied for third in the U SPORTS national record book, with the record held by Guelph's Don Williams, who posted a 112-yard interception back in 1981.
Calgary concludes the regular season Saturday in Edmonton, as the Dinos look for the fourth perfect 8-0 season in program history (Saturday, Oct. 27 / 1 p.m. MDT).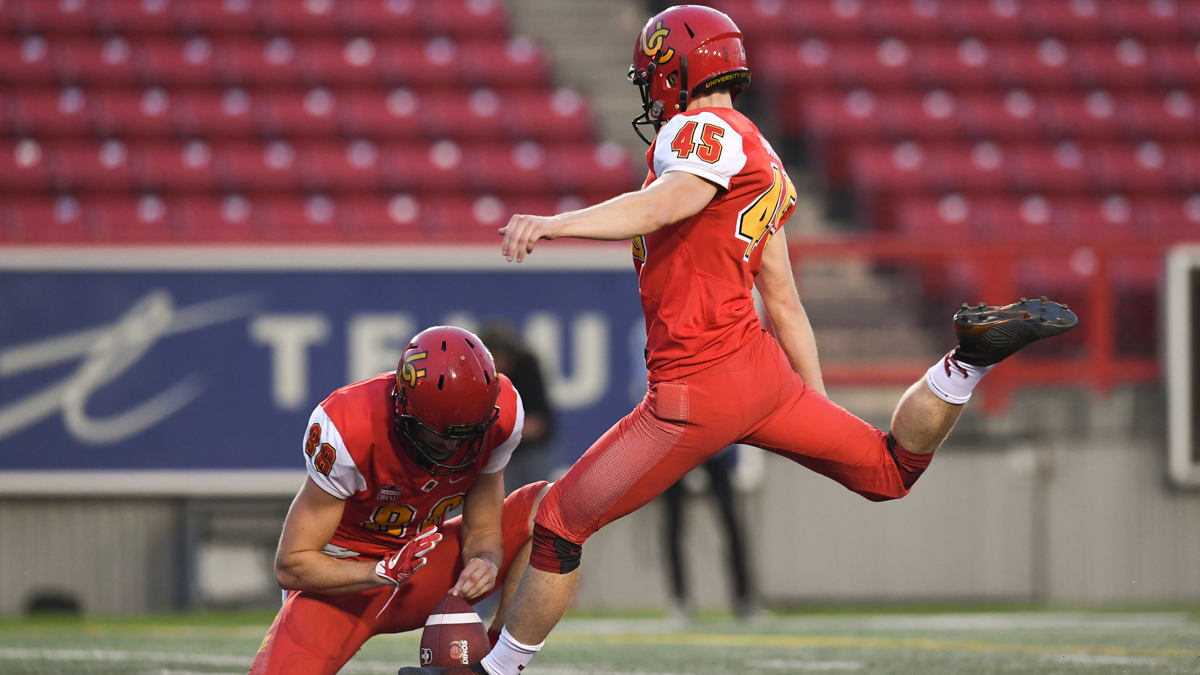 CW SPECIAL TEAMS PLAYER OF THE WEEK: K – Niko DiFonte
Calgary Dinos
3rd-year
Winnipeg, Man.
Arts
STATS: 4-for-5 on field goals, 6-for-6 on extra points, 2 rouges, 20 total points
The conference's top kicker continued his stellar season Saturday, as Calgary Dino Niko DiFonte accounted for 20 total points in a 58-6 win over Regina.
DiFonte, who leads the conference in field goal percentage (minimum 10 attempts) at 81 per cent, made four field goals – including a long of 51 – in Calgary's decisive victory.
The Winnipeg, Man. native leads the conference in points this season with 90, and also has the conference's longest field goal at 52 yards. Of DiFonte's 17 field goals this season, which is tied for tops in the conference, seven are from 40 yards or beyond.
DiFonte is looking to make his final case to be a conference all-star this Saturday, when the Dinos visit the Bears in the Alberta capital.