UBC quarterback Michael O'Connor, Manitoba defensive lineman Kent Hicks, and Calgary kicker Niko DiFonte are headed to the Canada West playoffs in style.
The trio were named the CW football players of the week Monday, as the trio now prepare for the Hardy Cup Playoffs, which open this Saturday with semifinal action.
O'Connor spurred a second half comeback for his Thunderbirds Saturday against Manitoba, as UBC used 25 points after half to secure a 38-34 overtime win over the Bisons in Winnipeg.
While his team came up short, Hicks had a big day for Manitoba defensively, posting six tackles – 2.5 of which were sacks – to go along with a forced fumble.
In Edmonton, Calgary Dinos kicker Niko DiFonte finished the regular season going a perfect 7-for-7 on field goals. That mark tied a CW conference record for field goals in a game, as DiFonte put the finishing touches on one of the best placekicking seasons in conference history.
CW OFFENSIVE PLAYER OF THE WEEK: QB – Michael O'Connor
UBC Thunderbirds
4th-year
Unclassified
Orleans, Ont.
STATS: 36-for-49, 467 yards, 4 touchdowns
Liftoff took a while Saturday for the UBC Thunderbirds, but when they finally got air born, it was Michael O'Connor who played a big role in making it happen.
The veteran quarterback posted his biggest day of the season Saturday in UBC's 38-34 come from behind overtime win over the Manitoba Bisons.
Trailing 31-13 at the half, O'Connor and the UBC offence rallied in the second half, scoring 18 points to send the game to overtime. A Ben Cummings TD reception from O'Connor was the game's winning score in overtime, as the T-Birds defence also upped their game, shutting Manitoba out in the third and fourth quarters.
By the time the dust had settled on O'Connor's big day, he had posted 467 passing yards, and tossed four touchdowns, while going 36-for-49.
The win secured second for UBC in the CW standings, as the Thunderbirds will now host the Saskatchewan Huskies in a CW semifinal on Saturday, Nov. 3 (2 p.m. PDT).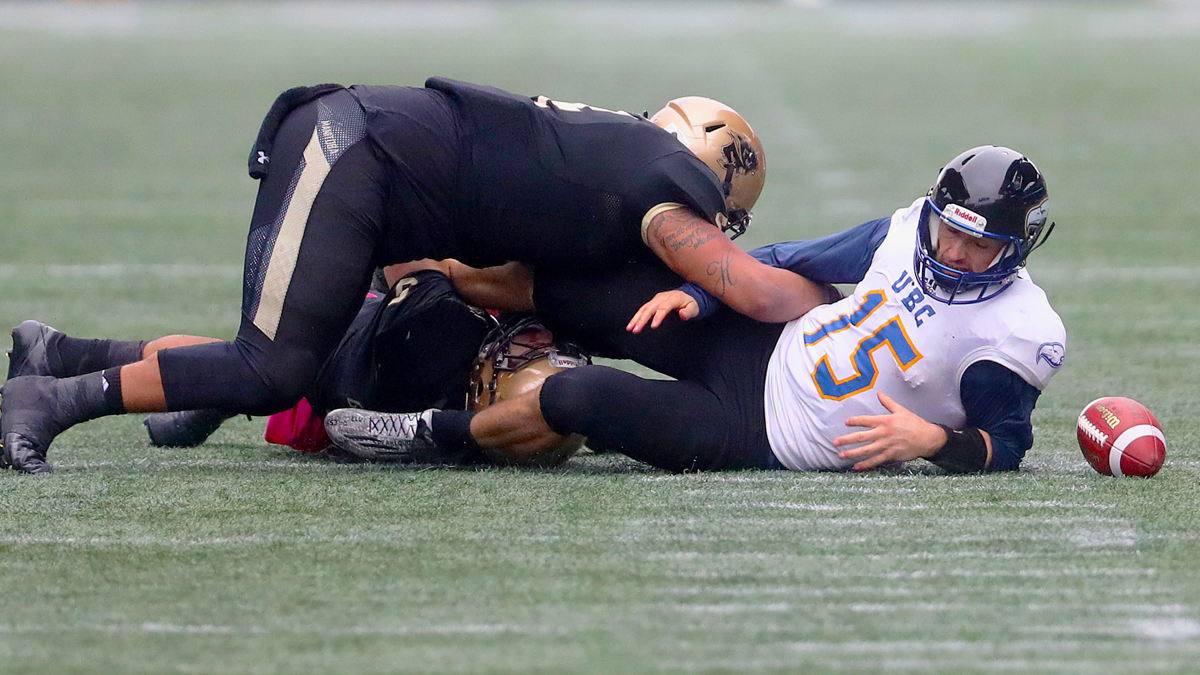 CW DEFENSIVE PLAYER OF THE WEEK: DL – Kent Hicks
Manitoba Bisons
4th-year
Arts
Abbotsford, B.C.
STATS: 6 tackles, including 2.5 sacks, and a forced fumble
Despite coming out on the wrong end of the 38-34 scoreline to UBC, Manitoba Bisons defensive lineman Kent Hicks had a strong day individually.
The fourth-year Arts student registered six total tackles, with 2.5 of those coming via sacks. Hicks sack tally was the highest single-game total in the conference this season, and the eighth multi-sack game across the conference in 2018.
Hicks also forced a fumble on the afternoon when he sacked O'Connor, as the 'Birds were driving late in the first half.
A native of Abbotsford, B.C., Hicks finished the season with 18 total tackles, including 3.5 sacks for Manitoba, who will face Calgary this Saturday in the Hardy Cup semis at McMahon Stadium (12 p.m. MDT).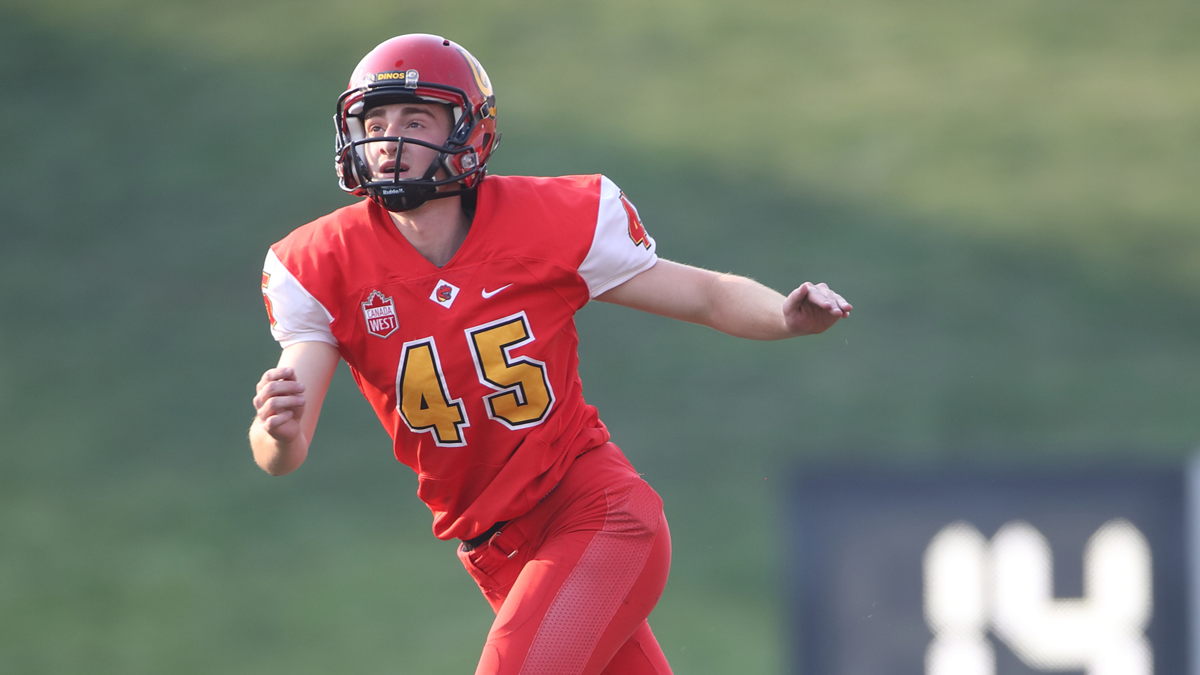 CW SPECIAL TEAMS PLAYER OF THE WEEK: K – Niko DiFonte
Calgary Dinos
3rd-year
Arts
Winnipeg, Man.
STATS: 7-for-7 on field goals, 4-for-4 on extra points, 28 total points
Calgary Dinos kicker Niko DiFonte put his name in the CW record book Saturday, booting seven field goals against the Alberta Golden Bears in a 52-6 road win for the Dinos.
DiFonte's seven field goals tied a CW single-game record, as he joined Saskatchewan's Matt Kellett (Nov. 2, 1996 vs. Alberta), and Shawn McIsaac (Sept. 13, 2008 vs. Manitoba) as the only players in conference history to make seven field goals in the same game.
Along with scoring 21 points via field goal for Calgary, DiFonte added four extra points, and a trio of points via the rouge to end the day with 28 points.
The third-year Arts student finished the season with 24 field goals on the season, which sits second in the CW record book behind only Johnny Mark's total of 26 (Calgary – 2015).
DiFonte also earned a place in the conference record book for points in a single season, as he wrapped up 2018 with 107, which sits fifth all-time.
After their perfect 8-0 regular season, Calgary hosts Manitoba this Saturday in a Hardy Cup semifinal (12 p.m. MDT).