Hockey Canada recognized this passion and dedication to the game at the organization's Spring Congress in the nation's capital. Congratulations to the seven award recipients, and a heartfelt thank you to all volunteers who tirelessly give their time every season.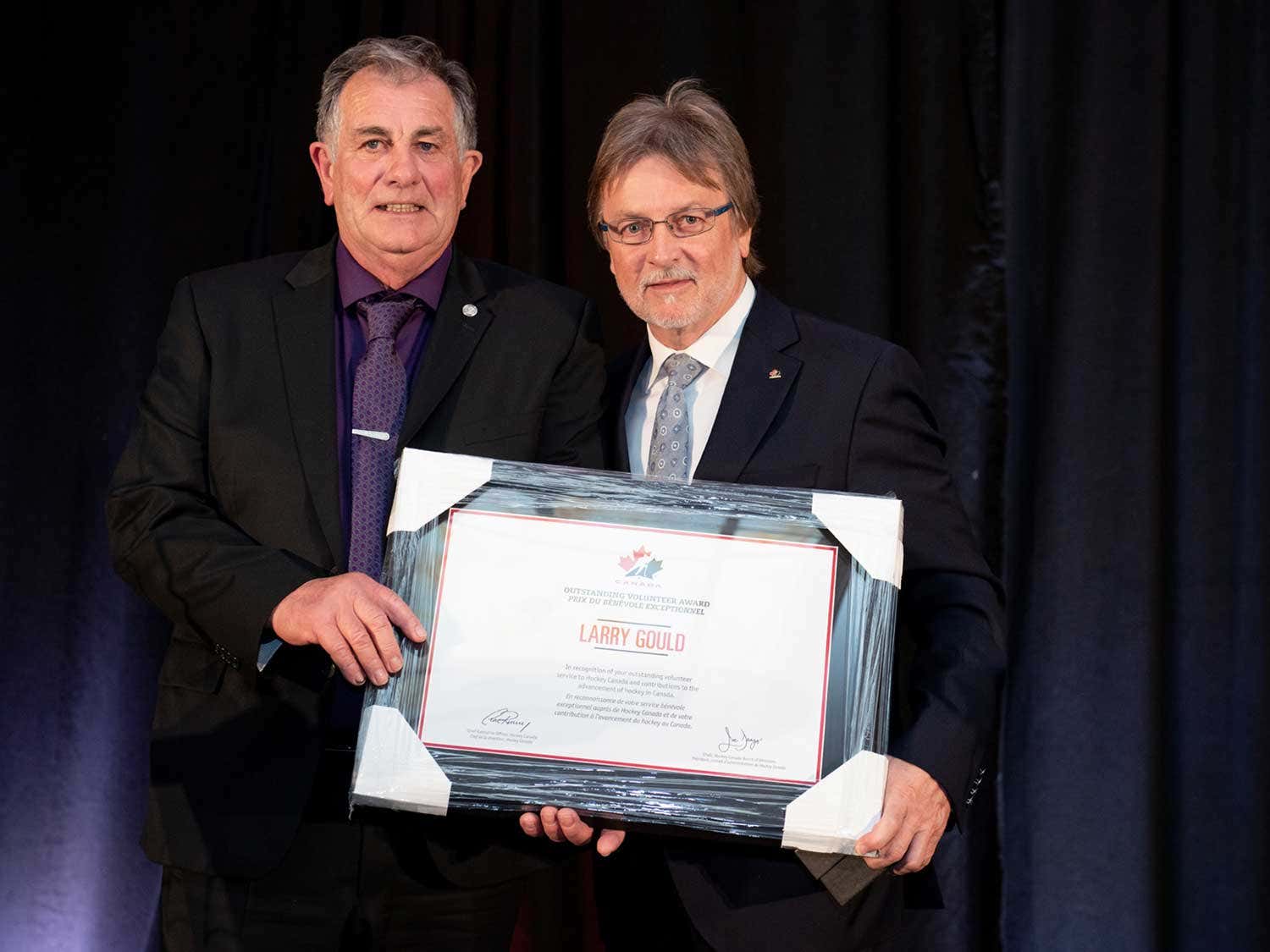 Outstanding Volunteer Award – Larry Gould
To the residents of Schomberg, Ontario, he's known simply as 'Coach Larry.' For the last 50 years, Larry Gould has been a fixture behind the bench, as familiar a site at a rink as a pyramid of pucks and players themselves. As he celebrates his golden anniversary as a coach, Hockey Canada recognizes Larry Gould as its 2019 Volunteer of the Year.
Larry spent 48 years coaching with the Schomberg Minor Hockey Association, longer than any other coach in the organization's history. Part of what has made Larry such a gifted teacher and mentor is his willingness to be a student himself. Understanding there's always something new to learn, he's long been an advocate for coaching programs and continues to update his coaching certification.
Larry's generosity has helped make the game what it is today in Schomberg and the surrounding townships. He has received lifetime achievement awards, volunteer awards and even the Sovereign's Volunteer Medal from the Governor General's Office. His exceptional dedication, leadership, commitment and voluntary contributions to minor hockey have allowed generations of players to enjoy and be enriched by the game.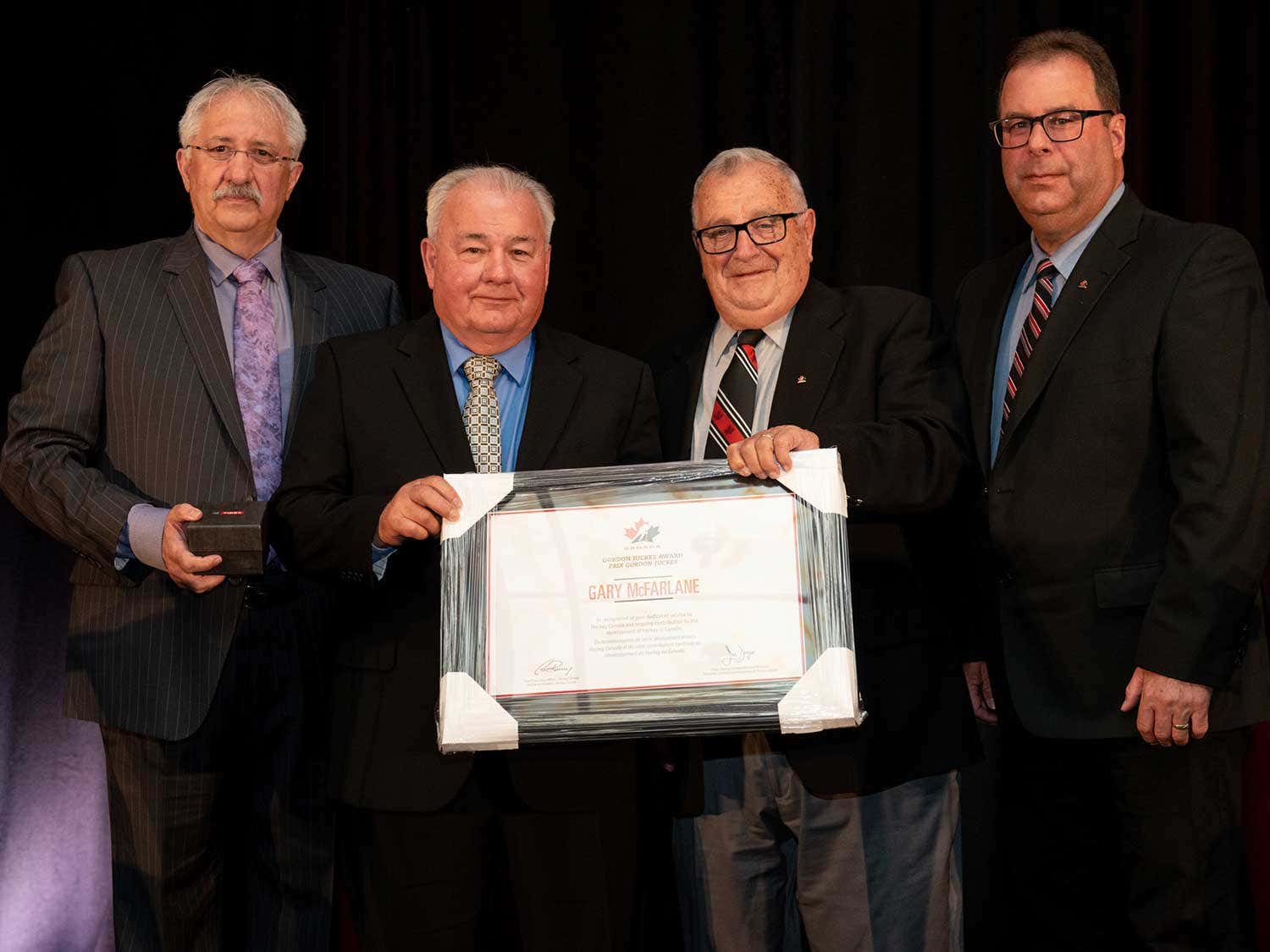 Gordon Juckes Award – Gary McFarlane
The name Gary McFarlane has become synonymous with hockey development in the Ontario Hockey Federation. That's what spending two decades devoted to the game – and the people in the game – will do. For his outstanding achievement and involvement in the development of amateur hockey in Canada, Gary McFarlane is the recipient of the 2019 Gordon Juckes Award.
Gary's No. 1 priority has always been development: of the player, of the coach, of the organization. He has served on numerous tournament committees and minor hockey councils, and held innumerable roles for local house leagues: coach, referee, treasurer, president and executive-at-large. He's currently the Team Alliance U16 Director of Operations.
At the national level, Gary has been equally generous sharing his expertise. He was an NCCP Master Course conductor. And he provided his technical expertise in supporting the rewriting of High Performance 1 written assignments and Development 1 curriculum and program requirements. He has also been an Initiation Program committee member through ALLIANCE Hockey. Amateur hockey in Ontario is better because of his dedication.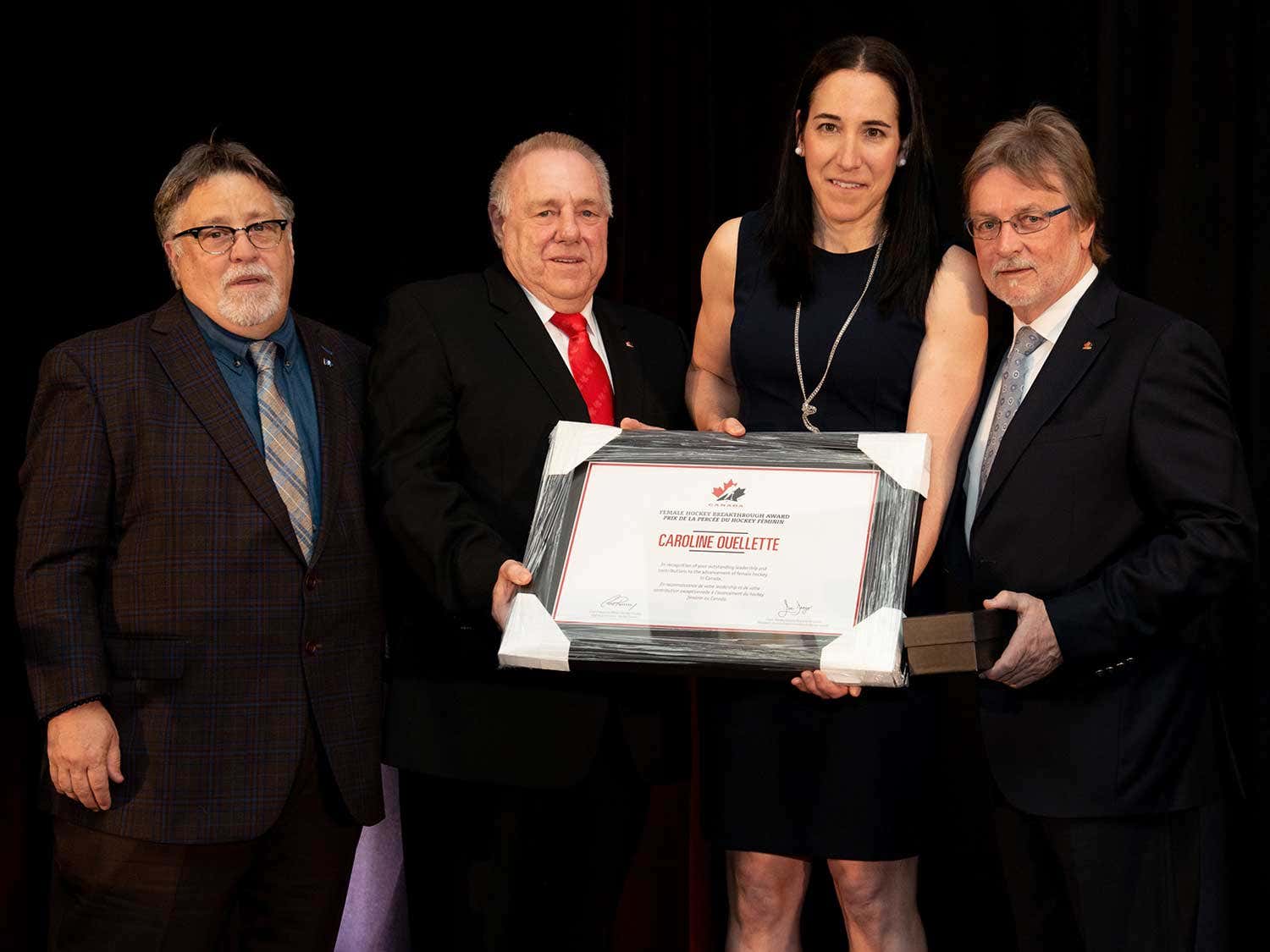 Female Breakthrough Award – Caroline Ouellette
Caroline Ouellette retired from Canada's National Women's Team as a four-time Olympic gold medallist, six-time world champion and Canada's third-highest scorer all time. Now, she has made it her mission to create the development opportunities she didn't have growing up.
Caroline has long been an advocate for the women's game with Hockey Quebec. Her leadership and dedication to the promotion and development of the game influenced the member's changes to the structure of female hockey in the province. She has also been a vocal proponent, making speeches and appearances, and giving interviews – in English and French – to promote the game and recruit new players. She even developed her own program to get more girls on the ice. Since 2014, she's hosted the Caroline Ouellette Girls Hockey Celebration, which offers girls ages 5 to 12 the opportunity to participate in a female hockey tournament.
As an ambassador for her sport, by activing recruiting new players and by accepting every opportunity to grow the game, Caroline has advanced female hockey so more girls can enjoy the game that has given her so much.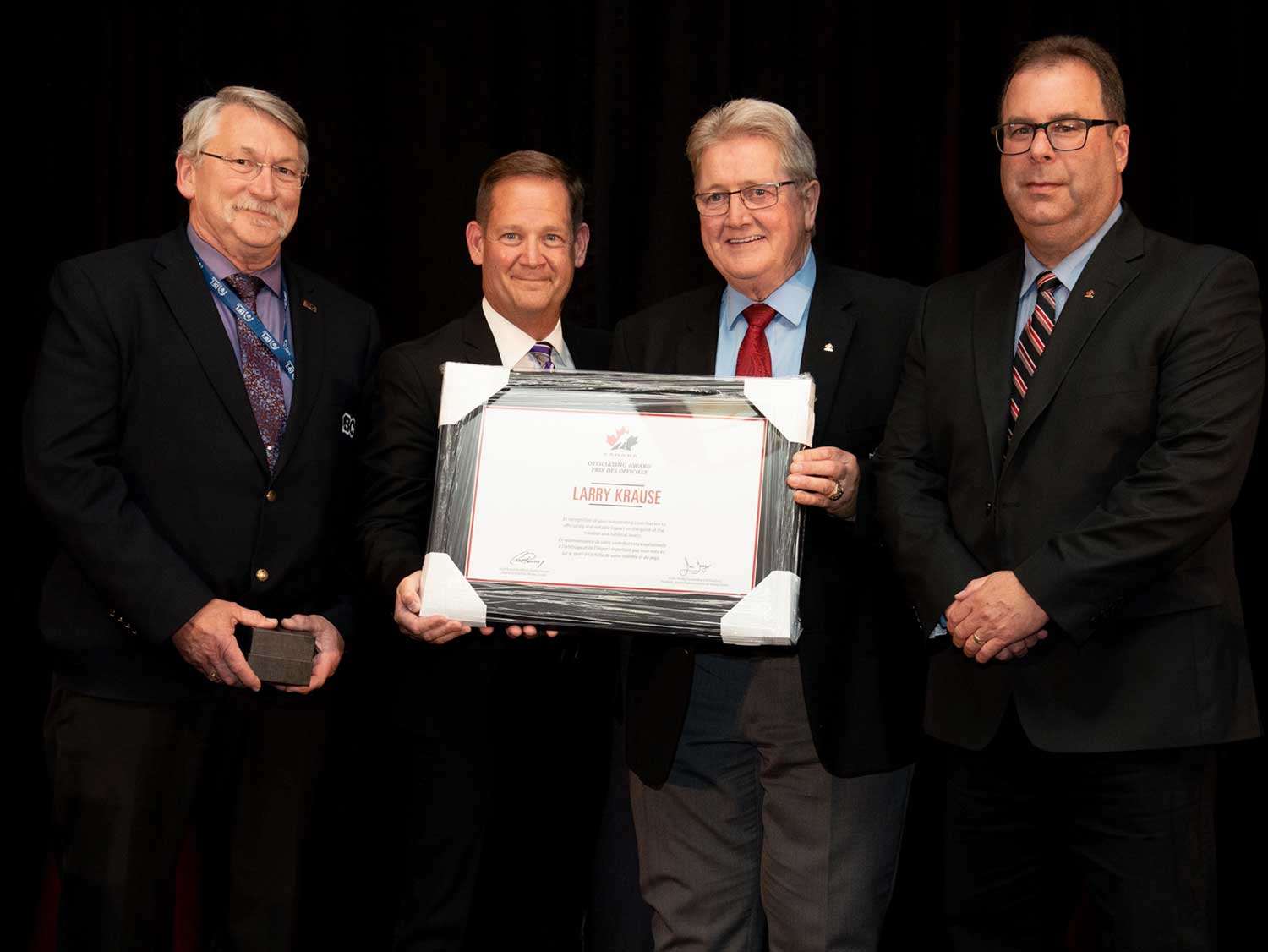 Officiating Award – Larry Krause
You'd be hard-pressed to find a volunteer who has given as much time, effort and passion to hockey in British Columbia as Larry Krause. You'd be equally hard-pressed to find an official in the province that hasn't been positively influenced by Larry's involvement, knowledge and leadership.
Currently the minor officiating development facilitator for the B.C. Hockey Officiating Program, Larry has embodied the spirit of the game and the goals of the member's officiating program for more than 30 years. He has significantly influenced the Hockey Canada Officiating Program curriculum content and delivery within B.C. Hockey's certification program, and served as a high-performance supervisor and lead course conductor for the member's Officiating Program of Excellence.
Larry's commitment to B.C. Hockey's officiating program and his passion for the development of officials at all levels is unmatched. He is greatly respected by officials, mentors, supervisors and hockey personnel at both the member and national levels, and his positive and enthusiastic approach to educating has established a legacy for officiating development for B.C. Hockey.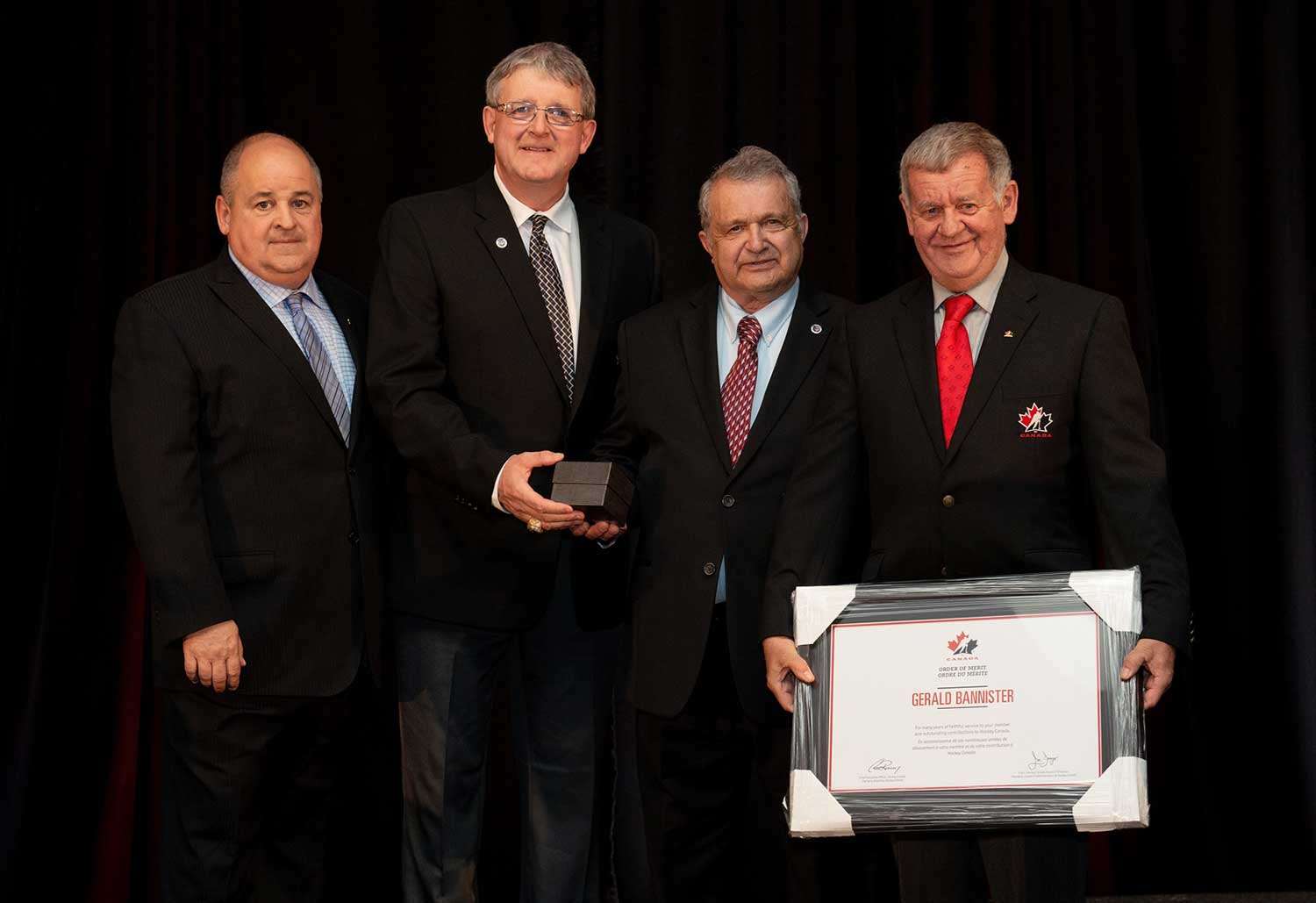 Order of Merit (Atlantic) – Gerald Bannister
Since joining the Moncton Minor Hockey Association Board of Directors in 1995, Gerald Bannister has been a strong, steady influence on amateur hockey in New Brunswick, championing each new generation as a players-first administrator.
Gerald joined Minor Hockey Council with Hockey New Brunswick as a district director in 2002, a position he still holds today. One reason Gerald makes such a difference is the long-term commitment he makes to each council or governing group he sits on. In 2009, he began a six-year term as vice-president of Minor Hockey Council. Two years later he became the Minor Council representative for the Elite Hockey Commission, a role he held until 2016. For the past five seasons, Gerald has been an executive member of the NB/PEI Major Midget Hockey League, first as president and now vice-president.
While those on the East Coast have felt Gerald's influence for more than two decades, the rest of the country deserves to know the difference he has made to amateur hockey.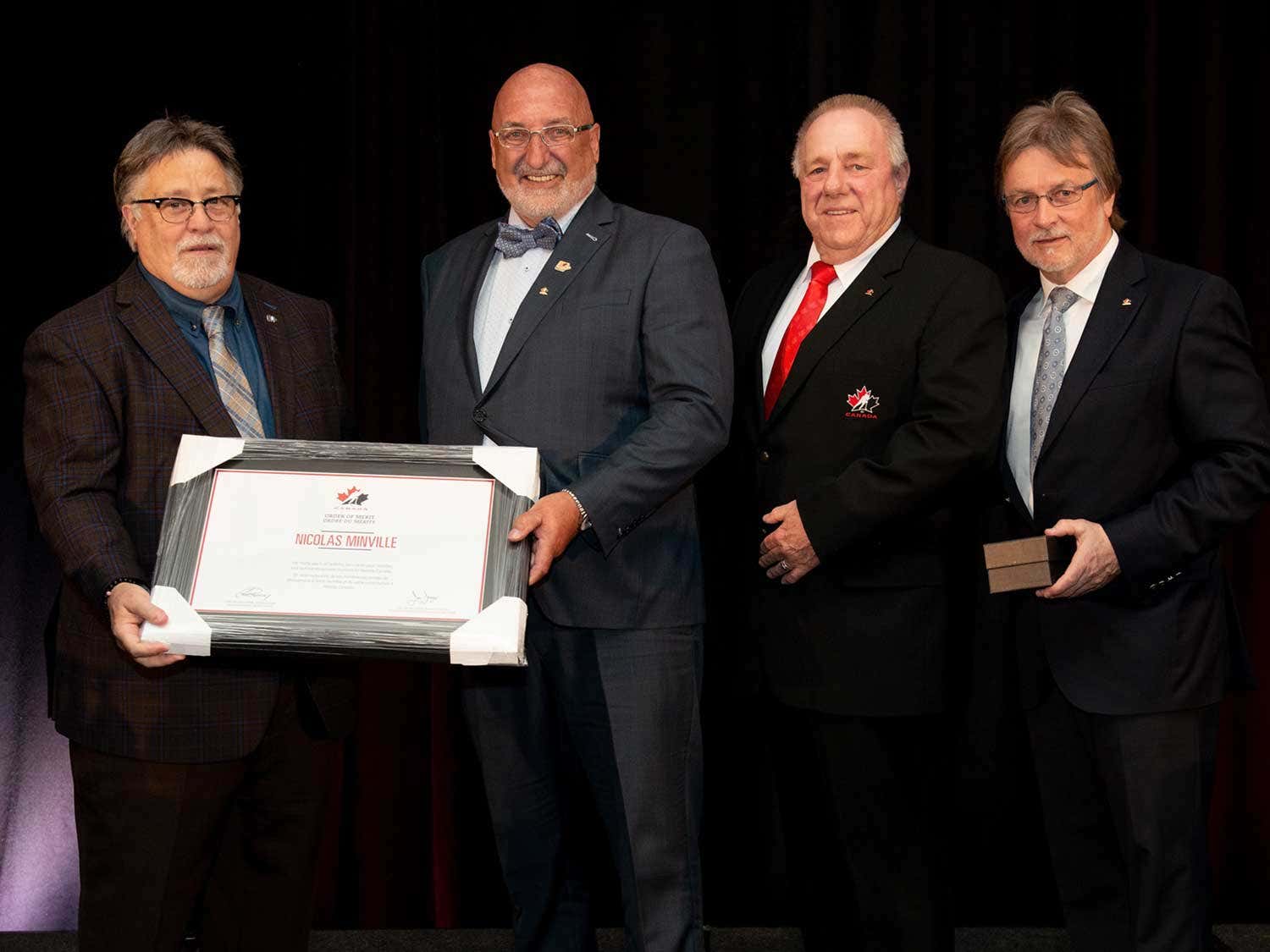 Order of Merit (Central) – Nicolas Minville
The dictionary defines a leader as someone with commanding yet positive influence, someone with the ability to motivate others to achieve a common goal. For a quarter of a century, Nicolas Minville led the way in growing the game not only around the rinks of Baie-Comeau, where his involvement began, but also throughout the province of Quebec. Minor hockey on the North Shore would not look the same without his commitment, contributions and dedication.
Nicolas started as an assistant coach for the Atom B Aigles de Baie-Comeau in 1994-95. His sophomore season, he served as vice-president and acting president of the city's minor hockey association. In 2002, he was elected vice-president of Hockey Quebec. The following year he assumed the treasurer's position as well. He held both roles for the next 13 years. In 2016, he was elected president of Hockey Quebec.
Nicolas simply wants everyone to enjoy the benefits of sports. For that reason, he also spent nine years as the president of the Unité régionale de loisirs et sports of the Côte-Nord region, an organization that promotes sports, physical activity and overall well-being.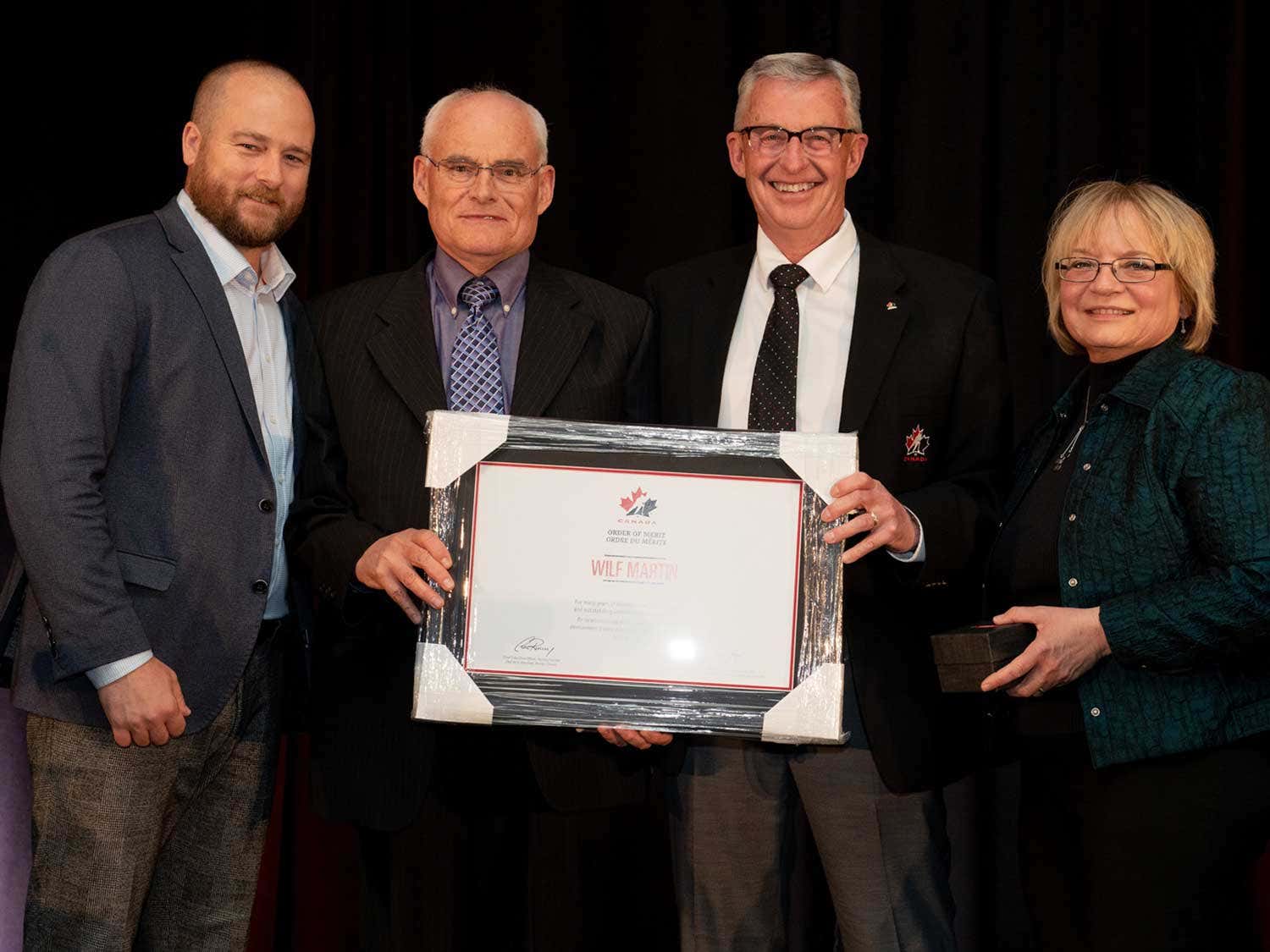 Order of Merit (West) – Wilf Martin
Picture it: Paddockwood, Saskatchewan, a young mother laces up her three-year-old son and guides him around the slough at their farm. From that day forward, Wilf Martin was destined to be a rink rat.
Every September, Wilf and his friends would eagerly await the first frozen ponds of the fall. They would play shinny well into the darkness, their only light being cattails set ablaze in nearby snowbanks. Wilf played through Midget before joining a men's league team. He also saw the game from a different angle, dabbling in officiating for a number of years. With a young family coming of hockey age, Wilf turned his focus first to coaching, then to managing. He then shifted to the Saskatoon Minor Hockey Association and assumed a number of roles, including vice-president, president and past-president. As president, Wilf prioritized growing the female game in the city.
Now retired from playing, coaching, refereeing and administering, Wilf remains active in the game in his most meaningful role yet: Hockey Grandpa.