VICTORIA — Team Cuba rebounded from an  afternoon loss to the Port Angeles Lefties in game one of the Greater Victoria Sports Tourism International series to defeat the Victoria HarbourCats 10-2 at Royal Athletic Park.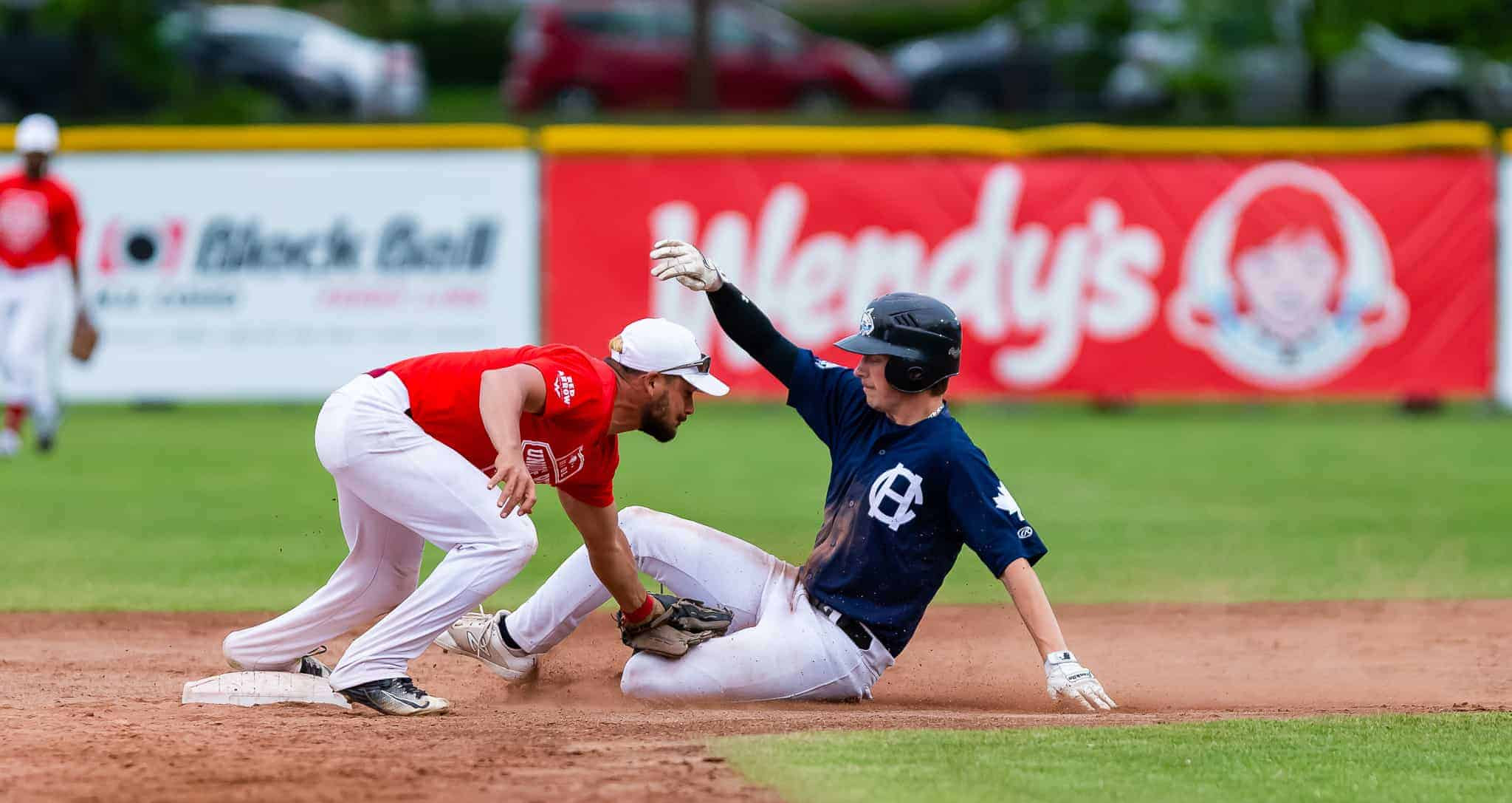 Both Cuban and HarbourCat players engage in a close play at second base earlier in Cuba's 10-2 victory. (Photo by Christian J. Stewart)
With the loss tonight Victoria falls to 0-2 all time against Union de Reyes, after dropping a highly entertaining  8-4 contest last summer. The HarbourCats will look to settle the score on June 10 in a rematch with Union de Reyes in game three of the International Series at Wilson's Group Stadium.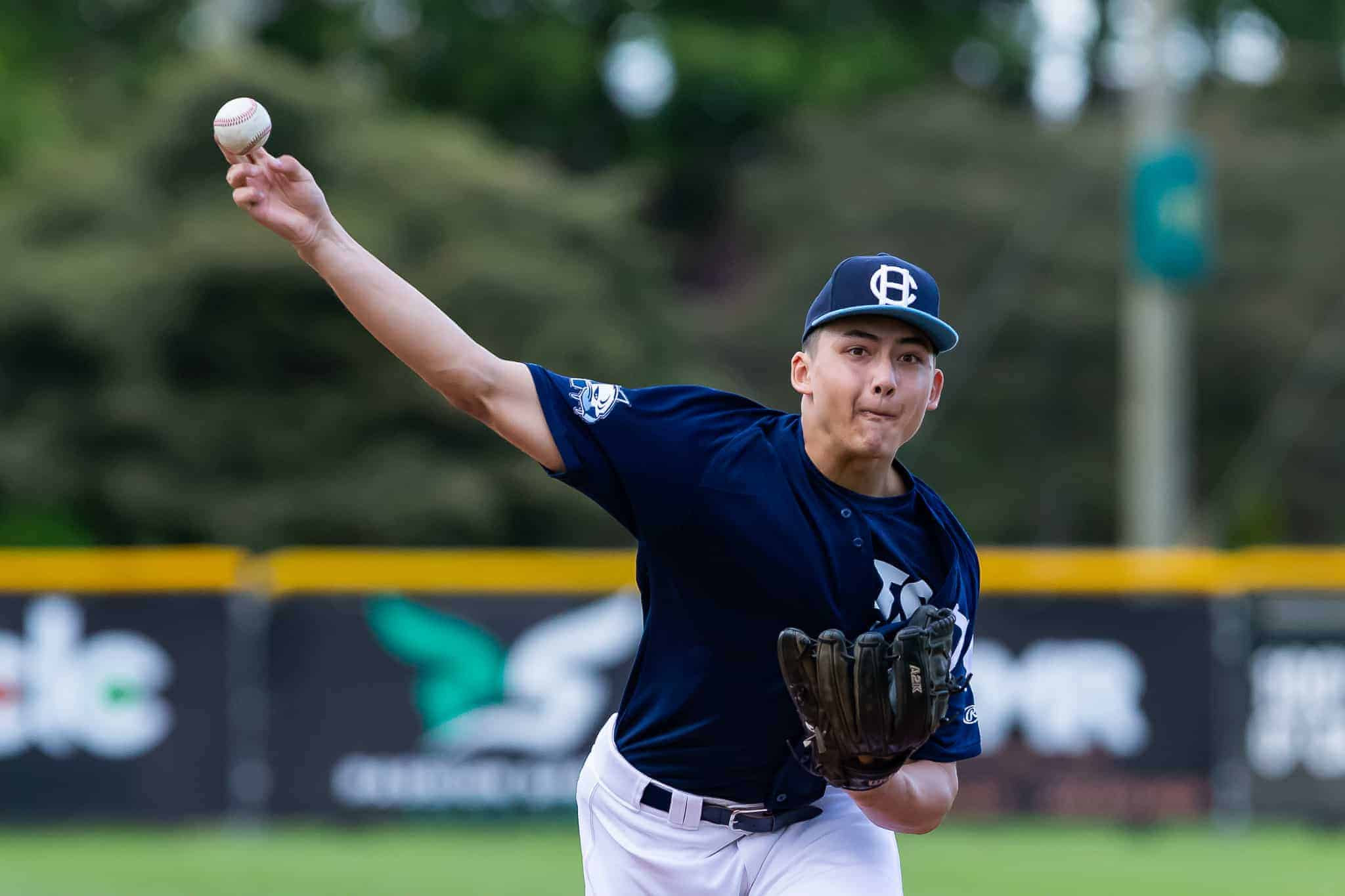 HarbourCats starter Josh Gessner fires a pitch in Sunday night against Cuba. (Photo by Christian J. Stewart)
Meanwhile, in tonight's exhibition game, Union de Reyes changed their narrative from earlier today. After falling behind early to the Lefties in the day game doubleheader, the Cubans pounced on HarbourCats starter Josh Gessner early in the top of the first.
Before Gessner could even record the games first out, Cuba put two men on base and drew first blood on a Yonni Matos single. Endry Soliz then scored one batter later off a Victoria wild pitch and the visiting Cubans from the province of Matanzas raced out to a 2-0 lead.
Jiovanny Estevez admires one of his hits in the nightcap of a doubleheader. (Photo by Christian J. Stewart)
Endris Soliz and Randy Camaraza extended the Cuba lead immediately in the next inning with matching RBI singles, and Cuba found themselves up four early on.
On the mound, it was a former HarbourCat for Team Cuba that stymied the 2019 'Cats, as 2018 starter Alejandro Ortega Lopez diced up some of his former teammates with 6 2/3 solid innings pitched on the mound with five strikeouts.
2018 HarbourCat Alejandro Ortega suited up for his country tonight, and had an effective start against the 'Cats. (Photo by Christian J. Stewart)
Cuba poured it on the sixth — effectively putting the game of reach — highlighted by a Alberto Bello two-run homer to left centre field.
The HarbourCats added a couple runs late, but couldn't overcome the early deficit in the defeat.
Tyler Schindel follows through after taking a swing off an Ortega pitch earlier in defeat. (Photo by Christian J. Stewart)
On deck next for Cuba is a game up-Island in Duncan against the Nanaimo Pirates, Union de Reyes will then travel for multiple games against teams all throughout Vancouver Island next week before returning to Wilson's Group Stadium on June 10.
Tonight's exhibition game concluded Victoria's preseason schedule, and the HarbourCats will travel to southern Washington State next week for a date with the Wenatchee AppleSox to ring in the 2019 West Coast League regular season, before returning to the Island next week for the home opener against the Corvallis Knights.
First pitch is slated for 6:35 Tuesday night at Paul Thomas Sr. Field in Wenatchee.
Players from Cuba and Victoria pose for a picture in the pregame festivities. (Photo by Christian J. Stewart)