Newcomer Emilio Nogales had an RBI single to help the HarbourCats jump out to a 2-0 first inning lead, en route to an eventual 4-1 win over the Corvallis Knights in West Coast League action on Sunday afternoon at Wilson's Group Stadium at Royal Athletic Park.

Harrison Spohn makes a throw from short during Sunday's game (Photo: Christian J. Stewart)
The win salvaged something out of the three-game series with the Knights after Corvallis prevailed 2-1 in Friday's home opener and 12-7 in Saturday's fireworks game.

Emilio Nogales made a great HarbourCats debut, stroking the first pitch he saw down the right field line for an RBI-double in the first inning Sunday (Photo: Christian J. Stewart)
Cade Brown (Hawaii) got the start for the HarbourCats and got in trouble early, allowing the first two runners to reach, before settling down and striking out the side to end the inning.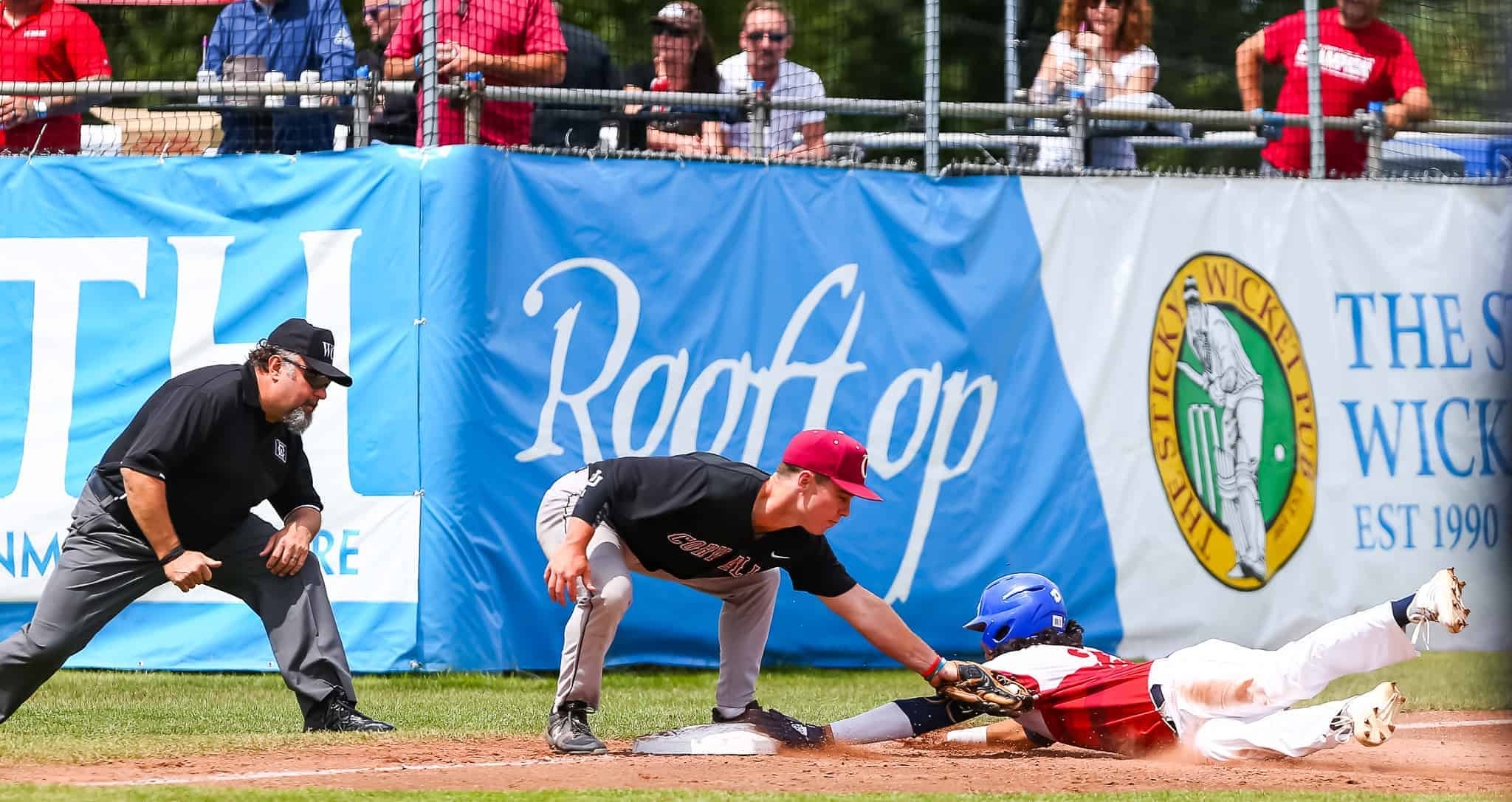 The HarbourCats Nick Plaia was called out on this close play at third on Sunday (Photo: Christian J. Stewart)
The HarbourCats responded immediately, as Nate Pecota doubled to lead off the bottom of the inning and eventually came home to score on a Corvallis error on a pick-off attempt at first.  Nogales then ripped the first pitch he saw as a HarbourCat down the right field line to score Frankie Niemann who had reached  earlier on a fielders choice.

Nate Pecota had a double, single, sac fly and a run scored to help the HarbourCats to their 4-1 win Sunday (Photo: Christian J. Stewart)
Brown and Corvallis starter Tevita Gerber then settled in until the bottom of the third when a sun-aided RBI-single from Harrison Spohn scored Nick Adams to give the HarbourCats a 3-0 lead. A sacrifice fly from Pecota in the fourth scored Matt Clayton to put the 'Cats up 4-1 which is all Victoria would need to wrap up the win.

Calvin Turchin got the win in relief Sunday, striking out four in his four innings of work Photo: Christian J. Stewart)
For Brown, he would work his way through four innings, giving up a run on four hits while striking out eight.  His Hawaii teammate Calvin Turchin would then be solid in middle relief, keeping the Knights off the board through the eighth, while striking out four in the process to get credit for the win.  Matt Amrhein would close things out with scoreless ninth to earn the save.
At the plate, Pecota would lead Victoria with a pair of hits, including a double, an RBI and a run scored. Nogales would finish with his double and RBI, Harrison Spohn would also have a pair of hits and an RBI, while Tanner Haney would also contribute two hits to the winning effort.

HarborCats second baseman Tanner Haney stretches for a wide throw on this play at second on Sunday (Photo: Christian J. Stewart)
With the win, the HarbourCats move to 3-3 on the young season and will now test their mettle against Team Cuba in another game in the 2019 International Series on Monday evening.