HAMILTON, Ontario – On the first tee Sunday at the RBC Canadian Open, a fan tried to offer Rory McIlroy a Canadian $1 coin. As he was sipping a bottle of water, McIlroy dug into his pocket and pulled one out.
He was already prepared.
"I've been marking my ball with a loonie all week, and it might have to cross the border and come with me," said McIlroy with a laugh, who received the coin from a Canadian at an off-site event on Tuesday.
"I said, 'sure, why not? Every little bit helps.'"
The 'lucky loonie' has a long history in Canadian sports, but Sunday at Hamilton Golf and Country Club, McIlroy didn't need any luck.
He was precise and surgical. He was impressive and composed. He had a bounce in his step, which wasn't surprising, since he shot a 9-under 61.
McIlroy won his 16th PGA TOUR title in dominating fashion, winning by seven shots over Shane Lowry and Webb Simpson.
"I don't know what golf Rory is playing today," Lowry said, "but it was just incredible."
In the process, McIlroy shot his best four-day score ever on the PGA TOUR. He couldn't help but think what could have been, however.
McIlroy made five birdies on his front side for a 5-under 30 before adding four more on No's 11-14. He bogeyed two of his final three holes, but sandwiched in an eagle on the par-5 17th for good measure.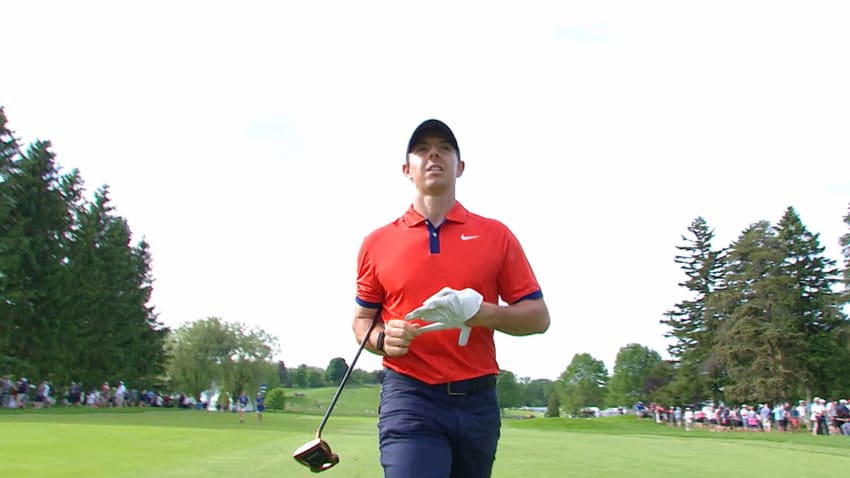 Rory McIlroy's eagle-yielding approach is the Shot of the Day
Had he birdied 18, he would have shot 59, something he's never done.
McIlroy once had a putt for 59 the week before the Masters in 2016 at the club he plays at in Florida, and he left it short. That came into his head when he hit his bunker shot on 18. He wished it was a putt for 59 and not a bunker shot, but at least, he said, he didn't leave it short.
"I had a chance to shoot 59. Sorry for being disappointed up here," said McIlroy to laughs. "I played 17 wonderful holes. I was 10-under through 17 holes and I shot 4-under on the back nine with two bogeys, so that was pretty good too.
"I'm playing well. I found a little groove and I want to keep it going."
His 61 was his lowest round on TOUR this season – by two shots (first round, WGC-Mexico) – and it came after missing the cut at the Memorial Tournament presented by Nationwide, his first missed cut of the season.
He said he didn't feel as though there was a huge gap between last week and this week, however.
"That's golf," he said. "It's something people don't quite understand at this level. The margins are so fine and so small. It could have been, even last week, if I had made a couple extra birdies on the back nine I would have made the cut and I could have produced a weekend like this and won the tournament.
"So, something like this is always around the corner."
McIlroy had the crowds firmly on his side all week, and said he'd be back in 2020 to defend his title, much to the delight of the Canadian faithful.
He started his week watching the Toronto Raptors game last Sunday and said he was texting with star Kyle Lowry – who, McIlroy said, plays 36 holes a day during the off-season – about golf and the series.
He ended the week wearing a Lowry jersey and hoisting the trophy.
"I've been very fortunate to get a great reception all week. One of the cool things as well is that people are rowdy and chanting, but they know as soon as you go to hit the golf shot it's deadly silent. They get it," McIlroy said of the Canadian fans. "They were having fun and being loud but they still respected the traditions and values of the game. It was a perfect blend."
McIlroy said he played Sunday with a little more freedom than in weeks' past when he had a chance to win, but ended up not bringing home the trophy. He moved to second on the FedExCup standings, and said his aggressive play Sunday paid off in a big way.
His confidence grew all week, he said, and to have the freedom to swing away and be committed to what he was doing, was the difference.
McIlroy had a little Canadian luck on his side, too.