Several 2019-20 Canada West championship sport locations and dates were unveiled Wednesday, as the conference concluded its June schedule releases.
Headlining the news was the announcement of the University of Calgary as host for the 2019 Canada West Cross Country Championships. The event is slated for Saturday, October 26 at Canmore Park in northwest Calgary.
It will mark the conference's first standalone cross country championship since the 1990s, as the CW champions have been determined by results at the U SPORTS national meet for more than two decades.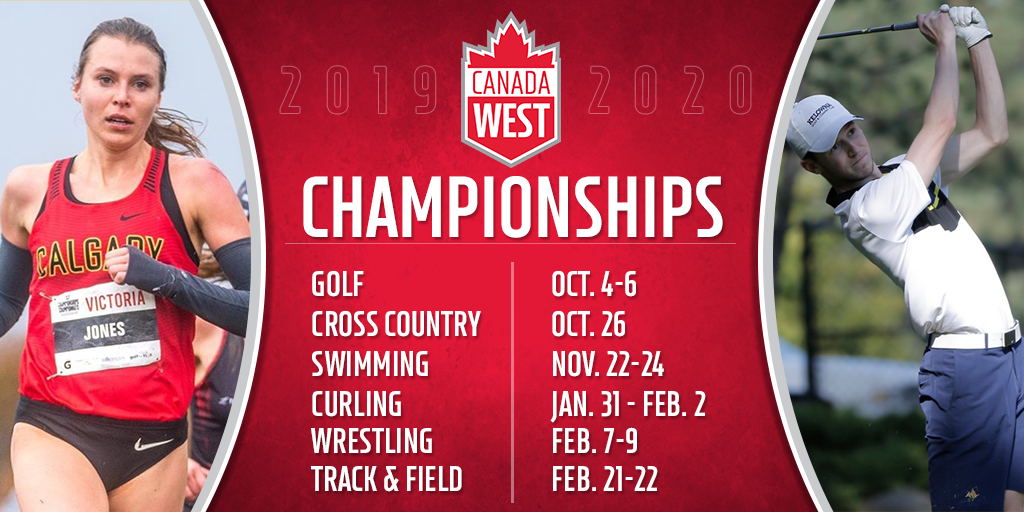 Along with cross country, Calgary will handle hosting duties for the CW Wrestling Championships February 7-9, while Lethbridge and Saskatchewan are set to host swimming (November 22-24) and track and field (February 21-22) respectively.
For the second straight year, curling will be hosted by Alberta at the Saville Community Sports Centre in Edmonton, with the event scheduled for January 31 to February 2.
Rounding out the championship sports is golf, as the inaugural CW Golf Championships are set for October 4-6 at Okanagan Golf Club's Bear Course in Kelowna, B.C., where UBCO will serve as host. Details of the championship were previously announced in February.
In addition to conference championships, four national titles will be hosted by CW schools this season, as swimming (Victoria, February 20-22), wrestling (Calgary, February  21-22), track and field (Alberta, March 5-7), and curling (Portage La Prairie, Man., March 13-17) will be hosted in Western Canada.