EDMONTON – Another season of Canada West football is around the corner, and fans will once again get to see the action on television, as Canada West and SaskTel released the 2019 broadcast schedule on Thursday.

A total of 15 games will be televised on the Canada West Football Showcase, which is entering its third season.

Showcase games will be available across Western Canada, with games in Saskatchewan available on SaskTel maxTV, on TELUS Optik TV in B.C and Alberta, and on Bell MTS Fibe TV in Manitoba.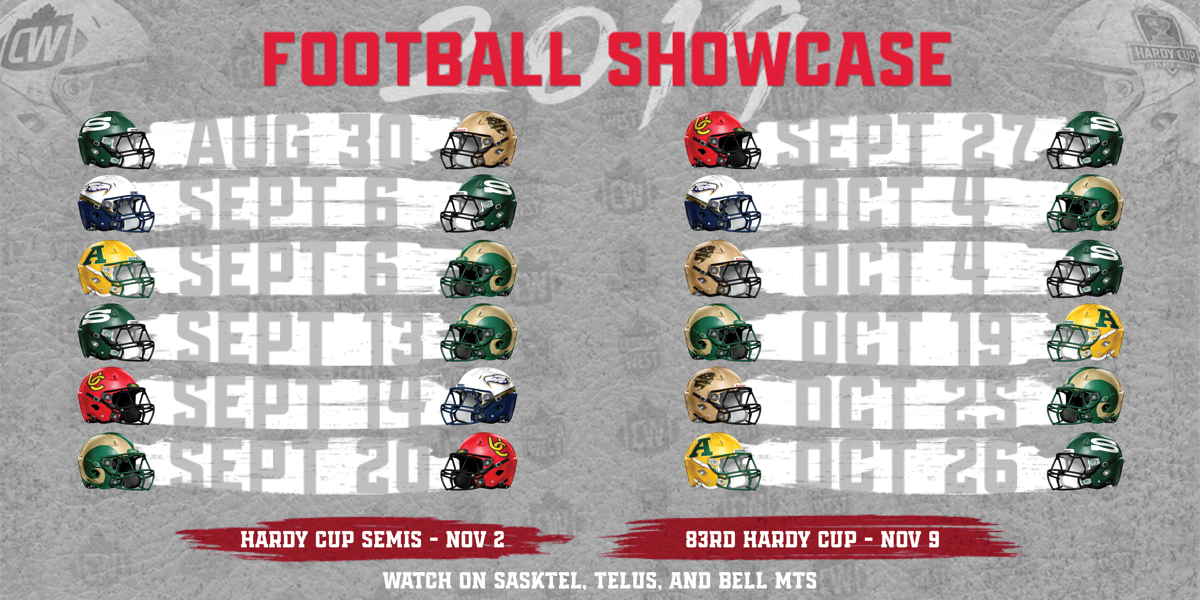 "For the past two seasons, SaskTel has shown their commitment to Canada West and our student-athletes through exceptional weekly coverage," said CW Vice President of Marketing and Communications Adrienne Healey.
"We couldn't be happier with the partnership and are looking forward to another great year of university football."
2019 coverage kicks off opening night, as the defending Hardy Cup champion Saskatchewan Huskies take on the Manitoba Bisons at IG Field in Winnipeg on Friday, August 30. The biggest game of the season – the 83rd Hardy Cup – caps things off on Saturday, November 9.
In addition to the 15 Showcase games available across the distribution network, four more games can be seen on SaskTel maxTV, as every Huskies and Regina Rams game will be televised in the province of Saskatchewan.
"We are excited to partner with Canada West for the third season to broadcast the Canada West Football Showcase," said Doug Burnett, SaskTel President and CEO. "We are proud to support amateur athletics in our province and Canada West football provides a springboard for many talented athletes who go on to excel in professional football."
For fans looking to watch every moment of CW football action in 2019, Canada West TV is the only place to see all 27 conference games, with one game per week available exclusively on the conference's streaming site.
Canada West TV passes are now available at early-bird pricing, and can be purchased by clicking here.
---
2019 CANADA WEST FOOTBALL SHOWCASE SCHEDULE
Week 1:
Friday, August 30 – Saskatchewan @ Manitoba / 7:00 p.m. CDT

SaskTel: 49 (SD), 349 (HD) / TELUS: 998 (HD) / BellMTS: 1802 (HD)
Week 2:
Friday, September 6 – UBC @ Saskatchewan / 7:00 p.m. CST

SaskTel: 49 (SD), 349 (HD) / TELUS: 998 (HD) / BellMTS: 1802 (HD)

Friday, September 6 – Alberta @ Regina / 7:00 p.m. CST

SaskTel: 48 (SD), 348 (HD) / TELUS: 997 (HD)
Week 3:
Friday, September 13 – Saskatchewan @ Regina / 7:00 p.m. CST

SaskTel: 48 (SD), 348 (HD) / TELUS: 997 (HD) / BellMTS: 1802 (HD)

Saturday, September 14 – Calgary @ UBC / 3:00 p.m. PDT

SaskTel: 49 (SD), 349 (HD) / TELUS: 998 (HD) / BellMTS: 1802 (HD)
Week 4:
Friday, September 20 – Regina @ Calgary / 7:00 p.m. MDT

SaskTel: 48 (SD), 348 (HD) / TELUS: 997 (HD) / BellMTS: 1802 (HD)
Week 5:
Friday, September 27 – Calgary @ Saskatchewan / 7:00 p.m. CST

SaskTel: 49 (SD), 349 (HD) / TELUS: 998 (HD) / BellMTS: 1802 (HD)
Week 6:
Friday, October 4 – UBC @ Regina / 7:00 p.m. CST

SaskTel: 48 (SD), 348 (HD) / TELUS: 997 (HD)

Friday, October 4 – Manitoba @ Saskatchewan / 7:00 p.m. CST

SaskTel: 49 (SD), 349 (HD) / TELUS: 998 (HD) / BellMTS: 1802 HD
Week 7:
Thanksgiving weekend – Conference bye
Week 8:
Saturday, October 19 – Regina @ Alberta / 1:00 p.m. MDT

SaskTel: 48 (SD), 348 (HD) / TELUS: 997 (HD) / BellMTS: 1802 (HD)
Week 9:
Friday, October 25 – Manitoba @ Regina / 7:00 p.m. CST

SaskTel: 48 (SD), 348 (HD) / TELUS: 997 (HD) / BellMTS: 1802 (HD)

Saturday, October 26 – Alberta @ Saskatchewan / 2:00 p.m. CST

SaskTel: 49 (SD), 349 (HD) / TELUS: 998 (HD) / BellMTS: 1802 HD
Hardy Cup Semifinals
Saturday, November 2 – 4 @ 1 / 3 @ 2
83rd Hardy Cup
Saturday, November 9 – At highest remaining seed
---
ADDITIONAL TELEVISED GAMES IN SASKATCHEWAN
Week 1:
Saturday, August 31 – Regina @ UBC / 7:00 p.m. PDT

SaskTel: 48 (SD), 348 (HD)

Saturday, September 21 – Saskatchewan @ Alberta / 1:00 p.m. MDT

SaskTel: 49 (SD), 349 (HD)
Week 5:
Saturday, September 28 – Regina @ Manitoba / 2:00 p.m. CDT

SaskTel: 48 (SD), 348 (HD)
Week 8:
Saturday, October 19 – Saskatchewan @ UBC / 3:00 p.m. PDT

SaskTel: 49 (SD), 349 (HD)