A pair of Trinity Western Spartans have taken home Canada West First Star honours for the week ending September 15.
Caleb Jemmott and Rachel Hutchinson are the conference's top performers from last week, as the latest Canada West Three Stars were announced Tuesday.
The conference first stars move forward weekly as the Canada West nominees for the U SPORTS Athletes of the Week.
MEN'S THREE STARS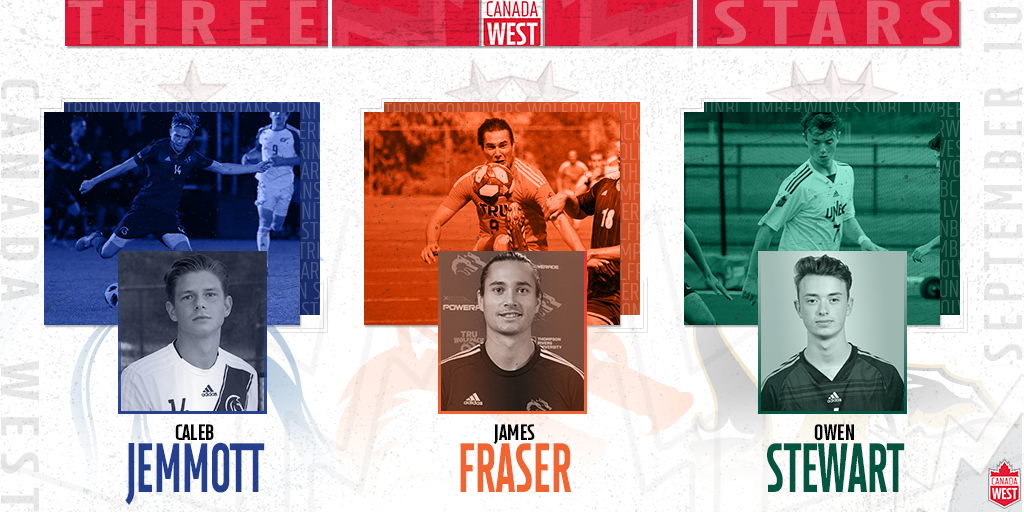 FIRST STAR: F – Caleb Jemmott
Trinity Western Spartans / Soccer

3rd-year

Calgary, Alta.

Human Kinetics

GAME LOG: Friday, Sept. 13 – 3 goals in 5-0 road win at Lethbridge / Saturday, Sept. 14 – 3 shots, 90 minutes played in 1-0 road win at Calgary.
Spartans third-year forward Caleb Jemmott was a force for the Trinity Western men's soccer team this past weekend, recording his first career hat-trick.
Jemmott contributed three goals and six shots in the Spartans 5-0 win over Lethbridge last Friday. He followed up his hat-trick performance with a strong game against Calgary on Saturday, playing a season high 90 minutes against the Dinos and in doing so helping the Spartans back-to-back wins at home.
After being held off the scoresheet through parts of nine games last season, Jemmott's 2019 Canada West season could not be off to a better start, as his four goals have him tied for third in Canada West.
Jemmott and the Spartans, who improved their record to 3-3-0 on the season, hit the road this week as they face Saskatchewan Saturday followed by Mount Royal Sunday.
SECOND STAR: F – James Fraser
Thompson Rivers WolfPack / Soccer

4th-year

Penticton, B.C.

Business

GAME LOG: Friday, Sept. 13 – goal in 2-2 home draw vs. Saskatchewan / Saturday, Sept. 14 – goal in 1-1 home draw vs. MacEwan
James Fraser continues to be the main offensive threat for the Thompson Rivers University WolfPack. The Pack extended their unbeaten streak to three as they wound up tying both the Saskatchewan Huskies and the MacEwan Griffins at home this past weekend.
On Friday, Fraser was awarded a penalty kick in the 59th minute and beat Saskatchewan keeper Marcus Baxter.
Saturday,  Fraser finished off a beautiful three-man passing play in the 40th minute for his league leading sixth goal of the season. The fourth-year forward from Penticton, B.C. had a chance to win the match on a penalty shot in the second half, but MacEwan keeper Seth Johnstone made the key stop.
Fraser and the Pack take 'their show on the road' to Southern Alberta this coming weekend, as they face the Mount Royal Cougars in Calgary on Saturday before heading to Lethbridge to meet the Pronghorns on Sunday.
THIRD STAR: F – Owen Stewart
Northern British Columbia Timberwolves / Soccer

4th-year

Prince George, B.C.

Accounting

GAME LOG: Friday, Sept. 13 – goal and assist in 3-2 home win vs. Mount Royal.
Friday's matchup against the undefeated Mount Royal Cougars was a massive game for the UNBC Timberwolves.
Fittingly, it was their veteran leader and hometown product Owen Stewart who stepped up. Fresh off a two-assist performance against the Victoria Vikes the week prior, Stewart opened the scoring in the 30th minute. In the 69th minute, with the game knotted at 2-2, Stewart picked off a pass and made a beautiful feed to Anthony Preston who scored the game-winner, as the TWolves took down MRU 3-2.
Stewart now leads the Timberwolves in scoring, and leads UNBC into action this weekend against Alberta and MacEwan in Edmonton.
---
WOMEN'S THREE STARS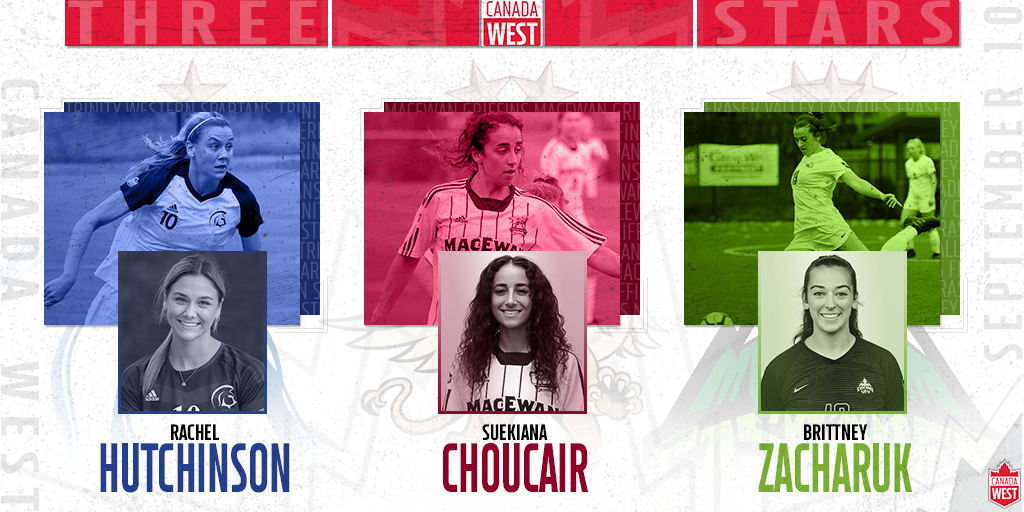 FIRST STAR: F – Rachel Hutchinson
Trinity Western Spartans / Soccer

5th-year

Cloverdale, B.C.

Business

GAME LOG: Friday, Sept. 13 – 3 assists in 5-1 home win vs. Winnipeg / Saturday, Sept. 14 – 3 goals in 5-0 home win vs. Manitoba.
The Spartans fifth-year striker was a force this past weekend for Trinity Western, guiding the Spartans to a perfect 2-0 weekend.
Hutchinson kicked off the weekend Friday with three assists against Winnipeg, helping TWU secure a 5-0 win in their home opener. She continued her momentum into Saturday against Manitoba, scoring three of the Spartans five goals while also contributing six shots in 90 minutes of play. Her performances helped TWU improve to 3-0-1 on the season and extend its early-season winning streak to three games. She now sits tied atop Canada West in total points with three goals and three assists in four games.
Hutchinson and the Spartans continue their regular season on the road this weekend, facing Alberta Saturday followed by MacEwan Sunday.
SECOND STAR: M – Suekiana Choucair
MacEwan Griffins / Soccer

5th-year

Edmonton, Alta.

Science

GAME LOG: Friday, Sept. 13 – 2 goals, 1 assist in 4-0 road win at Thompson Rivers / Saturday, Sept. 14 – goal and assist in 5-0 road win at UBC Okanagan.
Choucair had a five-point weekend (three goals, two assists) in leading the MacEwan Griffins to a pair of dominant wins during a weekend road trip to the Okanagan.
In Friday night's 4-0 win at Thompson Rivers University, the fifth-year midfielder set up the opening goal off a free kick before really taking over the game in the second half. Choucair scored a beauty in the 59th minute when she intercepted a ball at midfield and ran to the top of the box untouched before ripping it top corner. She then converted a penalty kick in the 65th minute.
In Saturday night's 5-0 win at UBC-Okanagan, Choucair again factored prominently in the proceedings with a goal and an assist. She curled in a strike from the top of the box in the 22nd minute for MacEwan's second tally of the contest and then set up the Griffins' fifth goal by rookie Sunder West.
Choucair is currently tied for the Canada West scoring lead with six points on the season.
THIRD STAR: F – Brittney Zacharuk
Fraser Valley Cascades / Soccer

5th-year

Delta, B.C.

Arts

GAME LOG: Friday, Sept. 13 – 2 assists in 4-2 home win vs. Manitoba / Saturday, Sept. 14 – 2 goals in 3-0 home win vs. Winnipeg.
Brittney Zacharuk carved out a slice of UFV Cascades women's soccer history as she led her squad to a six-point weekend.
The Cascades' fifth-year captain from Delta, B.C. picked up two assists in Friday's 4-2 win over the Manitoba Bisons – both on gorgeous crosses for close-range finishes. That gave her 15 assists for her career, breaking the UFV program's all-time record of 14 previously co-held by Shelby Beck (2011-15) and Danica Kump (2012-16).
For an encore, Zacharuk scored twice in Saturday's 3-0 triumph over the Winnipeg Wesmen – a sensational top-corner strike in the 56th minute, and a penalty kick in the 65th. With one team record already in her back pocket, she's now closing in on Monika Levarsky's career points mark of 36 (Zacharuk is at 33).
Zacharuk and the Cascades (2-1-1) hit the road this week for a pair of games in Edmonton – Saturday at the MacEwan Griffins, and Sunday at the Alberta Pandas