The 2019 Canada West men's and women's soccer all-star and all-rookie teams were unveiled Thursday, as the conference gets set for playoff action this weekend.
On the men's side, the Pacific Division first-place UBC Thunderbirds led the first team all-star charge with three, including 2018 CW Player of the Year Thomas Gardner. In total, five Thunderbirds were named all-stars, or all-rookies.
Leading the overall all-star and all-rookie charge were the Prairie Division Mount Royal Cougars with six.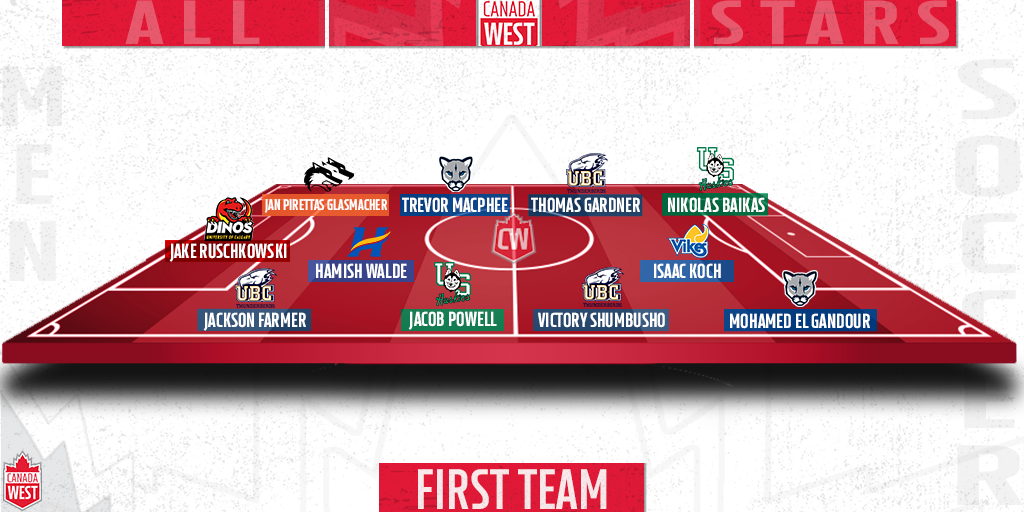 The Trinity Western Spartans led the women's charge, with a combined six all-stars and all-rookies. Among TWU's all-stars were four first teamers, including standout Jenaya Robertson, who led the conference with 14 goals.
Also posting big numbers were the MacEwan Griffins, and Calgary Dinos, who each took a combined six spots.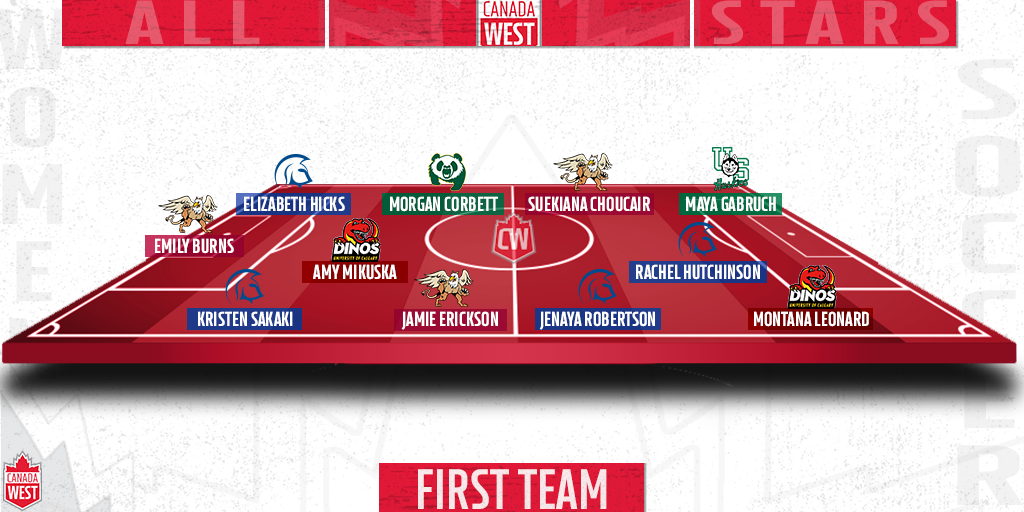 For a complete look at the conference all-star and all-rookies, click here for the men's and here for the women's.
The conference soccer playoffs open this weekend with play-in and quarter-final action in women's play, while men's quarter-finals are also set.
MEN'S ALL-STARS AND ALL-ROOKIES BY TEAM
School / First Team All-Stars / Second Team All-Stars / All-Rookies = TOTAL
Mount Royal Cougars: 2 / 2 / 2 = 6

UBC Thunderbirds: 3 / 1 / 1 = 5

Trinity Western Spartans: 0 / 3 / 1 = 4

Saskatchewan Huskies: 2 / 0 / 1 = 3

Calgary Dinos: 1 / 1 / 1 = 3

Thompson Rivers WolfPack: 1 / 1 / 0 = 2

UBCO Heat: 1 / 0 / 1 = 2

UNBC Timberwolves: 0 / 1 / 1 = 2

UFV Cascades: 0 / 1 / 1 = 2

Victoria Vikes: 1 / 0 / 0 = 1

Alberta Golden Bears: 0 / 1 / 0 = 1
WOMEN'S ALL-STARS AND ALL-ROOKIES BY TEAM
School / First Team All-Stars / Second Team All-Stars / All-Rookies = TOTAL
Trinity Western: / 4 / 2 / 0 = 6

MacEwan Griffins: / 3 / 2 / 1 = 6

Calgary Dinos: 2 / 3 / 1 = 6

Fraser Valley Cascades: 0 / 1 / 2 = 3

Manitoba Bisons: 0 / 1 / 2 = 3

Alberta Pandas: 1 / 0 / 1 = 2

Saskatchewan Huskies: 1 / 0 / 1 = 2

Victoria Vikes: 0 / 1 / 1 = 2

UNBC Timberwolves: 0 / 1 / 0 = 1

Regina Cougars: 0 / 0 / 1 = 1

UBC Thunderbirds: 0 / 0 / 1 = 1