Canada West action returned this past weekend, as 2020 opened with some big performances from Calgary's Brett Layton and MacEwan's Kylie Schubert.
Layton posted a combined 40 points and 38 rebounds in Calgary's men's basketball sweep of UNBC. Among Layton's 38 total rebounds were 14 offensive rebounds Friday, which set a new conference single-game record.
Schubert also had a record-setting night over the weekend, as the women's volleyball setter established a new school single-game record for assists Friday night with 53. In total, Schubert finished the weekend with 85 assists and 20 digs.
The pair now move forward as the Canada West nominees for the U SPORTS Athlete of the Week award.
MEN'S THREE STARS
FIRST STAR: F – Brett Layton
Calgary Dinos / Basketball

4th-year

Calgary, Alta.

Law

GAME LOG: Friday, Jan. 3 – 19 points, 24 rebounds, and 4 steals in 94-70 win vs. UNBC / Saturday, Jan. 4 – 21 points, 14 rebounds, and 3 blocks in 75-57 win vs. UNBC.
It was another record-setting weekend for University of Calgary Dinos forward Brett Layton.
The Faculty of Law student set a new Canada West record on Friday night with 14 offensive rebounds, breaking the previous mark of 13, set by Tony Richter of the Winnipeg Wesmen on Nov. 30, 2002.
Those 14 offensive boards were part of a 24-rebound night for Layton, who also collected 19 points, two assists, two blocks, and four steals in a 94-70 win over the UNBC Timberwolves.
The next night, Layton had 21 points, 14 rebounds, and three blocks as the Dinos beat the Timberwolves 75-57 to move to 10-0.
Earlier this season Layton became the first player in Canada West history to record 40 points and 20 rebounds in a game, when he did it on Nov. 23 against the Trinity Western Spartans.
The Dinos are back in action on Thursday, Jan. 9 at the Jack Simpson Gym when they begin a home-and-home set with the Lethbridge Pronghorns.
SECOND STAR: OH – Daniel Thiessen
Winnipeg Wesmen / Volleyball

4th-year

Winnipeg, Man.

Economics & Finance

GAME LOG: Friday, Jan. 3 – 21 kills, .405%, 12 digs, 4 blocks, 24.5 points in 3-1 win vs. Thompson Rivers  / Saturday, Jan. 4 – 21 kills, ace, 5 digs, 4 blocks, in 3-2 win vs. Thompson Rivers.
Daniel Thiessen had the most productive weekend in terms of total kills in his four years as a Wesmen.
Thiessen set a season-high with 21 kills in a four-set win on Friday and made just four errors on 42 swings. He added 12 digs for his fourth double-double of the season and finished with a then-season-high 24.5 points.
Thiessen backed up Friday's effort with another 21 kills in a five-set win on Saturday while hitting .217 and amassing 25 total points, tying a career-high.
The 42 kills and 49.5 points were the most in a weekend in his career.
THIRD STAR: G – Brandon Holtby
Regina Cougars / Basketball

3rd-year

Regina, Sask.

Business Administration

GAME LOG: Friday, Jan. 3 – 11 saves in 4-1 win vs. Lethbridge  / Saturday, Jan. 4 – 34 saves in 4-1 win vs. Lethbridge.
Brandon Holtby was solid in Friday's 4-1 win over Lethbridge, but the third-year goalie was simply spectacular on Saturday as he stopped 34 of the Pronghorns' 35 shots to help secure a home sweep for the Cougars.
Holtby made 11 saves in Friday's win, giving him a save percentage of .957 as he registered his third and fourth victories of the season.
Holtby and the Cougars will continue their four-game homestand this Friday and Saturday against the UBC Thunderbirds at The Co-operators Centre.
WOMEN'S THREE STARS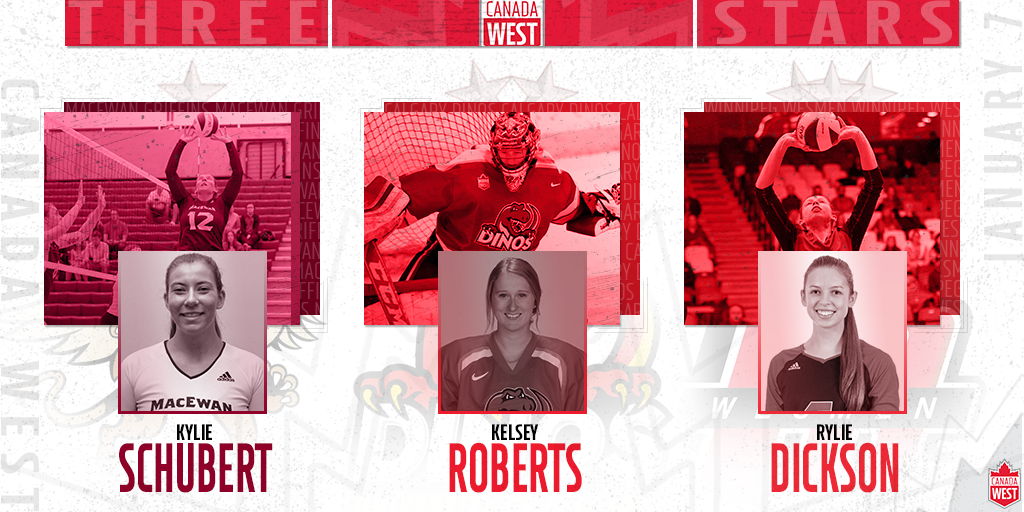 FIRST STAR: S – Kylie Schubert
MacEwan Griffins / Volleyball

3rd-year

Edmonton, Alta.

Science

GAME LOG: Friday, Jan. 3 – 53 assists, 14 digs, and one block in 3-1 win at Saskatchewan / Saturday, Jan. 4 – 32 assists, and 6 digs in 3-0 loss at Saskatchewan.
With 53 assists in Friday's 3-1 victory over the Saskatchewan Huskies in Saskatoon, Schubert tied the MacEwan single-game record for most in a Canada West contest.
Her total matched the mark that Rebecca Martin had in a five-set MacEwan win over Calgary on Jan. 24, 2015.
Only three players have had more assists in a match this Canada West women's volleyball season, but all of those have come in five-set games, not the four that Schubert accomplished her mark in.
Schubert's ability to spread the ball around was evident in the Friday night's victory as MacEwan had four players in double digits for kills (Hailey Cornelis -17, Haley Gilfillan – 16, Mckenna Stevenson – 13 and Lauren Holmes – 11).
In Saturday's 3-0 loss to the Huskies, Schubert still managed to produce 32 assists.
Combined in both games, Schubert added 20 digs.
For the season, Schubert is fifth in Canada West in assists (442) and in assists/set (9.40).
She leads the Griffins into home action against UBC this weekend.
SECOND STAR: G – Kelsey Roberts
Calgary Dinos / Hockey

4th-year

Kitimat, B.C.

Arts

GAME LOG: Friday, Jan. 3 – 15-save shutout in 3-0 win vs. UBC  / Saturday, Jan. 4 – 25-saves in 3-1 win vs. UBC.
The University of Calgary Dinos rung in the New Year with a pair of vintage performances by star netminder Kelsey Roberts.
Facing the always-challenging UBC Thunderbirds, Roberts stopped 40 of the 41 shots she faced on the weekend, moving her save percentage to 0.947.
On Friday night, Roberts faced a season-low 15 shots and handled them all to earn her third shutout of the season in a 3-0 decision.
The following evening, the fourth-year goaltender turned away 25 attempts for a 3-1 victory.
It is the second time this season that Roberts has finished a weekend with only one goal allowed.
The Dinos travel east this weekend to take on the Manitoba Bisons, Jan. 10-11.
THIRD STAR: S – Rylie Dickson
Winnipeg Wesmen / Volleyball

5th-year

Killarney, Man.

Science

GAME LOG: Friday, Jan. 3 – 37 assists, 11 digs, and an ace in 3-0 win vs. Thompson Rivers / Saturday, Jan. 4 – 36 assists, 11 digs, and one kill in 3-1 loss vs. Thompson Rivers.
With 73 assists over the weekend, Dickson tied Christa Desrochers for the Wesmen Canada West program record for career assists.
On Friday, she quarterbacked an offence that hit .228 to upset the No. 8-ranked Thompson Rivers Wolfpack and hand TRU its first straight-sets loss of the season.
Dickson added 11 digs on both nights, the eighth time this season she has notched double-digit digs.
Dickson is fourth in Canada West in assists per set and tied for tops among setters in digs.