The Victoria Royals lost 6-2 to the Vancouver Giants on Saturday night at the Save-On-Foods Memorial Centre.Victoria native and Giants' forward Tyler Prezuiso scored his first goal at Save-On-Foods Memorial Centre against his hometown team tonight,in five career WHL games in Victoria he has recorded three points (1g-2a).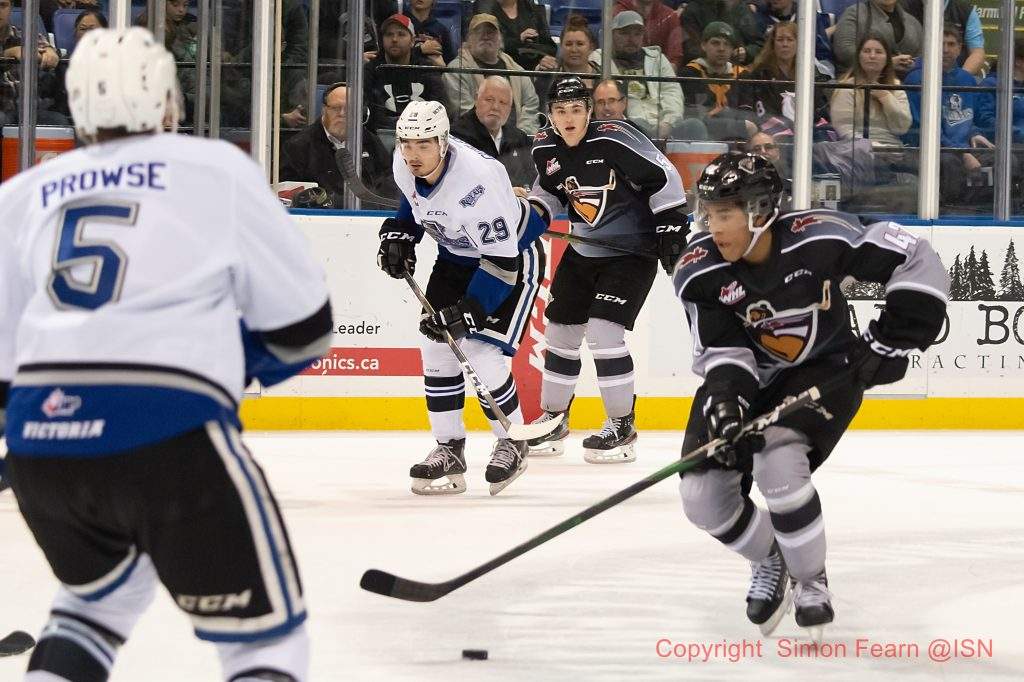 Boxscore
 1st Period:
 VIC – Royals captain Phillip Schultz opened the scoring at 5:17. Defenceman Will Warm's pass from the right-wing point found Schultz in front. From there, Schultz snuck a forehand shot past the stick of Trent Miner for his seventh goal of the season.
VAN – With one minute and 12 seconds left in the period, Jackson Shepard tied the game for Vancouver with a power play deflection. Shepard (7) parked himself in front of the net and tipped home a Michal Kvasnica point shot. The power play was far from done.
Shots: 6-6
2nd Period:

VAN – 22 seconds into the second, Tyler Preziuso (16) converted off a two-on-one rush with Tristen Nielsen to give the Giants the lead. Jackson Shepard added the second assist.
VAN – Rookie Zack Ostapchuk then got in on the act, one-timing his fifth of the season past Victoria's Adam Evanoff in close off a Justin Sourdif pass at 2:56.
VAN – Eric Florchuk then notched his fourth goal of the weekend on a five-on-three power play chance for the Giants. Florchuk's 15th goal of the season came off a one-timer from the right-wing circle. Bowen Byram and Tyler Preziuso assisted.
VAN – Justin Sourdif made it 5-1 at 13:57 off a scramble In front of the Victoria goal. Sourdif's 14th goal of the season came via the power play and was set up by Holden Katzalay and Michal Kvasnica.
Shots: 23 – 3 Vancouver
3rd Period:
VAN – The final power play goal of the night for the Giants came courtesy of Cole Shepard (9) at 12:25 off a shot from the slot that was set up by both Jackson Shepard and Alex Kannok Leipert.
VIC – With 3:30 remaining, Gary Haden scored his 15th of the season on a power play. Brayden Tracey and Mitchell Prowse both added assists.