hen your goalies combine to outscore the opposition you know it's been a historic weekend.
Saskatchewan's Taran Kozun and Jessica Vance are this week's Canada West first stars after leading their teams to shutout sweeps over the weekend.
Kozun stole the spotlight in the Stampede City, combining for 70 saves in a pair of road wins over the Calgary Dinos. After a 4-0 win Friday, Kozun made history Saturday night in Saskatchewan's 3-0 win.
The former Seattle Thunderbird became just the second CW goalie to score in a game, as he fired a shot into the empty net with 2:49 left in the third. He joined Alberta's Kurtis Mucha (Oct. 26, 2012) as the only goalies to score in conference history.
Meanwhile in Saskatoon, Vance stood tall for the Huskies against the conference leading Dinos. The fourth-year netminder stopped a combined 40 shots, as the Huskies earned a 1-0 shootout win Friday before recording a 1-0 regulation win Saturday. With the perfect weekend, Vance sits second all-time in CW with 20 career shutouts.
The Saskatchewan goalies now move forward as the conference nominees for the U SPORTS Athletes of the Week.
MEN'S THREE STARS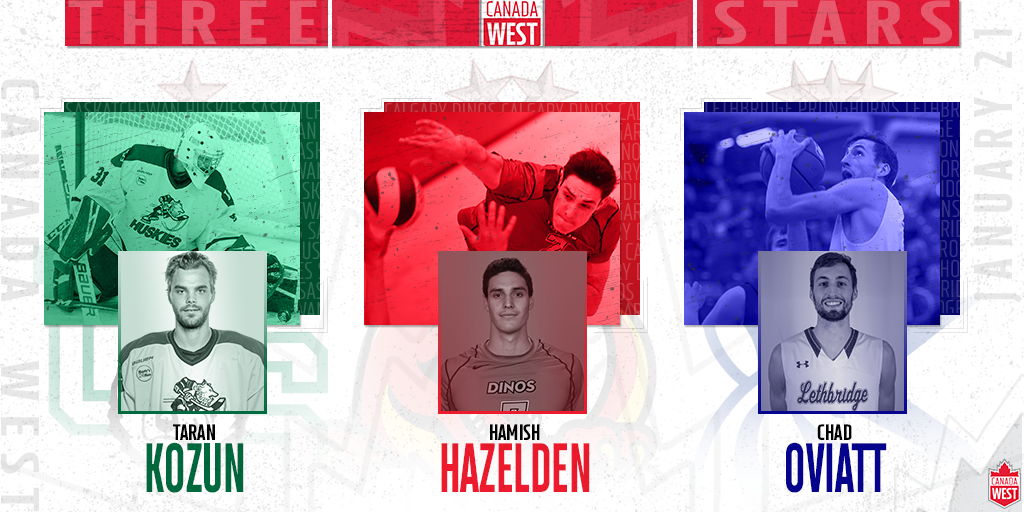 FIRST STAR: G – Taran Kozun
Saskatchewan Huskies / Hockey

3rd-year

Nipawin, Sask.

Arts & Sciences

GAME LOG: Friday, Jan. 17 – 35-save shutout in 4-0 win at Calgary / Saturday, Jan. 18 – goal and 35-save shutout in 3-0 win at Calgary.
Not only did Taran Kozun shut the door on the Calgary Dinos this past weekend, stopping all 70 shots fired his way, he also became just the second goalie in Canada West history to register a goal.
The 2018-19 U SPORTS Goalie of the Year started his weekend by willing his team to a 4-0 victory. Despite getting outshot 35-25, Kozun was unbeatable on the night to record his third shutout of the season.
The product of Nipawin, Sask. was even better on Saturday. Recording the same amount of saves for shutout number four on the year, Kozun also found another way to get his name on the scoresheet. With Calgary's goalie pulled Kozun gloved down a shot on net, quickly dropped the puck and fired it the length of the ice to become just the second goalie in conference history to score.
The wins were big for Saskatchewan in the playoff picture, allowing them to jump the Dinos for second place in the conference and grab the first round bye that comes with it.
Kozun and the Huskies will welcome the UBC Thunderbirds to Merlis Belsher Place this weekend, with games on Friday and Saturday night both scheduled to begin at 7 p.m.
SECOND STAR: M – Hamish Hazelden
Calgary Dinos / Volleyball

4th-year

Esperance, Australia

Arts

GAME LOG: Friday, Jan. 17 – 17 kills, .577 hitting, 4 digs, 2 total blocks in 3-0 win vs. Brandon / Saturday, Jan. 18 – 21 kills, .486 hitting, 1 service ace, 7 digs, 2 total blocks in 3-1 win vs. Brandon
The University of Calgary Dinos came off a bye week and pulled off a massive upset by sweeping the No. 3 Brandon Bobcats at the Jack Simpson Gym.
The Dinos' attack was led by fourth-year middle Hamish Hazelden, who set career highs in kills on back-to-back nights.
On Friday night, the Dinos took care of the shorthanded Bobcats in three sets (25-22, 25-22, 25-11). Hazelden, an Esperance, AUS native collected 17 kills with a .577 hitting percentage in the straight-sets win.
Hazelden was equally impressive on Saturday night in the rematch with 21 kills and .486 hitting, as the Dinos beat the Bobcats in four sets (28-26, 25-21, 18-25, 29-15).
The Dinos will look to continue their rise up the standings this week as they matchup against the crosstown rival Mount Royal Cougars, beginning on Thursday, Jan. 23.
THIRD STAR: F – Chad Oviatt
Lethbridge Pronghorns / Basketball

3rd-year

Edmonton, Alta.

Science

GAME LOG: Thursday, Jan. 16 – 16 points, 12 rebounds, 2 blocks in 102-93 win at Mount Royal / Saturday, Jan. 18 – career-high 36 points, 16 rebounds, 3 steals,1 assist, 1 block in 108-79 win vs. Mount Royal.
Entering crunch time of the Canada West schedule, third-year forward Chad Oviatt combined for 52 points and 28 rebounds to lead the Lethbridge Pronghorns to their first sweep of the season in a home-and-home series with their provincial rival the Mount Royal Cougars.
Thursday night in Calgary, the Edmonton product recorded his fourth double-double of the season, scoring 16 points on an efficient 6 of 9 from the field and grabbed 12 boards in the 102-93 win over the Cougars.
To follow up that performance, Oviatt had a career night with a second consecutive double-double Saturday, leading the Pronghorns to the sweep in a 108-79 win. The sciences student set a new career-best for both points and rebounds in the game, scoring a game-high 36 points and snagging 16 rebounds. He also added three steals, an assist and block in the win.
Following his big weekend, Oviatt now leads the Pronghorns in scoring with 15 points per game and is averaging a team high 7.4 rebounds.
WOMEN'S THREE STARS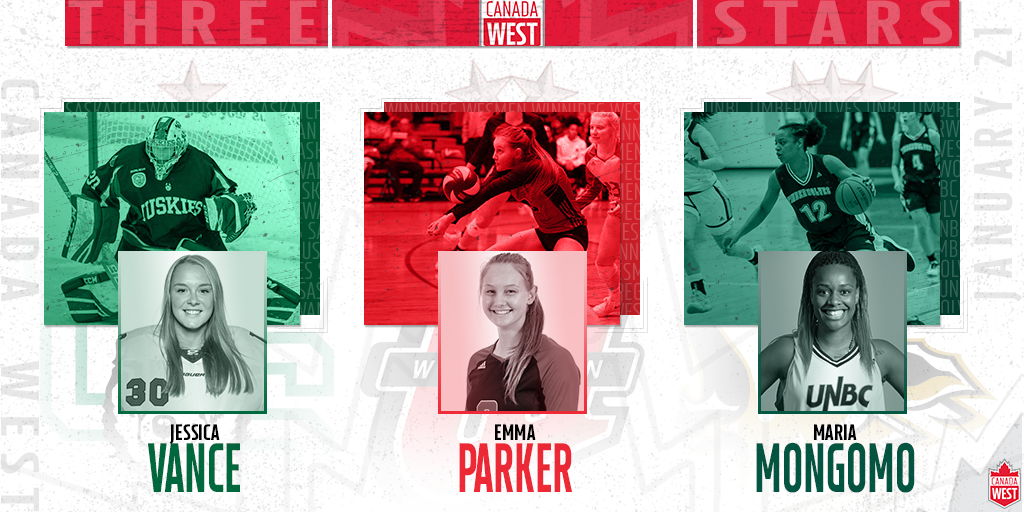 FIRST STAR: G – Jessica Vance
Saskatchewan Huskies / Hockey

4th-year

Prince Albert, Sask.

Kinesiology

GAME LOG: Friday, Jan. 17 – 23-save shutout in 1-0 shootout win vs. Calgary / Saturday, Jan. 18 – 17-save shutout in 1-0 win vs. Calgary.
Jessica Vance was perfect on the weekend, stopping all 40 shots she faced and making some history in the process.
The product of Prince Albert led the Huskies to a sweep of the previously league-leading Dinos, despite Saskatchewan scoring just one regulation goal, they were able to pick up back-to-back wins thanks to the heroics of Vance.
On Friday night the kinesiology major made 19 saves in regulation before standing on her head in the extra frames. Vance made multiple sprawling stops in overtime, including sliding across her crease to stack the pads and deny the Dinos on a two-on-one break. In the shootout Vance remined perfect, stopping all four shots she faced to earn the win and the shutout.
That play continued over to Saturday night where the 2017-18 Canada West Player of the Year stopped all 17 shots she faced to wrap up a weekend sweep for Saskatchewan.
With the shutouts Vance, who already leads the Huskies in career shutouts moved into sole possession of second in Canada West history with 20 clean sheets.
Next up for Vance and the Huskies is a trip to Vancouver to take on the UBC Thunderbirds, Jan. 24-25.
SECOND STAR: LS – Emma Parker
Winnipeg Wesmen / Volleyball

3rd-year

Winnipeg, Man.

Science

GAME LOG: Friday, Jan. 17 – 14 kills, 19 digs, block assist, 14.5 points in 3-2 loss at Saskatchewan / Saturday, Jan. 18 – 17 kills, 18 digs, ace, three block assists, 19.5 points in 3-2 win at Saskatchewan.
Emma Parker set a season-high and then nearly did it again as the Wesmen pulled off a key split on the road at Saskatchewan.
Parker's 19 digs Friday night were her season high and she nearly matched that one night later when she dug up 18 attacks in a Wesmen victory.
Parker averaged 15.5 kills and 18.5 digs for the weekend, while taking 107 swings over two nights. She chipped in with an ace and four block assists over the course of two matches.
Winnipeg is at home this weekend to the MacEwan Griffins Friday and Saturday.
THIRD STAR: F – Maria Mongomo
UNBC Timberwolves / Basketball

5th-year

Las Palmas, Spain

Psychology

GAME LOG: Friday, Jan. 17 – 35 points, 7 rebounds, 5 steals, 2 assists in 30 minutes in 104-54 win over UBCO / Saturday, Jan. 18 – 30 points, 16 rebounds, 5 assists, 3 steals in 39 minutes in 72-50 win over UBCO.
The UNBC Timberwolves needed a big performance from their fifth-year star, and they got one in a much-needed weekend sweep of the UBC Okanagan Heat, as Maria Mongomo led the way for the TWolves while making history in the process.
Needing nine points to pass Vasiliki Louka for most points in UNBC history, and ten points to reach the 1500 mark, Mongomo got that and more on Friday night. The native of Las Palmas, Spain scored a career-high 35 points, to go along with seven boards and five steals as the Timberwolves took out the Heat by 50.
The next night was a far closer battle, and the Spaniard stepped up again. Playing 39 minutes, she went for 30 points, this time adding 16 rebounds, five assists, and three steals.
For the weekend, Mongomo averaged 32.5 points, 11.5 rebounds, 3.5 assists, and four steals, while becoming just the 15th member of the Canada West 1500 point club.
She now sits top five in scoring, rebounding, and steals in the conference.