UNBC's Madison Landry and Trinity Western's Eric Loeppky are the Canada West first stars of the week, following key sweeps for their respective teams.
Landry combined for 45 points, 13 rebounds and nine assists in the Timberwolves' sweep of the Regina Cougars in women's basketball. The wins lifted UNBC to eighth in the conference standings, and secured UNBC a playoff berth.
In volleyball, Loeppky kept his stellar season on track as the Spartans earned two wins over  the defending CW champion Brandon Bobcats. The fourth-year outside hitter combined for 40 kills in a pair of 3-1 wins, as TWU clinched first in the conference.
The pair now move forward as the CW nominees for the U SPORTS Athlete of the Week awards.
---
ATHLETES OF THE MONTH

The conference also announced the January Athletes of the Month, as Loeppky took home the men's honours and Fraser Valley's Taylor Claggett earned the women's honour.
Loeppky had a standout month, averaging just under 15 kills per game, as the Spartans went a perfect 7-0. For the season, the Steinbach, Man. product is tied for second in the conference, averaging 3.85 kills per set.
Claggett had a monster month for the Cascades, as she averaged 19.6 points per game, 10.7 rebounds per game, and three assists per contest, as UFV went 8-1 over the month to clinch a playoff berth.
---
WOMEN'S THREE STARS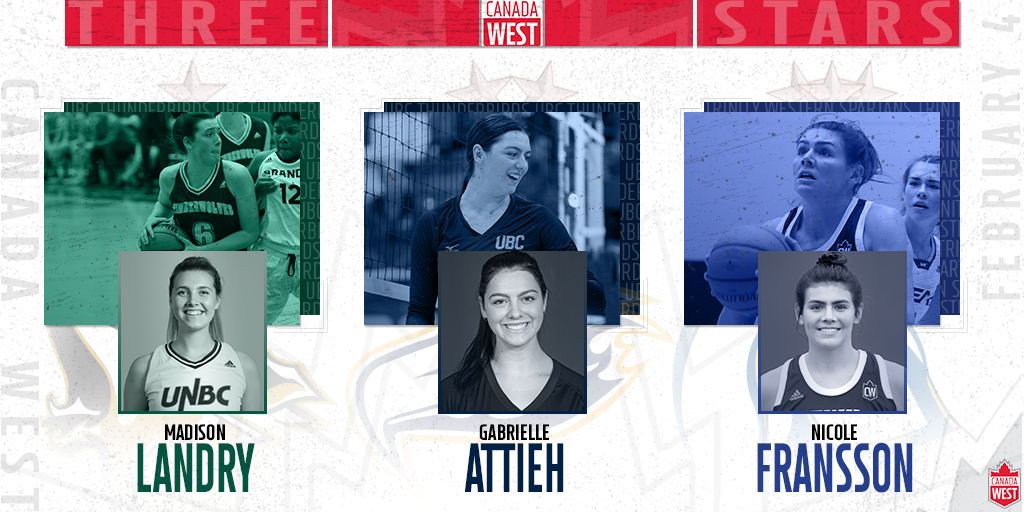 FIRST STAR: G – Madison Landry
UNBC Timberwolves / Basketball

4th-year

Prince George, B.C.

Health Sciences

GAME LOG: Friday, Jan. 31 – 30 points, 10 rebounds, 1 steal, 1 assist in 40 minutes in 73-67 win over Regina / Saturday, Feb. 1 – 15 points, 8 assists, 3 rebounds, 2 steals in 76-71 win over Regina.
The UNBC women's basketball team had every reason to fold last weekend; playing with just six players, on the road, against a very good Regina program. However, with their fate still in limbo, the TWolves earned their fifth and sixth wins in a row, powered by a pair of Madison Landry performances.
On Friday, the Prince George product showed why she has been among the leading scorers in Canada West for three seasons, scoring 30 points and adding 10 boards, while playing every second of the game for UNBC. In the win, she passed the 1,100-point barrier, moving her into third in TWolves history.
The next night, the fourth-year displayed the other side of her diverse game, playing the role of distributor. Landry scored 15 points, but added eight assists, three rebounds, and a pair of steals in her 37 minutes of playing time in the fourth quarter comeback victory. She also broke the UNBC career assist record in the process.
With the wins, the Timberwolves clinched their fourth consecutive Canada West playoff appearance.
SECOND STAR: M – Gabrielle Attieh
UBC Thunderbirds / Volleyball

3rd-year

Surrey, B.C.

Arts

GAME LOG: Friday, Jan. 31 – 14 kills, .333 attack, 1 service ace, 4 blocks, 4 digs in a 3-0 UBC win over Regina / Saturday, Feb. 1 – 11 kills, .409 attack, 11 service aces, 4 blocks, 7 digs in a 3-0 UBC win over Regina.
In addition to leading all players on the court with a combined 25 kills in UBC weekend sweep of the Cougars, Gabrielle Attieh set a new three-set Canada West record Saturday night with a remarkable 11 service aces.
The third-year middle blocker from Surrey was strong from the baseline and at the net as she had an impressive 14 kills Friday and another 11 Saturday along with eight combined blocks and 11 digs over the two matches.
Attieh's 11 service aces is not only a new career high, but now stands as the second most all-time in a single match in Canada West history. She now sits third in conference kills per set with 3.46 and fourth in total points (297).
Led by Attieh's all-around dominant offence and defence, the 'Birds earned their fourth weekend sweep of the season to move back to .500 at 10-10 heading into the final two weeks of conference play.
The 'Birds head to Kelowna this weekend for their final regular season road trip to face the UBC Okanagan Heat, looking to book their tickets to the Canada West playoffs.
THIRD STAR: F – Nicole Fransson
Trinity Western Spartans / Basketball

2nd-year

Edmonton, Alta.

Science

GAME LOG: Friday, Jan. 31 – 19 points, 9 rebounds, 50% FG in 66-58 win over Brandon / Saturday, Feb. 1 – 18 points, 15 rebounds, 50% FG in 69-67 win over Brandon.
Spartans forward Nicole Fransson has been the Spartans offensive leader all season, and with TWU on the brink of being eliminated from playoff contention, Fransson delivered.
In TWU's 66-58 win over the Bobcats last Friday, Fransson contributed 19 points, nine rebounds and hit exactly 50 per cent of her shots to give the Spartans their first win since Nov. 30. Then on Saturday, Fransson contributed a double-double for Trinity Western, leading the team in points (18) and rebounds (15) to vault TWU to the weekend sweep.
The second-year Fransson has now recorded nine or more rebounds in six consecutive games, while leading all Canada West in the category averaging 10.6-per game.
She and the Spartans will close out the regular season in a pivotal series at home versus Victoria Friday (6 p.m PT) and Saturday (5 p.m. PT) at the Langley Events Centre.
---
MEN'S THREE STARS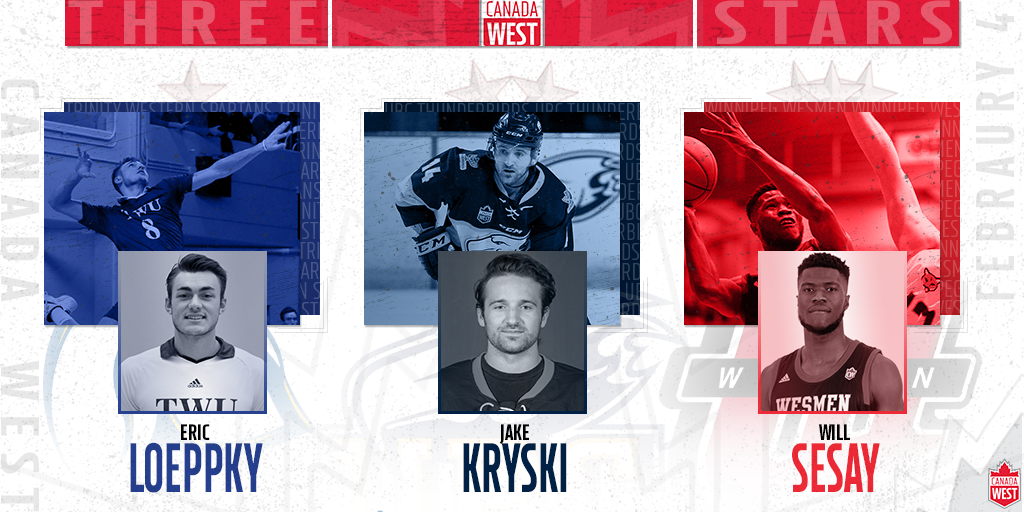 FIRST STAR: OH – Eric Loeppky
Trinity Western Spartans / Volleyball

4th-year

Steinbach, Man.

General Studies

GAME LOG: Friday, Jan. 31 – 21 kills, .455 hitting, 5 blocks, one ace in 3-1 win over Brandon / Saturday, Feb. 1 – 19 kills, .471 hitting, six digs, one block in 3-1 win over Brandon.
This season Eric Loeppky had yet to surpass 32 kills in a series. That is, until this past weekend, as Loeppky was once again a vital component in the No. 1-ranked Spartans offence.
In Friday's national championship rematch against rival Brandon, Loeppky recorded 21 kills, five blocks, and hit .455 to guide TWU to a four set win. Then again on Saturday Loeppky was all over the scoresheet, registering 19 kills, six digs and another block while hitting .471 to lift Trinity Western to a weekend sweep over the Bobcats.
The weekend also saw the fourth-year Loeppky surpass Spartan alum Nicholas Del Bianco (2010-2014) for third all-time in program kills (1,302).
Having now won 18 consecutive games, Loeppky and the Spartans enter a bye-week before taking on Thompson Rivers on the road to conclude the regular season (Feb. 14-15).
SECOND STAR: F – Jake Kryski
UBC Thunderbirds / Hockey

1st-year

Vancouver, B.C.

Arts

GAME LOG: Friday, Jan. 31 – 3 goals, 2 assists, GWG, 6 shots, +4 in a 6-1 UBC win over Lethbridge
Jake Kryski completed his first career Canada West hat trick and his first five-point game as he led the Thunderbirds to a big 6-1 victory over the Pronghorns in Lethbridge Friday night.
After trailing 1-0 after the first period, Kryski and the T-Birds scored six unanswered goals to earn a critical two points in their bid to clinch a ninth consecutive Canada West playoff berth.
Kryski assisted on Austin Glover's tying goal early in the second period and then scored himself on the power play later in the frame for what stood up as the eventual game winner.
The former Calgary Hitmen forward added another goal early in the third and completed the hat trick with just under three minutes remaining with his fifth goal of the season.
Unfortunately for Kryski, he was unable to play in Saturday's final regular season meeting with the 'Horns but the 'Birds managed to edge Lethbridge 5-4 to complete the season series sweep and get back into sole possession of sixth in the standings heading into the final weekend of the season.
UBC closes out the regular season at home Friday and Saturday against the Mount Royal Cougars as the 'Birds' hunt for a playoff berth will come right down to the wire.
THIRD STAR: G/F – Will Sesay
Winnipeg Wesmen / Volleyball

5th-year

Winnipeg, Man.

Science

GAME LOG: Friday, Jan. 31 – 17 points, 16 rebounds, 8-for-15 FG in 32 minutes of 77-72 win vs Mount Royal / Saturday, Feb. 1 – 23 points, 8 assists, 5 rebounds, 5 steals, 8-for-15 FG in 38 minutes of 107-95 win vs Mount Royal.
Playing his final conference games on his home floor, the downtown-Winnipeg-raised Sesay had his finest weekend of the season, grabbing a career-high 16 points on Friday and then going for a career-high 23 points on Senior Night Saturday. He also matched a career-high with five steals on Saturday.
Sesay averaged 20 points, 10.5 rebounds and shot 16-for-30 from the field over the weekend, as Winnipeg improved to 10-8 on the season.
The Wesmen wrap up their season this weekend with a set of games in Vancouver against the UBC Thunderbirds.