It was a clean sweep atop the podium for Canada at the 2020 World Junior Curling Championships in Krasnoyarsk, Russia, as both Canadian men's and women's representatives won gold in their respective championships.
It marks the first time since 2018 that both the men's and women's representatives from Canada have won gold at a world juniors when B.C's Tyler Tardi and Nova Scotia's Kaitlyn Jones accomplished the feat at Aberdeen, Scotland
Mackenzie Zacharias' Altona (Man.) Curling Club rink (comprising third Karlee Burgess, second Emily Zacharias, lead/vice-skip Lauren Lenentine, alternate Rachel Erickson and coach Sheldon Zacharias) defeated South Korea's Min-Ji Kim 7-5 in the championship final to claim the women's title.
"World champion? That sounds pretty amazing. It was a fantastic game, Korea played great. We struggled a little in the first half, but we played a great second half. It's incredible and I'm so happy," said Zacharias after winning the final.
Burgess made history as the first Canadian to win three world junior women's championships; she won in 2016 playing with Mary Fay, and in 2018 with Kaitlyn Jones. Only Eve Muirhead and Vicki Adams of Scotland have ever won three world junior women's gold medals.
Canada opened the scoring with a single point in the second end, which South Korea followed with a score of three points in the third end.
The teams exchanged steals of one point in the fourth and sixth ends to be tied at 4-4 after six ends.
Canada then scored a single-point steal in the sixth, took a single with hammer in the eighth end and stole two more points in the ninth end to take the lead going into the 10th end.
When Kim came up short with her first-stone draw attempt, and with no stones in scoring position, the South Koreans conceded defeat, giving Canada the 7-5 win.
Zacharias and company welcomed the challenge with open arms and felt comfortable despite the stakes of a world championship title being on the line.
"Everybody made a lot of shots in the second half and we were able to have a really good last two ends and that's what made the difference today.  I wouldn't say we were in complete control a but we knew we could force the extra (end) if we needed to," said Zacharias.
On the men's side, Winnipeg's Jacques Gauthier team from the Assiniboine Memorial Curling Club (rounded out by third Jordan Peters, second Brayden Payette, lead Zachary Bilawka, alternate Thomas Dunlop, and coach John Lund) needed just nine ends to defeat Switzerland's Marco Hösli 7-2.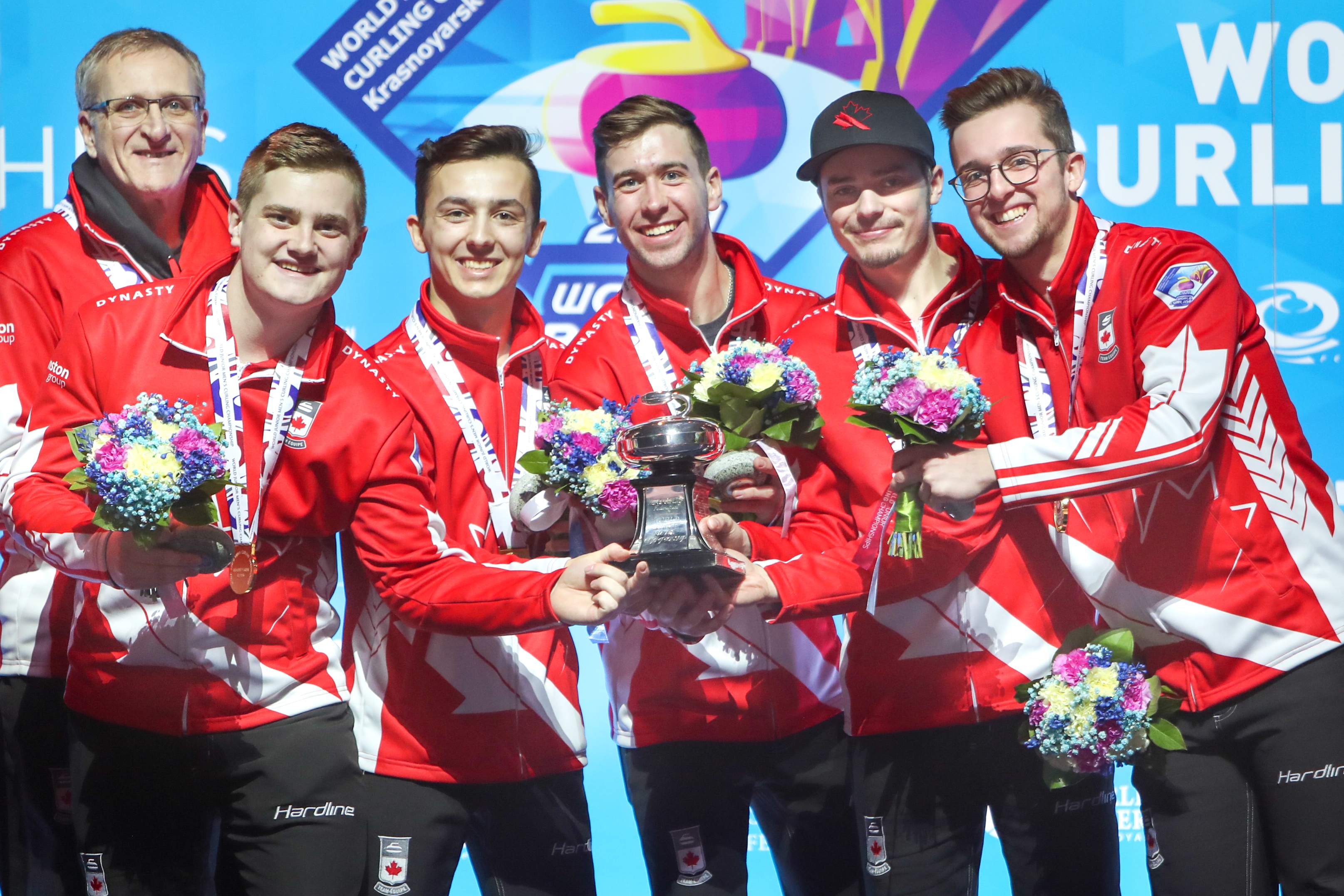 The 2020 men's gold medal marks the third consecutive world junior men's gold for Canada with B.C.'s Tyler Tardi (Gauthier's cousin) winning the championship in both 2018 and 2019 as well. Gauthier was the alternate for the 2018 gold-medal team.
Canada opened the scoring in the second end with a single point and then doubled its lead to 2-0 in the fourth end with a single-point steal. Switzerland got on to the scoreboard in the fifth end with one point, and then in the sixth end, Gauthier played a nose-hit for two points and a 4-1 lead.
In the seventh end, Switzerland's Yves Stocker was facing four Canadian counters when he played his final draw. His attempt was a touch heavy and Switzerland gave up a steal of two points to extend Canada's lead to 6-1.
In the eighth end, Switzerland's Stocker tried to draw his final stone into position to score one point, but he came up just short to give Canada a single-point steal and a 7-1 lead.
With a final point in the ninth end, Switzerland shook hands and Canada became world champions for the third time in succession.
Throughout the week, Gauthier felt his rink has been playing to their strengths which helped them win the world junior gold.
"It's unreal. It's going to take a while for it to set in. I have guys in front of me who can really hit – they're animals. If it doesn't go our way, we've been fortunate to make some big draws at big times and I think that helped us out and definitely played into our confidence," said Gauthier
Despite their relative inexperience on the world stage, Gauthier emphasized that composure and grace under fire would help his team achieve their gold medal aspirations.
"It was our first final. I know that their skip who was throwing third today played in the final last year, so he had some experience and we didn't have that so maybe he was trying to get a miss from us," said Gauthier.
Canadian men's teams have won a leading 21 gold medals (Scotland is next with 10 gold) to go along with 10 silver and eight bronze in the 45 previous editions of the World Junior Men's Championship.
Canadian women's teams, meanwhile, have claimed gold 13 times (Scotland is next best with nine), along with nine silver and eight bronze since the World Junior Women's Championship made its debut in 1988.