The Calgary Dinos owe a big part of their turnaround season to Kelsey Roberts.
Wednesday the fourth-year goalie was named the Canada West Player of the Year, as the conference unveiled its major award winners ahead of this weekend's CW Final in Edmonton between the Alberta Pandas and Mount Royal Cougars.
Roberts earned the honour after helping Calgary make a 39-point improvement in the conference standings. The veteran netminder played over 1,500 minutes for the Dinos with a goals-against average of just 1.33 and save percentage of .948.
Also taking home an award for Calgary was head coach Danielle Goyette, who is the CW Coach of the Year. The former national team player guided her team to a 17-7-1-3 record, as the Dinos posted their best finish since the 2012-13 season.
Earning the conference's Rookie of the Year award was Madison Willan. The Alberta forward ran away with the CW rookie scoring crown, finishing with 25 points – 15 more than the next closest player.
Rounding out the award winners is Saskatchewan's Brooklyn Haubrich, who is the Student-Athlete Community Service award recipient. The Huskies captain gives back through a variety of community initiatives, including coaching youth hockey and providing opportunities to female hockey players across rural Saskatchewan.
The 2020 CW Women's Hockey Final is set for this weekend, as the MRU Cougars travel to Edmonton to take on the Pandas. The best-of-three series opens Friday, February 28 at 7 p.m. MST.
You can watch the action by tuning into Canada West TV Presented by Co-op.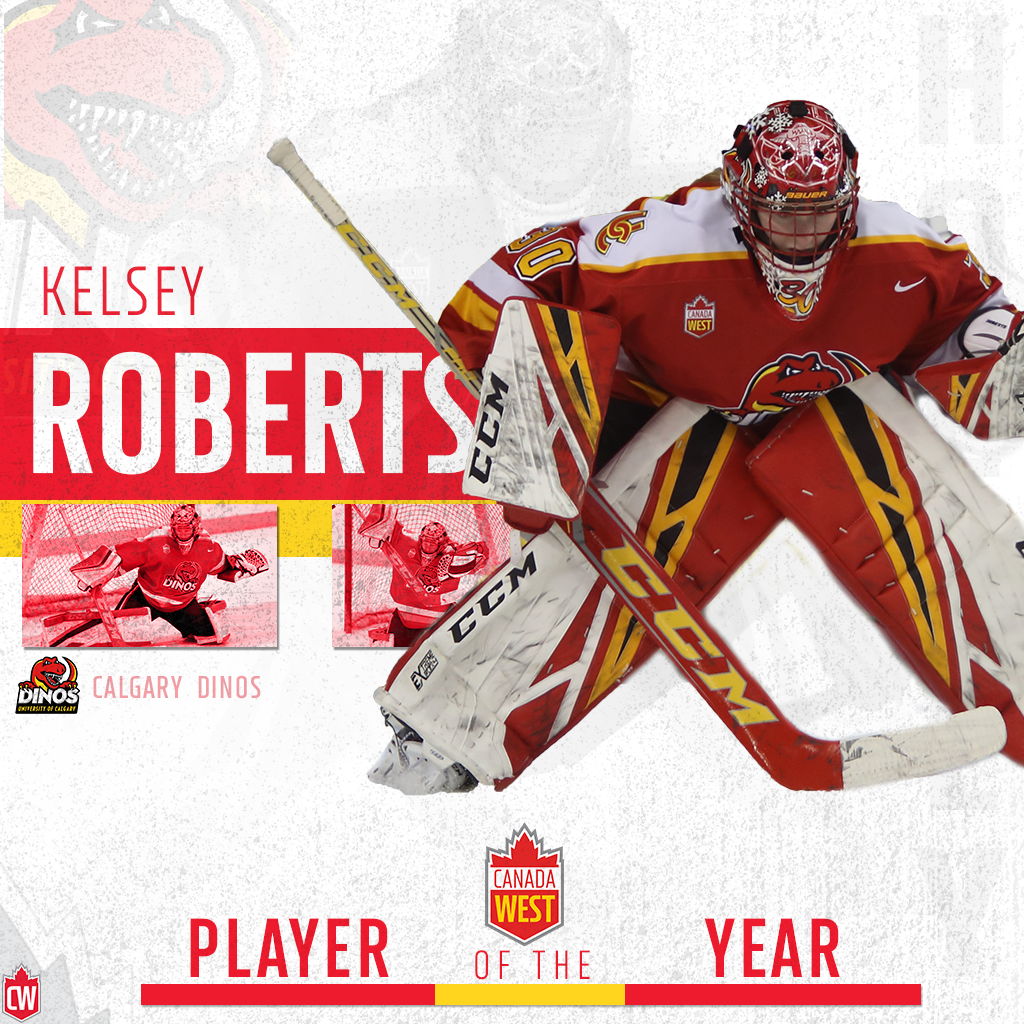 Calgary Dinos

Goaltender

4th-year

Kitimat, B.C.

Arts
Fourth-year netminder Kelsey Roberts put the University of Calgary Dinos on her back again this year, backstopping them to a remarkable turnaround season.
Roberts put up spectacular numbers, playing more minutes than any other playoff-bound goaltender at nearly 1,530 while recording a 1.33 goals-against average and a .948 save percentage. She led Canada West with 16 wins on the regular season and added four shutouts, helping the Dinos to an 17-7-1-3 record and the second seed in the conference playoffs.
The fourth-year Kitimat, B.C. native was named to Hockey Canada's national women's development team last summer, travelling to Lake Placid, N.Y. to face the United States in a three-game series in August.
She becomes the fifth Dino to earn the conference's top honour, following a pair of two-time winners: Hayley Wickenheiser (2011, 2013) and Iya Gavrilova (2015, 2016).
Coach's comments:
"Kelsey has been by far our most consistent player for the last two years, giving us a chance to win every night. She has learned what it takes to be successful on a regular basis by putting in the work on and off the ice, but the biggest improvement she has made is on her mental game. She controls her emotions and welcomes the challenges now. We're excited to have her for one more year." – Calgary Head Coach Danielle Goyette.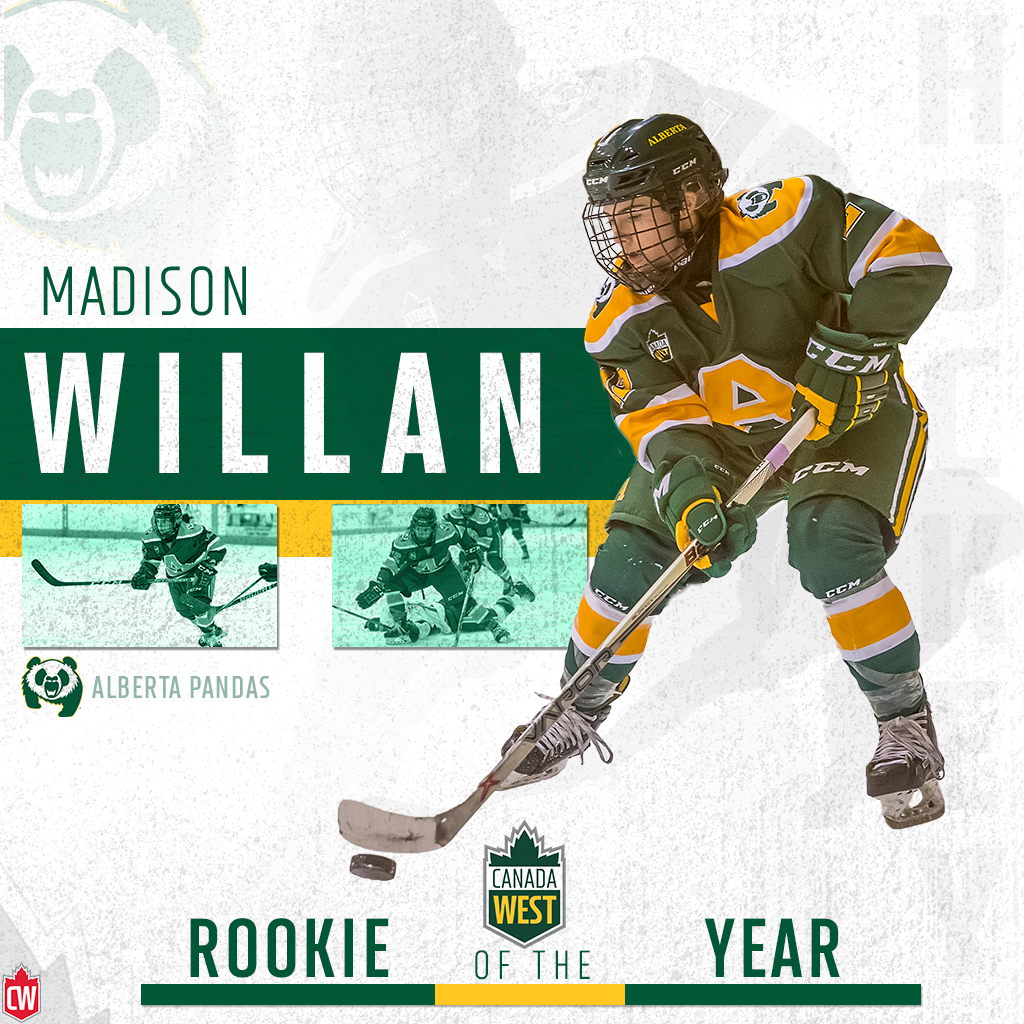 Alberta Pandas

Forward

1st-year

Edmonton, AB

Agriculture, Life & Environmental Sciences
From ESSO Cup national champion to Canada West Rookie of the Year, it's been quite the calendar year for Madison Willan.
The multi-sport talent, who is also a member of the Canadian women's national baseball team, made the jump to Canada West and didn't miss a beat this season.
Willan posted a 51-point season a year ago with the St. Albert Slash of the Alberta midget AAA league and followed that up with 25 points this season to top the CW rookie scoring race, and finish third overall in CW behind a pair of Pandas teammates (Autumn MacDougall (31) and Kennedy Ganser (27)).
Coach's comments:
"Madison isn't the kind of player that stands out immediately. The more you watch her play, however, you begin to see she has an extremely high hockey intelligence that makes it possible for her to have a dramatic impact on the game. Pair her IQ with strong puck skills and a drive to succeed, and you are left with a player that is going to be a significant offensive threat for her team." – Alberta Head Coach Howie Draper.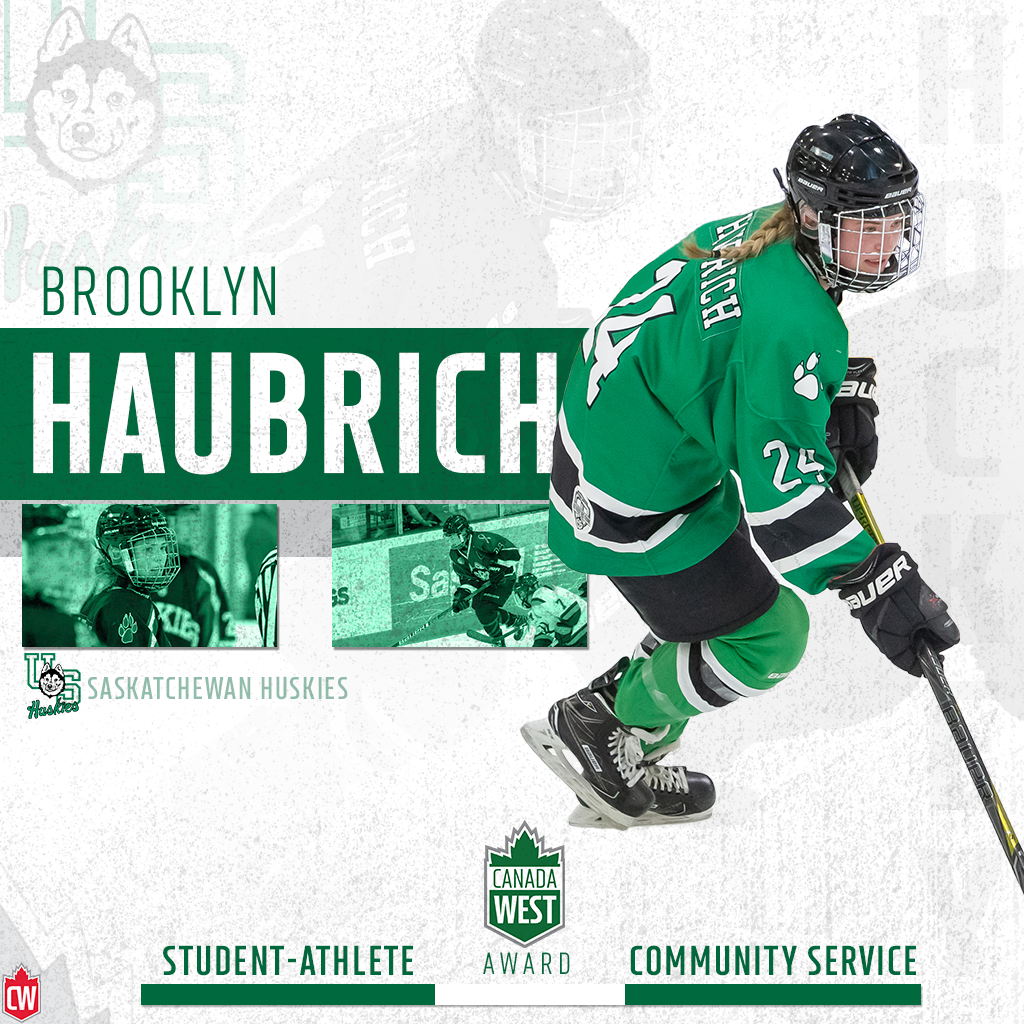 Saskatchewan Huskies

Forward

5th-year

Hodgeville, SK

Agriculture and Bioresources
Huskies captain Brooklyn Haubrich is the Student-Athlete Community Service award winner thanks to her U SPORTS Academic All-Canadian status, and strong community work.
The gritty forward, who earned significant playing time on specialty teams for Saskatchewan, has left her mark in communities across the province while studying agriculture and bioresources.
The product of Hodgeville, Sask. coaches a team of youth funded by the Kinsmen Club of Saskatoon, allowing families enjoy the game who otherwise wouldn't be able to. She is also a mentor in the Big Sister / Little Sister program, makes monthly visits to various elementary schools as a Huskie Homeroom Mentor, and has worked to provide on-ice opportunities to female hockey players in rural communities throughout Saskatchewan.
Coach's comments:
"She's our leader on the team and she's a leader among all of the athletes here with Huskie Athletics. This is a very fitting honour for her, it's just who she is as a person and not necessarily what she does as an athlete. Brooklyn is from a rural background and believes very strongly in giving back to the game and that's why she does all the volunteering she does with the youth both here in Saskatoon and in rural areas throughout Saskatchewan." – Saskatchewan Head Coach Steve Kook.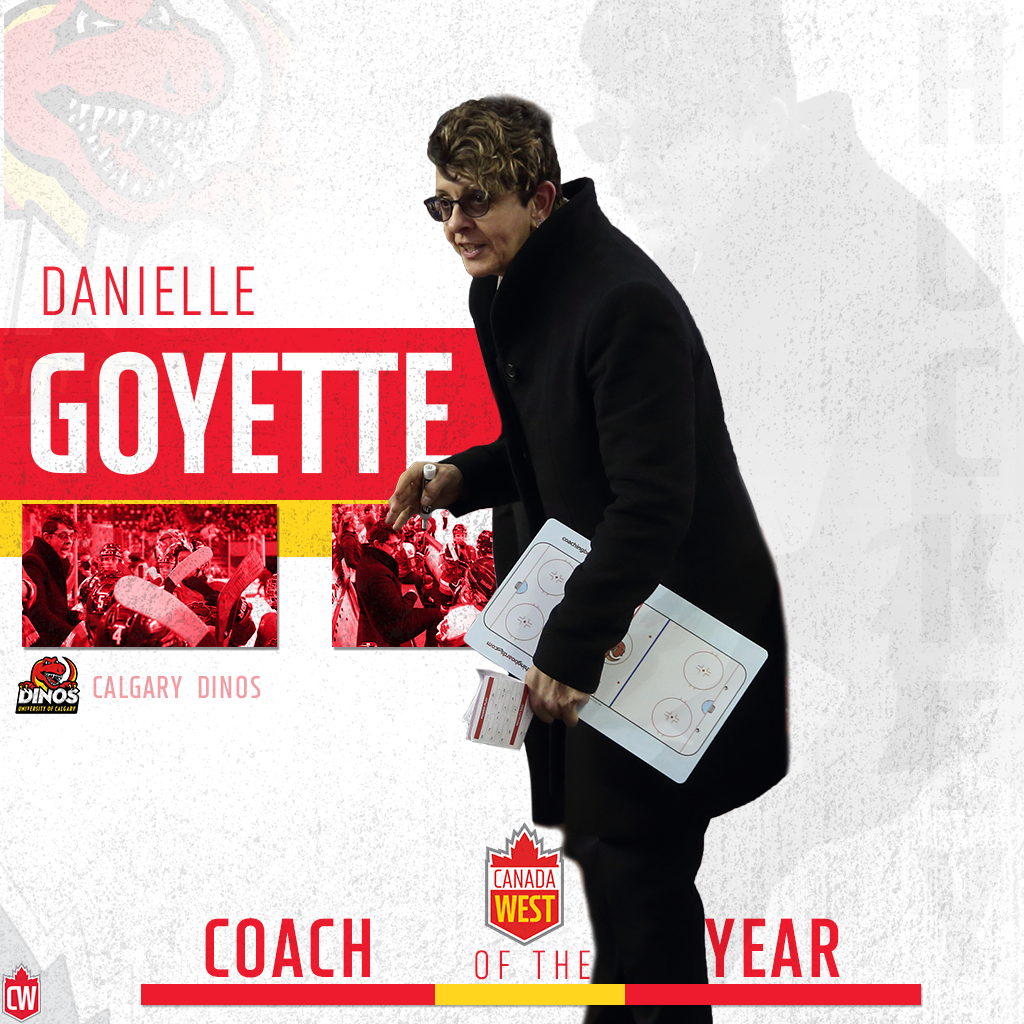 The University of Calgary Dinos were the surprise of Canada West women's hockey in 2019-20, earning head coach Danielle Goyette her first CW Coach of the Year honour in her 12th season at the helm of the program.
Written off in the preseason poll and chosen to finish last, the Dinos instead won 18 games – an improvement of 13 victories over their 2018-19 mark – to post their best finish since appearing in back-to-back national finals in 2012 and 2013. The Dinos nearly doubled their offensive output from 32 goals in 2018-19 to 61 this year, all while allowing 28 fewer markers – a testament to improved play at both ends of the ice.
Goyette, a Hockey Hall of Famer and three-time Olympic medallist, was previously named coach of the year in the Alberta Colleges Athletic Conference in 2009, one year before the Dinos made the jump back to Canada West. She is the first Dinos bench boss to earn this Canada West recognition.
Athletic director's comments: 
"There is no more deserving coach than Danielle this year. From the first game in October it was evident that the culture of the team had changed and expectations had been elevated. The team believed in themselves, their teammates, and their coaches, and this is a reflection of the confidence and leadership instilled by Danielle. We are very proud of everything she and the team accomplished and their tremendous growth this year." – Calgary Athletic Director Jason Kerswill.