With socially distanced training underway, CBC today announced the elite 16  skaters making up the eight pairs for the upcoming new season of the hit live-competition series BATTLE OF THE BLADES (Season 6, 1×120, 6×60), featuring NHL, Olympic and professional hockey players who will perform on ice with World and Olympic figure skating partners in the hopes of winning the Season 6 championship, and a $100,000 donation to the charity of their choice. This is the first time in the series' history that three female hockey players, and three male figure skaters, have been part of the competition. Produced by Insight Productions, BATTLE OF THE BLADES launches its new season with a special two-hour premiere on Thursday, October 15 at 8 p.m. (8:30 NT) on CBC and CBC Gem.
The Season 6 pairings are:
Violetta Afanasieva and Anthony Stewart

Meghan Agosta and Andrew Poje

Jennifer Botterill and Eric Radford

Jessica Campbell and Asher Hill

Meagan Duhamel and Wojtek Wolski

Carlotta Edwards and Kris Versteeg

Vanessa James and Akim Aliu

Kaitlyn Weaver and Bryan Bickell
Also announced today is the return of Hockey Night in Canada's Ron MacLean as host for Season 6, alongside a judging panel featuring beloved Olympic gold medallist in ice dance Scott Moir; multi-Olympic medallist in women's ice hockey, and Season 5 runner-up, Natalie Spooner; and professional skater and choreographer Elladj Baldé. Four-time Canadian and four-time World champion figure skater Kurt Browning returns to the series as the Elite Battle Expert, guiding a weekly masterclass and throwdown challenges designed to test the hockey players as they prepare to compete.
Episode tapings for the new season will all take place at the CAA Centre in Brampton, Ontario, featuring a virtual audience. To generate excitement for the skaters on the ice and viewers at home, video screens in the arena will feature Canadians across the country watching and reacting to the live performances from their homes and communities. Fans interested in being part of the audience through a virtual video conference are encouraged to visit cbc.ca/battleoftheblades for more information.
The eight pairs stepping onto the ice and entering the competition on October 15 are:
Violetta Afanasieva and Anthony Stewart
A World Extreme pairs champion and four-time BATTLE OF THE BLADES fan favourite, Russian-born Canadian Afanasieva will perform with LaSalle, Quebec-born Stewart, a former NHL player for the Florida Panthers. Afanasieva and Stewart will be competing on behalf of Canadian Tire Jumpstart Charities – a national charity dedicated to helping kids overcome financial and accessibility barriers to sport and recreation in an effort to provide inclusive play for kids of all abilities.
Meghan Agosta and Andrew Poje
A four-time Olympic medallist, including three gold and one silver medal in women's ice hockey, Windsor, Ontario-born Agosta will perform with Kitchener-Waterloo, Ontario-born Poje, a three-time World Ice Dance medallist, three-time Canadian Ice Dance champion, and two-time Olympian with partner Weaver, and Season 5 runner-up and dynamic duo with partner Spooner. Agosta and Poje are competing on behalf of the BC Children's Hospital, a leader in general and specialized pediatric services, and the province's foremost teaching and research facility for child health.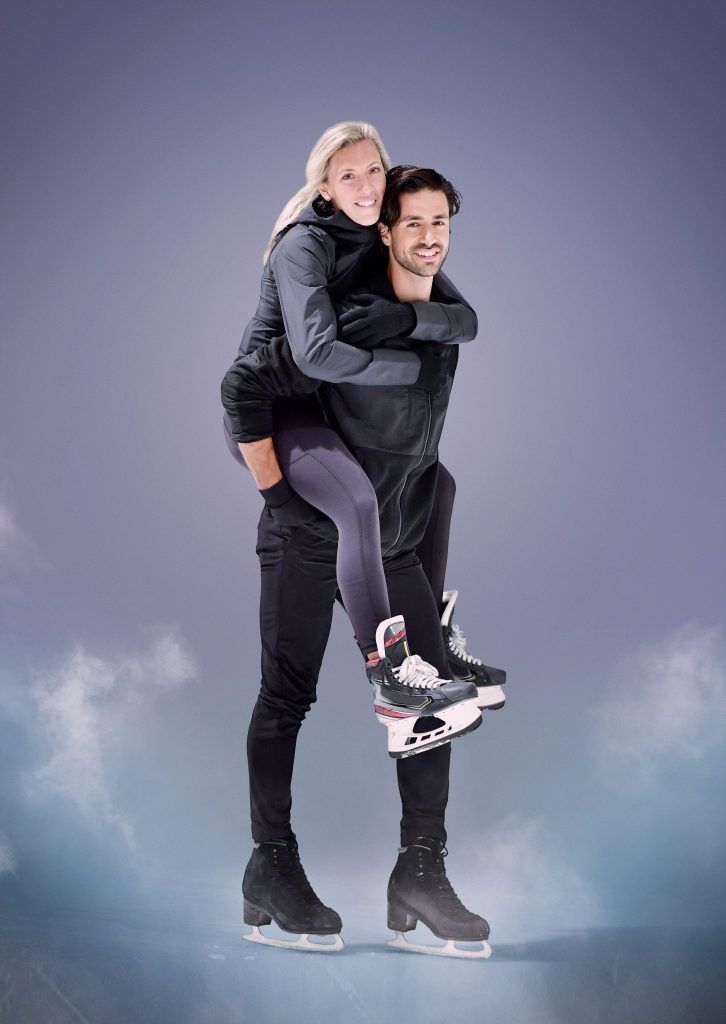 Jennifer Botterill and Eric Radford
A four-time Olympic medallist, including three gold and one silver medal in women's ice hockey, Ottawa, Ontario-born Botterill will perform with Winnipeg, Manitoba-born Radford, a two-time World pairs champion, Olympic team gold and Olympic bronze medallist with partner Duhamel. Botterill and Radford will be competing on behalf of The Canadian Cancer Society, a national, community-based organization of staff and volunteers whose mission is the eradication of cancer and the enhancement of the quality of life of people living with cancer.
Jessica Campbell and Asher Hill
A former Canadian women's ice hockey player for the Calgary Inferno of the Canadian Women's Hockey League, Moosomin, Saskatchewan-born Campbell will perform with Scarborough, Ontario-born Hill, a Canadian ice dancer and choreographer who also co-hosts CBC Sports' YouTube series That Figure Skating Show with Dylan Moscovitch. Campbell will be competing on behalf of Do It For Daron, which supports education, awareness, and research initiatives at The Royal Ottawa Foundation for Mental Health that encourage young people to talk openly about mental illness and to ask for help when needed, while Hill will be supporting the Black Legal Action Centre, a non-profit community legal clinic that provides free legal services for low or no income Black residents of Ontario.
Meagan Duhamel and Wojtek Wolski
A two-time World pairs champion, Olympic team gold and Olympic bronze medallist with partner Radford, Sudbury, Ontario-born Duhamel will perform with Polish-born Canadian Wolski, an Olympic bronze medallist in ice hockey and former NHLer with the Colorado Avalanche. Duhamel will be competing on behalf of the Sandra Schmirler Foundation, whose mission is to raise funds for hospital Newborn Intensive Care Units to purchase life-saving equipment for premature and critically ill newborns, and provide scholarships to junior curlers, while Wolski will be supporting The Hospital for Sick Children's Patient Amenities Fund, a source of assistance for families who have limited financial resources and whose child is being cared for by SickKids.
Carlotta Edwards and Kris Versteeg
Professional skater and Dancing on Ice competitor Edwards, who grew up in Queen Charlotte on Haida Gwaii in British Columbia, will perform with Lethbridge, Alberta-born Versteeg, a two-time Stanley Cup champion with the Chicago Blackhawks, and former Toronto Maple Leaf and Calgary Flame. Edwards and Versteeg will be competing on behalf of Opokaa'sin Early Intervention Society, nurturing and supporting the strengths and resilience of Indigenous families, children, and youth.
Vanessa James and Akim Aliu
A six-time French pairs champion, 2018 Grand Prix Final champion and 2019 European champion, Toronto, Ontario-born James will perform with Nigerian-born Canadian Aliu, an NHL player formerly with the Calgary Flames. James and Aliu will be competing on behalf of The Time To Dream Foundation, which aims to make youth sports, including the game of hockey, more diverse, inclusive, affordable and accessible to all, regardless of race, gender and socioeconomic background.
Kaitlyn Weaver and Bryan Bickell
A three-time World ice dance medallist, three-time Canadian ice dance champion, two-time Olympian with Poje, and Season 5 winner with partner Sheldon Kennedy, Houston, Texas-born Weaver will perform with Bowmanville, Ontario-born Bickell, a two-time Stanley Cup champion with the Chicago Blackhawks who competed in the NHL despite a multiple sclerosis diagnosis in 2016. Weaver and Bickell will be competing on behalf of The Bickell Foundation in support of the MS Society of Canada, providing services to people with multiple sclerosis and their families, and funding research to find the cause and cure for this disease.
The Season 6 host is Ron MacLean, a Canadian icon and multiple award-winning sports broadcaster for three decades, known for his roles on Hockey Night in Canada and Rogers Hometown Hockey. He is a two-time George Gross Award recipient, honouring excellence in sports broadcasting, and was inducted into Canada's Walk of Fame in 2015, alongside Don Cherry. MacLean has been part of the BATTLE OF THE BLADES family since the beginning and brings his extensive knowledge of hockey and figure skating to the role of host once again, in addition to his comedic charm and ease of refereeing the pairs' and judges' comments.
Returning to the series for the sixth time, in the new role of Elite Battle Expert, is iconic figure skater Kurt Browning. Considered one of the greatest of all time, Browning was recently honoured with the first-ever Lifetime Achievement Award by the International Figure Skating Union. Browning has been inducted into the World Figure Skating Hall of Fame, and was the first to land a quad jump in competition. He has contributed to CBC's coverage of the Olympic Winter Games and World Figure Skating Championships as an analyst, and choreographed programs for dozens of skating stars, in addition to touring with Stars on Ice.
The Season 6 judges, returning each week, are:
Scott Moir
A two-time Olympic gold medallist, Olympic silver medallist and two-time Olympic team medallist, Moir and his partner, Tessa Virtue, are the most decorated ice dancers in Olympic history. They are also three-time World champions and eight-time Canadian champions. Moir joined BATTLE OF THE BLADES last season to guest judge and audiences can look forward to his expertise and thoughtful comments throughout this season.
Natalie Spooner
A World champion, Olympic gold and silver medallist, Spooner is the unforgettable BATTLE OF THE BLADES Season 5 runner-up with Poje. She knows the journey, and exactly what the players feel in the moment when their music starts. In her role as judge this season, Spooner will share her enthusiasm for the series and a hockey player's point of view.
Elladj Baldé
One of the most sought-after professional skaters in the world today, Junior Canadian champion and international competitor Elladj Baldé has risen to international status through hardship and with determination. Despite a competitive career that was halted by multiple concussions, Baldé has never stopped honing his skill and artistry. With his natural on-ice charisma, he knows what it takes to truly command an audience.
A CBC original series, BATTLE OF THE BLADES is produced by Insight Productions. The series is executive produced by Insight's John Brunton, Lindsay Cox, Erin Brock, and Mark Lysakowski and is co-created and executive produced by Olympian and World & Canadian Figure Skating Hall of Famer Sandra Bezic. For CBC, Sally Catto is General Manager, Entertainment, Factual & Sports; Jennifer Dettman is Executive Director, Unscripted Content; and Susan Taylor is Executive in Charge of Production.