Kelsie Ahbe has decided to retire from competitive athletics. A two-time All-American, a Big 10 Champion and runner-up at the 2014 NCAA Championships, Ahbe represented Canada with distinction on the pole vault runway after college.
Ahbe was the top Canadian woman in pole vault at the 2016 Olympic Games and donned the Maple Leaf at two Pan American Games and two World Championships. She owns four Canadian Championship medals, including gold in 2015.
She walks away from competition with thanks to share with those who helped her along the way.
"This decision was made with much care and with the support of the people closest to me. I am so appreciative for all of the support Athletics Canada has given me over the years and I was so proud to represent Canada. It was truly a gift to work on my craft and pursue a dream, and I will keep those memories close to my heart," said Ahbe.
"I have had incredible coaches over the years. I want to thank my high school coaches for investing in me as a young athlete; my coaches were positive influences on me as a person and athlete. I would also like to extend my deepest gratitude to my coaches at Indiana University that helped develop my skills and competitive nature, as well as gave me an opportunity to get a great education – Jake Wiseman and Dave Volz. Last but not least, I would like to thank Tim Mack, Jim Bemiller, Phil Savage and Jeff Coover for coaching me at the elite level. I am also grateful to Total Sports for representing me and for giving me competitive opportunities."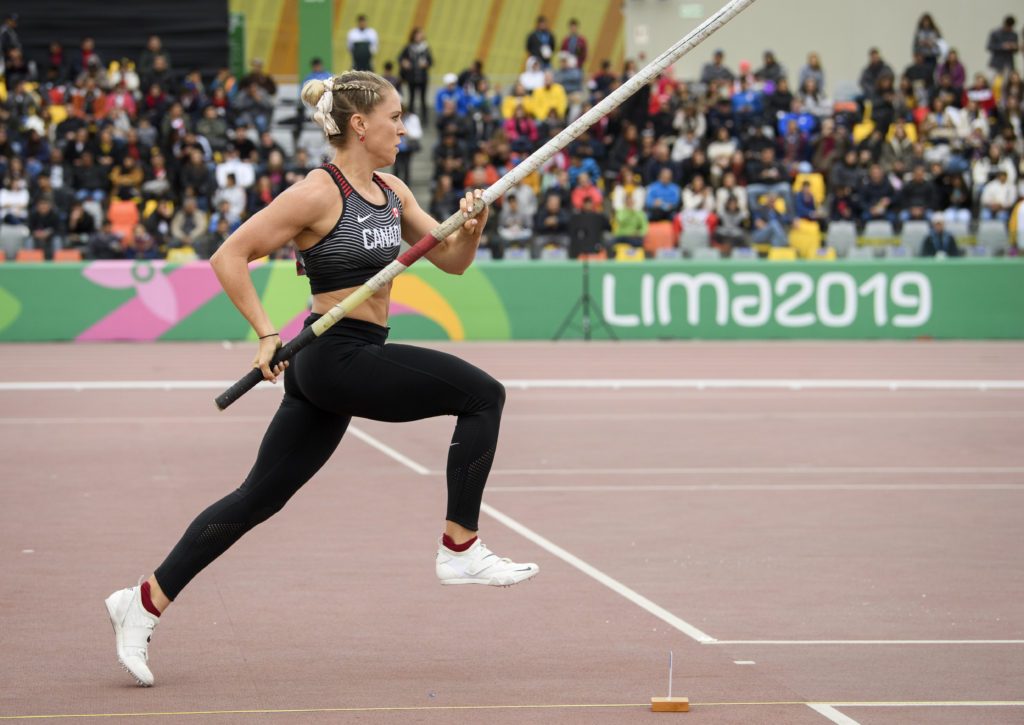 Athletics Canada caught up with Kelsie to talk about a career spent clearing a high bar.
Now that you've had time to reflect, why was this the right time for you to call it a career?
In short, I am ready to move forward and I have other things in my life I am more passionate and excited about pursuing at this time. Everything has its time. I have too much respect for the sport and for myself to do it halfway, so I have to listen to my gut feeling that it is time to take my focus elsewhere. It was such a fun ride!
How did you get involved in athletics/pole vault?
I've been an athlete as long as I can remember. I started gymnastics and soccer when I was 3. I am the oldest of four kids and we grew up playing every sport under the sun. Looking back, I realize my parents dedicated hours upon hours to our pursuits, driving us to practices and sitting through multiple games on the weekends (multiply that by four kids) – they are the real MVPs.
I think I've always been a natural competitor, but my parents definitely nurtured my competitive spirit. My dad shaped my mental game. He played hockey and has always been a big golfer, too. Car rides to and from gymnastics meets often included a conversation about the parallels of gymnastics and golf (and eventually pole vault) – each is very technical and requires an immense amount of focus. He taught me about visualization at a very young age when I was struggling to stay on the balance beam due to nerves. He told me I could treat every practice routine like a competition, just by imagining it in my mind and that I could visualize myself staying on the beam. I joke that he was my first sport psychologist.
My mom has always provided me with an example of a strong-willed woman and I'm so thankful for it. I specifically remember my first season playing basketball at the age of 9 – my mom took me out in the driveway and taught me how to defend and steal the ball. Every game I made it my mission to do what she taught me, scoring multiple lay ups on a breakaway. I was far more aggressive than most 9-year-olds, but my parents always encouraged respectful competition and playing to the best of my ability. My parents instilled in me that I could be both competitive and kind. This is a huge lesson I've learned from sport that applies to life in general.
In high school, I was a four-sport athlete – soccer, gymnastics, swimming and athletics. Each sport offered a unique competitive environment. At the time, I loved soccer most of all because of the team aspect. My sophomore year of high school, I began pole vaulting due to encouragement from an older teammate. Because of my gymnastics abilities, I picked it up right away and found success. I wasn't the type of vaulter that became immediately obsessed with the event. I didn't do it year-round or belong to a club, because I wanted to play other sports as well. I was able to jump high enough to receive NCAA Division I offers, leading me to Indiana University.
The people who have inspired me have always been people in my inner circle – an older teammate or a coach. I always paid attention to how great athletes around me carried themselves, and what actions made them successful. Throughout my career, I made conscious decisions to put those things into practice and to imitate people I respected. In college, Vera Schmitz, Jeff Coover and Derek Drouin were teammates of mine that really inspired me. As I moved on to the elite level, my biggest inspiration was my coach Tim Mack, and I am very grateful for his mentorship and the dedication he had to my goals.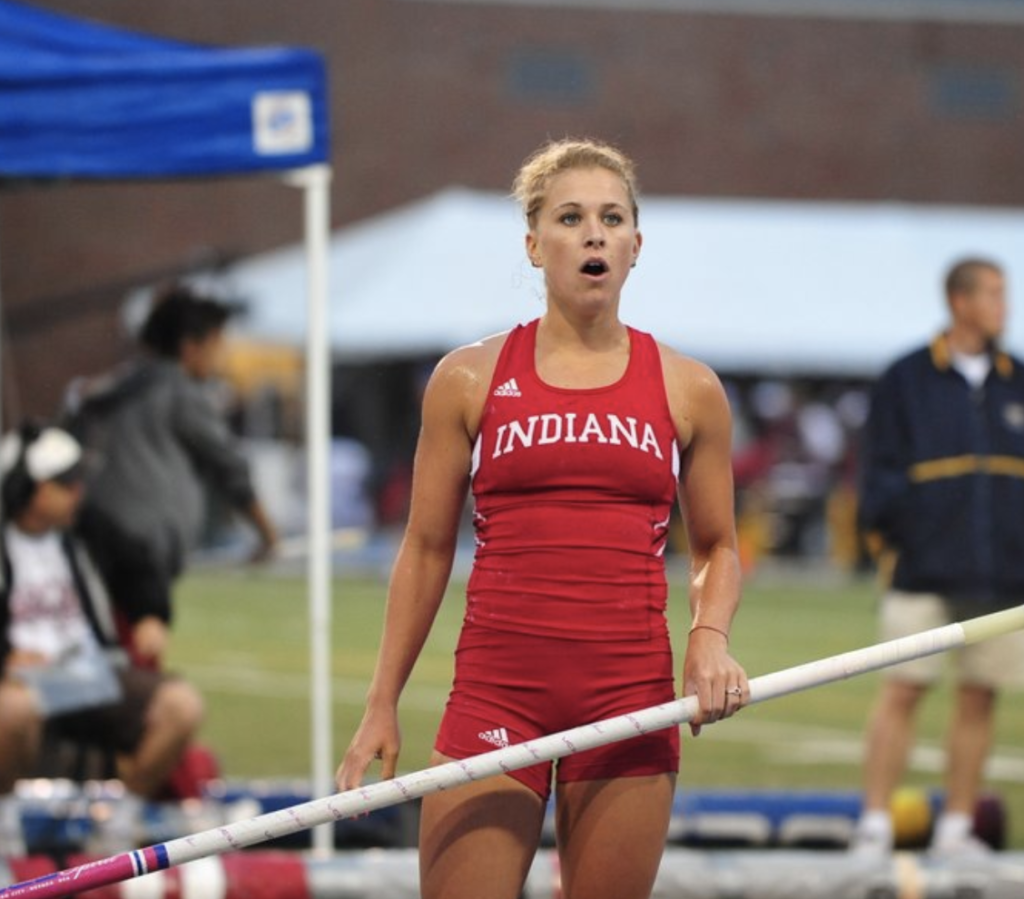 Is there something about competing that you love, that people wouldn't expect you to say?
There are very few things in life that can capture my full attention like the vault did. I loved the feeling of standing on the back of the runway, fully engaged in the present moment. I loved the mind/body challenge of tuning into my body to execute a complex skill – as if every cell were working together to make it happen. Finding that intense focus and being "in the zone" is something I really enjoyed about the pole vault. It demanded my full focus and attention.
Looking back at your NCAA career, what was your greatest triumph and greatest achievement(s)? How did your time at Indiana University shape you to become the athlete and person you are today?
My greatest triumphs always came after intense lows. My fifth year at IU, I suffered from a stress fracture in my navicular bone (an injury that would plague my career) and I sat out all of the pre-season and most of indoors. It was a really tough time mentally, but I worked through it and ended up setting a personal best at the NCAA meet to place second in terrible conditions. My teammate, Sydney Clute, placed sixth and it was really special to share that moment with her. At IU, the pole vault squad really fostered a spirit of teamwork and that's something I still appreciate. Sport, like life, is better with other people to journey with.
You were crowned Canadian Champion in 2015. What did that title mean to you and your career?
It was an honour to stand on the podium as Canadian Champion. I was proud to play a small role in furthering women's pole vault in Canada. Competing with Alysha Newman and Anicka Newell over the years was exciting. They are both great competitors and I know they will represent Canada well at the 2021 Games.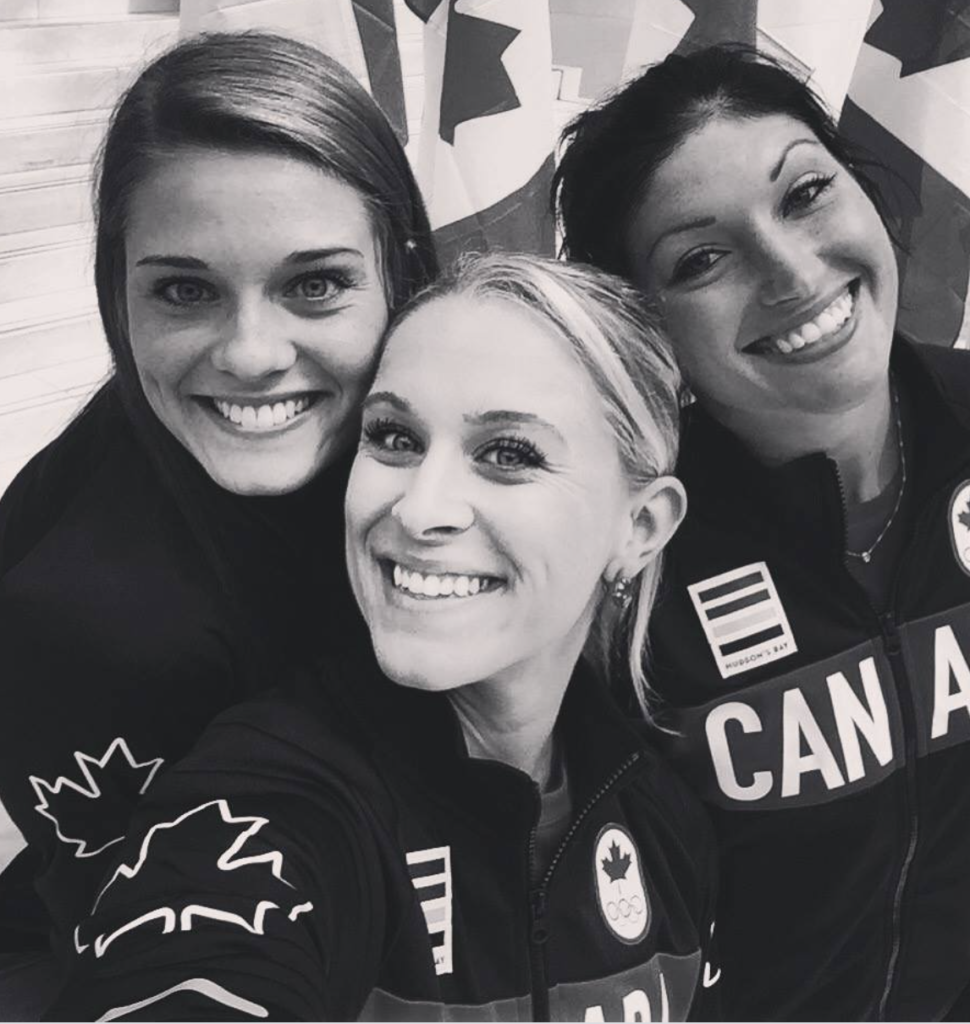 You were named to six Canadian National Teams over the course of your career. Which event or major competition will always hold a special place in your heart and why?
Outside of being named to the 2016 Olympic Team, the 2015 Pan American Games in Toronto and the 2019 World Championships stand out to me. The Pan Am Games were special because they took place in Canada, in front of a home crowd and a lot of my family, including my cousins and grandma, were able to come watch. It was also my first Canadian team, so it was a very exciting experience. The 2019 World Championships also stand out because it was a long, hard road to make that team; standing on the runway in Doha is something I will never forget. Though I didn't reach my performance goals that day, I was really proud of myself for being resilient and overcoming some challenging situations to get there.
Take us back to the moment you hit the Olympic standard in 2016 and knew you were going to the Olympic Games. Where were you? Who were you with? Tell us about the jump and what was going through your head.
I hit the Olympic standard at the end of the summer season in 2015. I was thrilled to have set a new personal best, but at that point, I had no idea I would be going to the Olympic Games. During the 2016 season, I was side-lined with a recurring stress fracture, followed by a hamstring injury. I spent a lot of time on the bike or in the pool and did most of my lifting on one leg. I focused on visualizing my vault even though I couldn't physically do it – I don't think I was able to fully vault until June of 2016, with the Olympic Trials taking place in July. The conditions at the trials were the worst conditions I have ever competed in – myself, Anicka and Alysha were trying desperately to keep our poles dry and had to stop the competition multiple times due to rain. Ultimately, I placed third, and I didn't know if I would have a spot on the team. I stayed up all night waiting to hear and received an email around 2:30 a.m. confirming I was going to Rio. I woke my dad up and we called my mom to tell her right away. I specifically remember my forearms being SO SO sore from holding my phone and refreshing my email for hours, until I heard the news. To say I was ecstatic would be an understatement.
Speaking of the Olympics, tell us about your Games experience and why you'll never forget it.
The Games experience was so much fun. I made an effort to enjoy every moment, because I really saw it as a gift from God. It was a blessing to see my hard work come together and to have the opportunity to compete on the biggest stage. Going in as an underdog ended up working to my advantage, because I was able to fully engage in the experience without any outside expectations or pressure. Don't get me wrong, my coach and I had big goals – I wanted to PB and make the final, but probably no one else in the world thought that was possible. Deep down, I REALLY believed in myself. I thought, why not me? Setting a PB to make the final and placing as the top Canadian woman was a huge accomplishment.
One of the most special moments of the Games I will never forget is watching Derek Drouin win gold in the high jump. It was really neat to share in that moment with other Canadians. Derek's performance was so inspiring – he's someone I really respect so it was special to watch him have his moment.
You battled a few injuries throughout your career, including a stress fracture that caused you to miss the 2017 World Championships and unlimitedly the entire 2018 season. Tell us about that experience and what drove you to persevere and battle back?
I went to the 2017 World Championships and tried to compete on what I found out was a broken foot. It was really depressing to not even be able to run down the runway after working all year to get there. Ultimately, I chose to pursue surgery, which didn't offer much assurance I would recover fully … I really can't explain what motivated me to want to persevere and battle back, I just knew I wanted to try. I was still loving pole vault and felt I still wanted to explore my potential. Admittedly, the recovery took much longer than I anticipated, and it was a long, slow, painful climb back to competitive form. Thankfully, I had good people in my corner and other things outside of sport that made me happy, such as my relationship with my now husband (then, fiancé) and coaching gymnastics.
What is the most memorable moment, event or competition of your career and why?
Probably the 2016 Olympic Trials because there was so much excitement in the air with the Olympics looming. On a personal level, it was special because my Dad came out with me for the week leading up to the competition and helped me practice and prepare (we weren't sure if my coach would be able to make it, because he had other athletes competing at the U.S. Olympic Trials). Also having my parents, siblings and now husband in Rio is something I will always cherish. Those big competitive moments can be fleeting, but having family there gave me comfort and helped me put those moments into perspective. Plus, we made some really fun memories!
What did it mean to pull on the Team Canada singlet/Maple Leaf and to represent your country?
Each time I represented Canada was a deeply meaningful experience. I got to be a part of something bigger than myself, which elevated the competitive experience to something beyond sport. I was honoured to represent Canada and my hope is that somewhere along the way, I inspired someone else to find a sense of self-belief, follow their passion and to stand firm in the face of adversity.
What's the hardest part of a competitive athletics career?
One of the hardest parts of athletics is finding competitive opportunities post-collegiately. The system really serves the top tier athletes and doesn't make much room for the up-and-comers. I think a lot of great athletes are weeded out simply due to a lack of opportunity or a lack of access to resources. I was fortunate to have the support of Athletics Canada, Total Sports and the backing of a training group for most of my time as an elite, but this often isn't the case. It would be great to see more competitive opportunities arise in North America, so that more athletes outside of the top 15 in each event can really participate and our sport can grow.
What's next for Kelsie?
I'm currently pursuing a career in nursing. So many people have graciously poured into me over the years and now I get to do that for others. I'm excited to see where this career path takes me. There are many options, but I would love to work in the behavioural health space, utilizing the skills I learned as an athlete to help others live healthy, fulfilling lives. Outside of this, I spent a lot of time outdoors this fall and I logged quite a few miles on my mountain bike. Maybe I've found my next sport … 2024? Never say never.
Anything else you'd like to share?
I wish all of my Canadian teammates the best of luck preparing for 2021. I had so much fun being a part of Team Canada, sharing meals together, exploring the world and witnessing everyone's success. Thank you for letting me be a part of it!