Kyle Whitehouse may have hung up his spikes a little more than a year ago, but the T38 sprint specialist is still one for the record books.
The proud owner of 10 Canadian Championships medals over five years, he also won gold and silver in front of the Canadian crowd at the 2015 Parapan American Games in Toronto. But more than the hardware that comes with being one of the best in the world, Whitehouse cherishes the relationships he has with teammates and competitors alike.
"After nine years of competitive running, I felt it was time to retire. Over the years I've made many friends who, along with my family and coaches, have supported me on this journey," said Whitehouse. "A special thank you goes out to my coach, Sue Bartol, who was instrumental with my progression to becoming a world-class athlete. I'd like to thank Athletics Canada, Special Olympics Canada, Athletics Niagara and all of the coaches and sport therapists who supported me over the years."
Athletics Canada connected with Kyle to talk about his journey from the beginning, which started in a very Canadian way – a conversation in a hockey rink.
---
Now that you've had time to reflect, why was it the right time for you to call it a career?
The decision to retire was right for me. I wanted to move on and to find a job. I was happy with what I had achieved in athletics and was ready to take on some new challenges.
Take us back to the beginning, how did you get involved in track and field? Where did the competitive juices come from? What pushed you to be the best that you can be?
Athletics started one winter when my mom and dad were sitting in the stands watching me play hockey. A friend gave them a list of summer sports run by Special Olympics Canada. There were six or seven sports to choose from, and I chose track and field. After my first practice I knew that I really liked to run.
My competitive spirit comes from my love of all sports and the enjoyment of being part of a winning team. I think it was seeing my times get lower that pushed me, as well as the people who believed in me. I liked the idea of working hard – but gosh, the training was really, really, hard… very challenging – but it was great to see how fast I could be. I really liked being with my friends at practice. I still miss seeing them as they moved on from high school and got jobs as they got older. It was so much fun to be at training camps with my teammates on Team Canada. The coaches really pushed me during practice sessions, but to train with the Canadian team is something else; it was great to be a part of that group.
Was there someone who inspired you?
George Quarcoo of the I Be Fast Track & Field Club encouraged me to pursue the 100-metre and 200-metre sprints. I was hooked the first time I saw him run in his spikes. He was also great to train with. Peter Snyder was a great training partner as well. Biz (Bismark Boateng) was too when coach Sue and I went to Athletics Canada's Eastern High Performance Hub at York University to train. The folks at the Toronto Track and Field Centre and York Lions Stadium were fantastic. Training with my able-bodied teammates really pushed me and helped me to focus.
When I attended my first international meet, I met Edson Pinheiro of Brazil. We ran against each other at several meets over the years. We didn't speak the same the language, but we kind of talked to each other and were friendly. He really pushed me at practices before the meets and I really wanted to beat him. I also met Union Sekailwe from South Africa. We had a similar friendship, I guess. It was great seeing familiar faces and wanting to outrun them.
Is there something about competing that you love that people wouldn't expect you to say?
Although I loved to compete, I truly liked the people I was competing against.
2011 was a big year for you. You made your international debut as a member of the 2011 IPC Athletics World Championship team (placed 5th in the 100m) and won two silver medals at the Parapan American Games (100m, 200m). Tell us about your Team Canada debut, what it meant to you and how those performances pushed you to become one of Canada's strongest sprinters.
I was nervous because it was my first international meet. I was thrilled to come home with two silver medals. I had a great experience with Team Canada. It was really cool to be on the podium. I was so excited. I was so proud to represent Canada, so happy that I did so well for my team, for Canada, and well, especially for me since it was my first time at the World Championships, away from home, with the team, and all.
You were a torch bearer prior to the Parapan Am Games in Toronto. Tell us about that experience and what that opportunity meant to you?
It was exciting to be selected as a torch bearer for the relay that took place prior to the Games and getting the opportunity to have my friends and family come watch. I was very happy and proud to carry the torch; it was kind of an emotional experience. It was great to have the support of my family and friends, especially my girlfriend since she does not get to see me compete often. My coach brought her to a practice, and she liked that too, but this torch run was really special for me to have them come watch.
You were a double medallist on home soil in 2015 at the Parapan Am Games and set a Games record time of 23.66 seconds in the 200m. Take us back to that moment. What was it like crossing the finish line in first place and knowing a gold medal was about to be wrapped around your neck?
I was so focused on running I didn't really hear the crowd until the last 20 metres, then I felt like I had more in the tank, so, I pushed myself even harder. After crossing the finish line and seeing my competitors, I grabbed the flag someone offered me and ran towards my coach to give her a high five. I then ran along the side of the track with my arm raised slapping hands of the people in the stands. It didn't seem real. I couldn't believe it. I was ready physically, believed in my extra training to prepare, and was really mentally more prepared for this meet, since I competed in the 2011 Games, and kind of knew what to expect.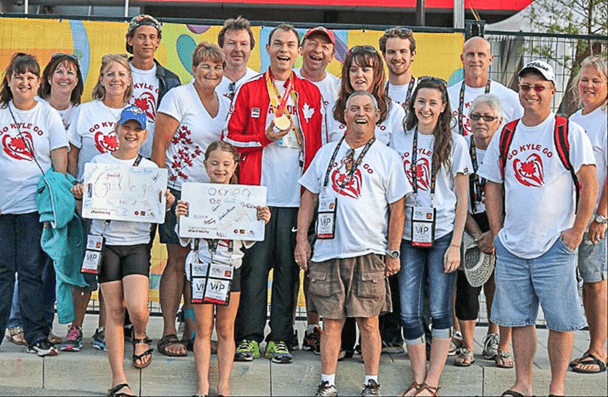 What is the most memorable moment, event or competition of your career and why?
The most memorable event was the Parapan American Games in Toronto. I had watched them building the stadium when I was training and competing at York University. The event would be the first time that my friends and family would get the chance to see me run at an international level and to have them all there to help me share a gold medal was the best feeling. After the race, my girlfriend's mom told me that just before my race they'd gone to the concession stand to get a couple of Cokes, and when they sat down they realized that one bottle had the name Kyle on it. I still have that bottle on my shelf.
What did it mean to pull on the Team Canada singlet/Maple Leaf and to represent your country?
I always felt proud to wear my Team Canada gear.
What's the hardest part of a competitive athletics career?
The training was the hardest part. I knew I needed to train, but I didn't realize how hard and challenging it was going to be. Training was a real time commitment. Travel was a new experience for me, but the National Team coaches, staff and my fellow teammates helped me to stay focused during training and competitions. I wasn't as homesick as I thought I might be, plus I could call my coach (Sue) whenever I needed to talk to her. That helped a lot.
You retired as a five-time* Canadian Champion and Canadian record holder in the T38 100m and 200m. How does it feel to have your name cemented in the Canadian record books?
I never thought any of this could happen. All I wanted to do was to see how fast I could run. It doesn't seem real, even when I read it today!
*Kyle was awarded a gold medal on 10 occasions (four in the 100 metres, five in the 200 metres and one in the 400 metres), at five National Championships.
What's next for Kyle?
I've continued to play hockey and have signed up to play soccer this summer. I just started a new job working at an Under Armour store and I'm really enjoying it. I have also been asked to help Sue coach some young track athletes. I look forward to helping them achieve their goals and to making new friends.
Anything else you'd like to share?
A huge thank you to Athletics Canada, my coaches, teammates, family, friends and everyone who helped me over the years. I'll miss telling all my jokes to each and every one of you.