Laura Walker and her Alberta teammates knew they had work to do as they opened play in the eight-team Championship Pool on Friday afternoon at the 2021 Scotties Tournament of Hearts.
With a 5-3 record carried forward from the preliminary round, and, essentially, tied for last place in the Championship Pool, the main priority was placed on taking down teams with better records over the four games Alberta will play in the Championship Pool with an eye on snaring one of the three available playoff berths.
One game down, and mission accomplished — so far. Walker, vice-skip Kate Cameron, second Taylor McDonald, lead Rachel Brown, alternate Dana Ferguson and coach Shannon Pynn knocked off Quebec's Laurie St-Georges (Laval-sur-le-Lac) 7-6 in an extra end at WinSport Arena at Canada Olympic Park in Calgary, leaving both teams with 6-3 records.
"I think we can get on a roll," said Walker, whose team hails from Edmonton. "All of the wins (in the Championship Pool) are pretty big; I think we have to win all our games from here on out, and if we do that, our fate is kind of in our own hands. So to start off the Championship Pool with a win, and a very grinding win, was big for our team."
Grinding, indeed, as Alberta had jumped out to a 3-0 lead after a stolen deuce in the third end, and looked to be stealing more in the fourth when St-Georges, whose team is rounded out by vice-skip Hailey Armstrong, second Emily Riley, lead Cynthia St-Georges, alternate Florence Boivin and coach Michel St-George, initially appeared to be off-target with her last-rock raise double-takeout attempt. But she made the shot anyways — just not the way she intended to, and Quebec was back in it with a deuce.
"We had to take a big, deep breath as a team; it's tough watching it, thinking they had missed and somehow they get it for two," said Walker. "So just took a deep breath. We said before the game that we want to focus on what we can control, what we can do as a team, and I thought we did a good job of taking a second to let it out, and then move on to the next end. And we played a really good next end and got our two right back."
Alberta is back on the ice later Friday against another team it trails in the standings, Manitoba's Jennifer Jones (7-2; Winnipeg), with another opportunity to bring a team back to the pack.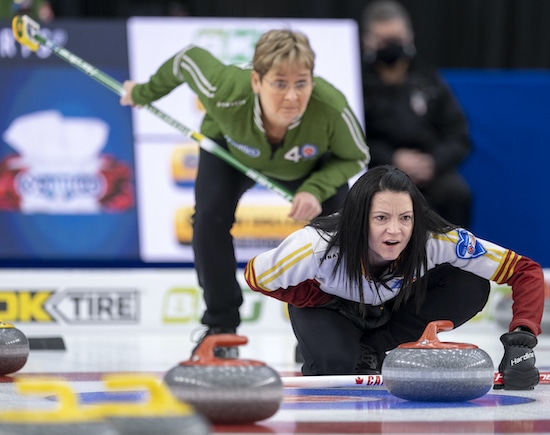 "I think if we looked at it correctly, now that we've beaten Quebec, Jones is the only other team with two losses, and if we beat her (and, of course, win a pair of games to close out the Championship Pool on Saturday), then we should be in the mix for the semifinal. I think I'm doing a good job of staying in the moment, keeping my focus on our sheet. That's all we can do at this point — we know if we win, we're good."
In other Friday afternoon action, Manitoba scored five in the 10th end for a 12-8 win over Team Wild Card #3's Beth Peterson (5-4; Winnipeg); Team Canada's Kerri Einarson (8-1; Gimli, Man.) downed Saskatchewan's Sherry Anderson (6-3; Saskatoon) 10-6; and Ontario's Rachel Homan (8-1; Ottawa) stole one in the 10th end for a 7-6 win over Team Wild Card #1's Chelsea Carey (5-4; East St. Paul, Man.) 7-6.
The 2021 Scotties Tournament of Hearts continues with Friday's late draw at 8:30 p.m.s (all times Eastern).
Live scoring, standings and statistics for the 2021 Scotties Tournament of Hearts are available at www.curling.ca/scoreboard/
TSN and RDS2 (streamed on ESPN3 in the United States) will provide complete coverage of the 2021 Scotties Tournament of Hearts. CLICK HERE for the complete schedule.