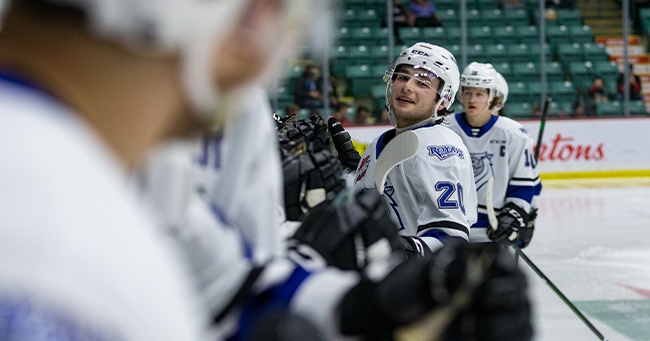 It was a total team effort for the Victoria Royals on Friday, as four different players–Caleb Willms, Matthew Hodson, Anthony Wilson and Tarun Fizer–all counted a goal and an assist in a 5-3 win over the Prince George Cougars.
Five other Royals also found the scoresheet in the contest, with forward Riley Gannon scoring a goal and Marcus Almquist, Luke Shipley, Brayden Schuurman, and Carter Briltz counting assists. In total, nine different players recorded at least one point in the win.
Goaltender Tyler Palmer also put in a strong performance, stopping 22 of 25 shots and earning his 12th win of the season.
Forward Riley Heidt was the top performer for the Cougars, registering a pair of assists. Meanwhile, starting goaltender Tyler Brennan made 23 of 27 stops in the loss.
The Cougars jumped out to a two goal advantage early in the first on goals by defenceman Ethan Samson (12) at 4:17 and forward Keaton Dowhaniuk (1) at 6:50.
However, the Royals would cut the deficit in half in the last few minutes of the frame, making 2-1 on a Matthew Hodson (3) goal at 14:44, where it would stand heading into period two.
Victoria would carry that momentum into the middle stanza, tying the game at 2-2 at the 0:47 minute mark on a goal by Caleb Wilms (2) and then taking the 3-2 lead at 16:52 after Riley Gannon beat Prince George goaltender Tyler Brennan for his 17th of the year.
The Royals would add one more before the end of the second, coming off the stick of Anthony Wilson (6) at the 17:47 mark to take a two-goal advantage into the third period.
The Cougars would pull within one at the beginning of the final frame on a goal by forward Kohen Ziemmer (23) at 1:32, however the rest of the period would see the Royals lock down the Prince George attack and deny any further opportunities from their opponent. The 5-3 victory would be secured after captain Tarun Fizer added an empty net goal at 18:50, for his 13th goal of the season.
The win brings Victoria's record to 17-33-5-1 as they vault into a tie with the Cougars and the Spokane Chiefs for the eighth and final playoff spot in the West with 41 total points.
Meanwhile the Cougars suffer their seventh straight loss as their record moves to 19-32-2-1 (41 points) on the season.
The two teams will meet again tomorrow night as the Royals look for back-to-back victories over their BC Division rival. Puck drop is scheduled for 7pm at the CN Centre in Prince George.