He was the original big bomber of the Victoria HarbourCats, and he used his time here to become a drafted and signed professional.
Gabe Clark, an Oregon State product who went on to a pro career in the Toronto Blue Jays system, highlights the list of players returning for the Saturday, June 1 Peninsula Co-op Alumni Classic, pitting former Victoria stars against the newly-minted HarbourCats team that is preparing for the seventh season of West Coast League baseball in the capital.
The native of Riverside, CA, hit seven home runs over two pro seasons, after being drafted in the 26th round by the Blue Jays. He hit nine home runs over two seasons with the HarbourCats, 2014 and 2015 — and is truly one of the most memorable players in the team's history. He won the WCL home run derby at the 2014 all-star festivities in Klamath Falls, OR, with his dad Jim throwing the pitches — a story that will always be part of the team's lore.
Jim Clark will be the head coach of the team, assisted by former Assistant Coach Andrew Wilson (2016).
Other players who will be on the roster of alumni of Victoria teams:
RHP Holden Lyons was a dominant reliever on the best team in WCL history, the 2016 squad that went 40-14. Lyons was 3-3 with a 3.85 ERA and five saves, striking out 43 in 38.2 innings, walking just 17. He was money, tying Greg Casper for the team lead in saves.
Hayden Jaco was a catcher, and a pitcher, for the 2016 and 2018 teams, and Riley Guntrip was a fan favourite, a memorable catcher and lefty hitter for the 2016 and 2017 teams. Catcher Ryan Green was with Victoria for the 2018 season.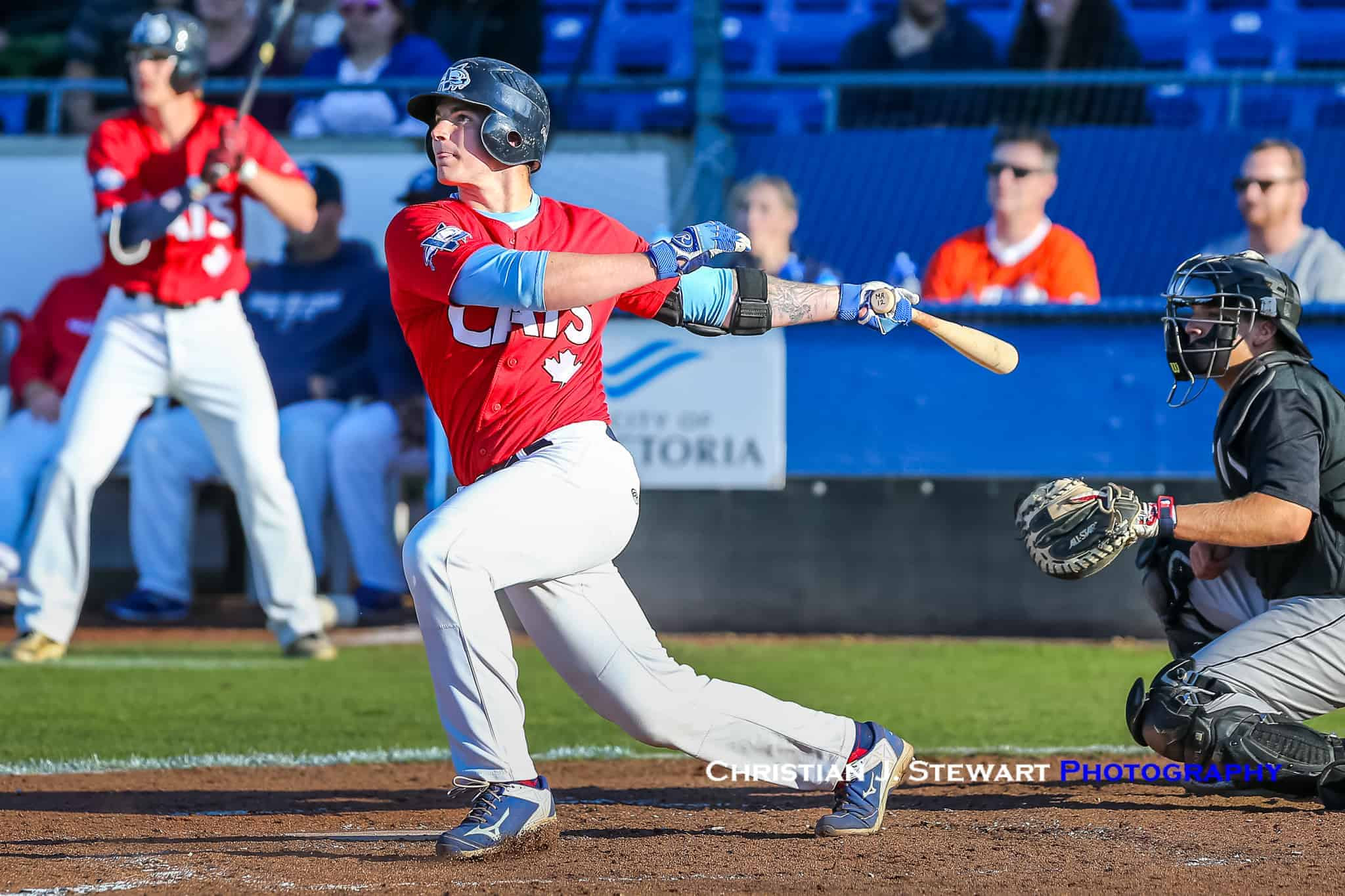 2018 Victoria catcher Hayden Jaco will return as a graduate in 2019 and play against the current HarbourCats in the Alumni Classic on June 1 (Photo: Christian J. Stewart)
From the first-ever HarbourCats team, outfielder Austin Russell and (no relation) Connor Russell, both Island products, will take part in the game, along with 2015 outfielder Chris Fougner. Also, Victoria products, RHP Eric Hegadoren and the versatile Charlie Strandlund, who played pro for the Golden League's Victoria Seals and was a coach for the 2014 HarbourCats, the latter will be acting as a player-coach on June 1.
Vancouver-area infielders Justin Orton and Darren Honeysett return for the game — Honeysett was with the 2014 team, while Orton played key games for the 2017 team that finished one base hit short of the WCL championship.
Left-handed pitchers Connor Suing (2015) and Dylan Thorp (2017) round out the pitching staff for Head Coach Jim Clark.