In their quest to be the very best, the HarbourCats will be celebrating Victoria's very best on Opening Night.
On June 7 at Wilson's Group Stadium at Royal Athletic Park, the HarbourCats will be focusing on VicPD on the team's first FORCES FRIDAY of 2019 — the start of the seventh season of West Coast League baseball in the B.C. capital city.
The HarbourCats, through the production work of Passion Sports and a collaboration with Chief Del Manak and his Victoria Police department, have come up with a unique uniform top design that imitates a VicPD shirt — complete with mock pen, buttons and collar.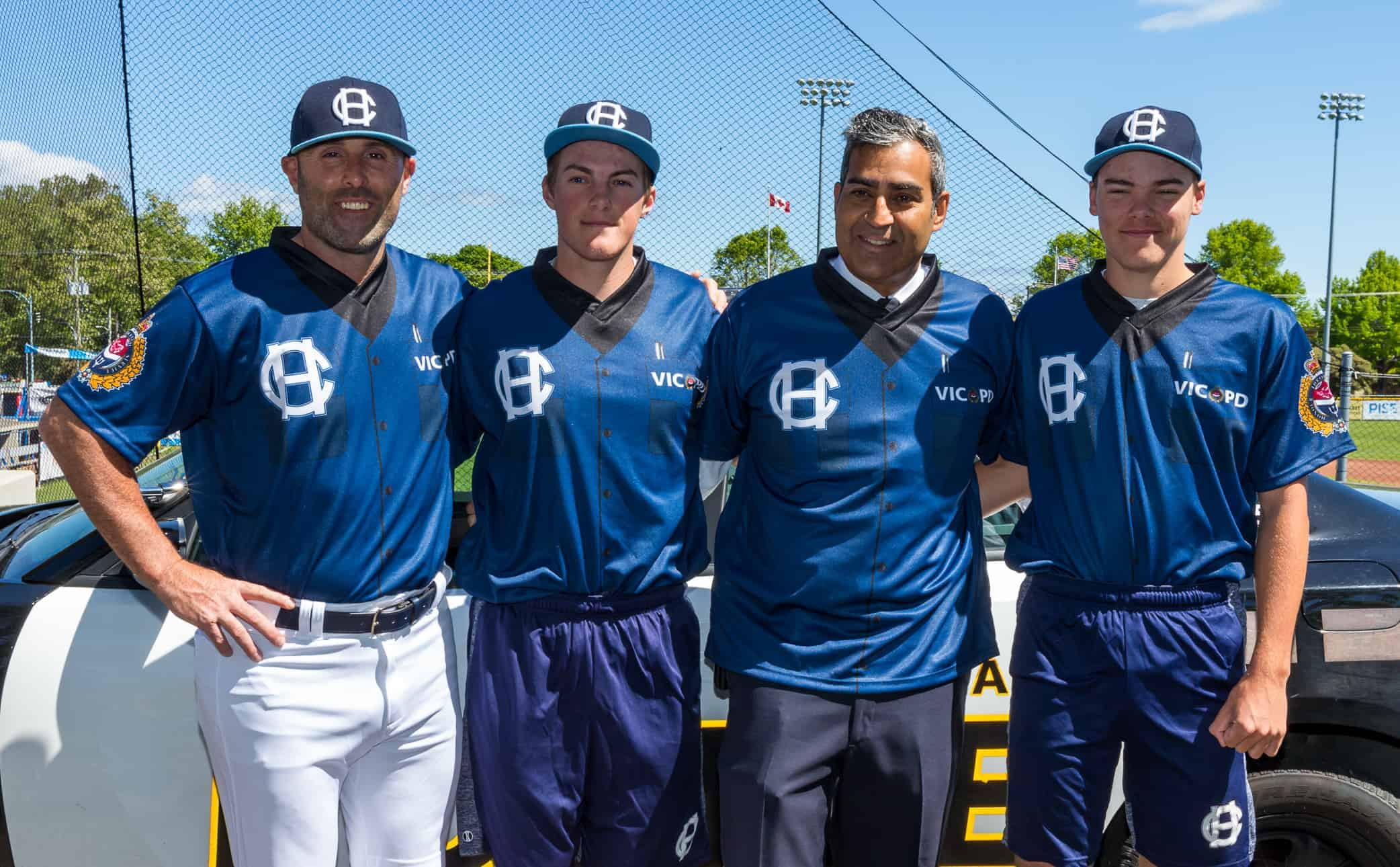 HarbourCats Hitting coach Curtis Pelletier and players Kayden Beauregard and Zach Swanson pose with VicPD Police Chief Del Manak in the new HarbourCats Forces Fridays jerseys (Photo: Christian J. Stewart)
The HarbourCats will wear the jerseys for the four FORCES FRIDAYS, presented by Galaxy Motors, this season.
Opening night is sponsored by Castle Home Building Centres, another business that proudly calls Victoria home.
The team has offered reduced-price tickets ($7.50 general admission, or roughly 50% off) for all military, first responders, and corrections officers and officials — including their families — for five seasons.
Cst. Jason Ince of VicPD will perform the national anthems before the HarbourCats face the Corvallis Knights, and a pre-game ceremony will include VicPD officers.
"We appreciate the work done by those who serve us in so many ways, and we wanted to show that openly," said Jim Swanson, Managing Partner and GM of the HarbourCats, who owns the team along with Ken Swanson, Rich Harder, and well-known local businessman and community supporter John Wilson of The Wilson's Group of Companies.
Police Chief Del Manak speaks at today's press conference regarding the new Forces Fridays jerseys (Photo: Christian J. Stewart)
"We recognize how hard their job can be, and how our entire community needs to get behind the work they do, so we can continue to make this the best city on earth. What we have is worth working for, and worth supporting VicPD in their efforts in the community."
VicPD offices are just down the street from Royal Athletic Park, and Chief Manak has been a true supporter of elite community sports teams like the HarbourCats and Royals.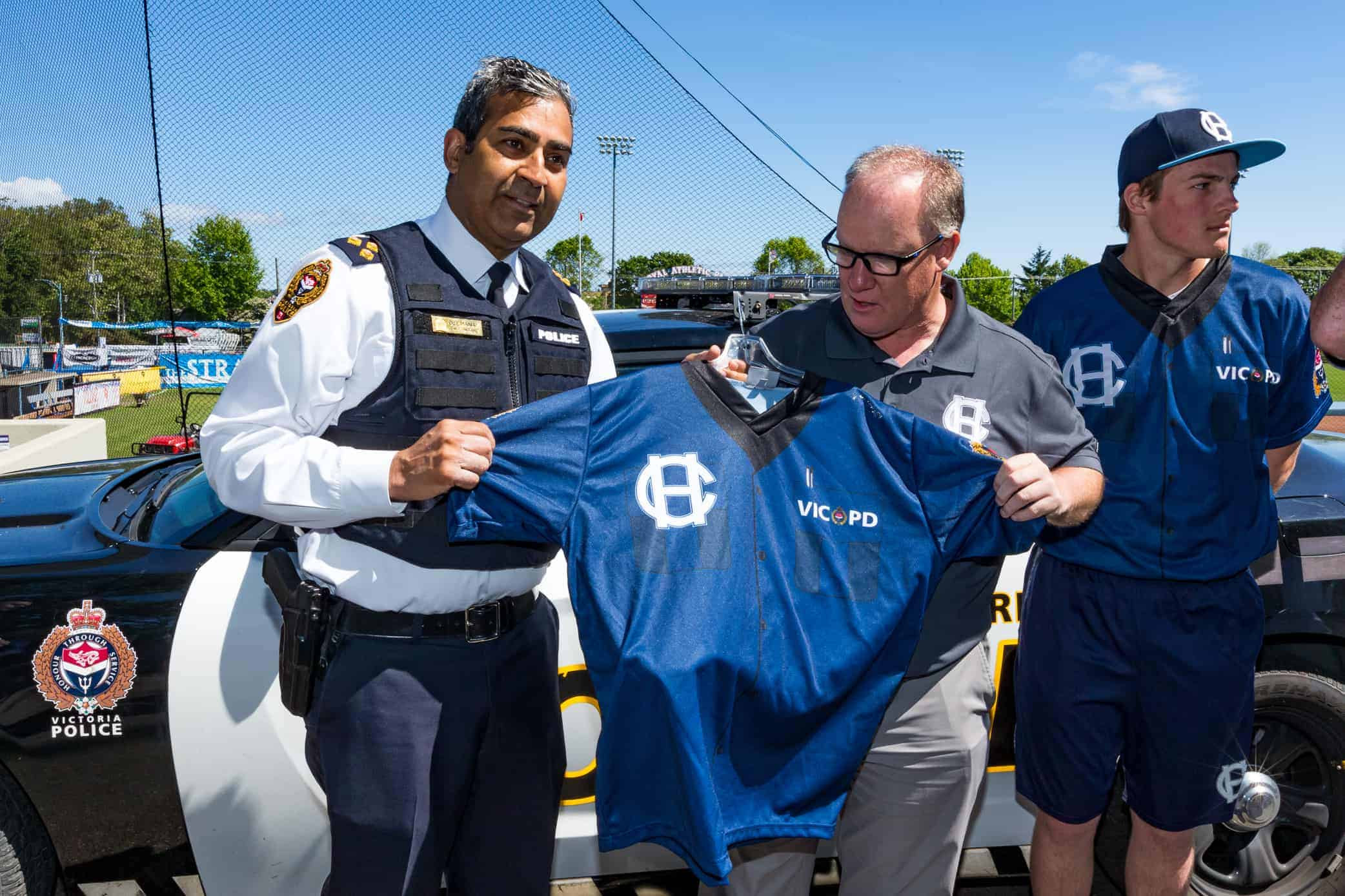 HarbourCats Managing Partner and GM Jim Swanson (right), presents Police Chief Del Manak (left) with his own Forces Friday jersey, a mock of a VicPD uniform (Photo: Christian J. Stewart).
"The Victoria Police Department is proud to partner with community-focussed organizations like the HarbourCats," said VicPD Chief Constable Del Manak. "On behalf of VicPD, I would like to thank the HarbourCats for honouring the men and women of VicPD for their service to the community."
Gates open on Friday, June 7, at 5pm, for the 6:35pm game. Ceremonies will begin at about 6:20pm.