The Trinity Western Spartans and Fraser Valley Cascades were thankful for Rachel Hutchinson and Trevor Zanatta respectively over the Thanksgiving weekend.
Hutchinson helped the Spartans to a sweep of the Cascades in women's soccer, while Zanatta returned the favour in men's play, leading UFV to a two-game sweep of TWU.
The pair will now move forward as the conference's nominees for the U SPORTS Athletes of the Week.
WOMEN'S THREE STARS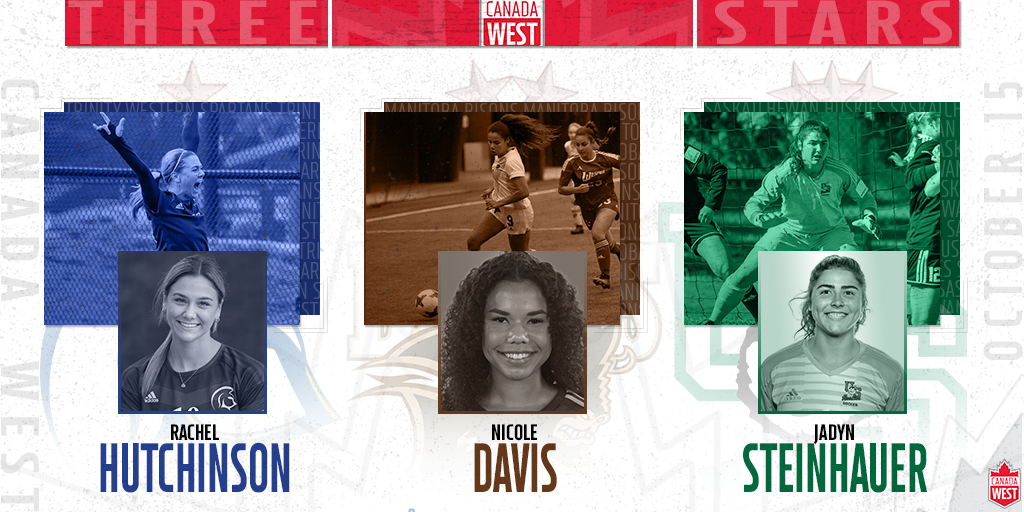 FIRST STAR: M – Rachel Hutchinson
Trinity Western Spartans / Soccer

5th-year

Cloverdale, B.C.

Business

GAME LOG: Friday, Oct. 11 – goal and 2 assists in 5-1 win vs. Fraser Valley / Sunday, Oct. 13 – goal and an assist in 3-0 win at Fraser Valley.
Spartans fifth-year forward Rachel Hutchinson played a central role in TWU's weekend sweep over the UFV Cascades.
In Friday's home match, Hutchinson recorded a goal and two assists to guide the Spartans to a 5-1 win. Then in Sunday's rematch in Abbotsford, she recorded another goal and assist – including the game-winner in the 30th minute – helping TWU earn its 10th win on the season and clinch a home playoff berth.
After the impressive weekend, Hutchinson now sits just behind teammate Jenaya Robertson for the Canada West points lead with 13  (6 G, 7 A). She also sits in a tie for first in Canada West with seven assists through 12 games.
Hutchinson and the Spartans close out their regular season this weekend, as they play host to UBC Okanagan Friday (5 p.m.) and Thompson Rivers Saturday (5 p.m.).
SECOND STAR: M – Nicole Davis
Manitoba Bisons / Soccer

2nd-year

Winnipeg, Man.

University 1

GAME LOG: Thursday, Oct. 10 – goal and an assist in 2-0 win at Winnipeg / Saturday, Oct. 12 – goal in 4-0 win vs. Winnipeg.
Second-year midfielder Nicole Davis led the charge for the Manitoba Bisons over Thanksgiving weekend, as she tallied a pair of goals and an assist in a sweep of the Winnipeg Wesmen.
Davis netted a goal and an assist Thursday night, as the Herd went across town to beat the Wesmen 2-0. She then added another goal Saturday in Manitoba's 4-0 home win.
Manitoba concludes their season this weekend in Southern Alberta, with games against Mount Royal on Friday, and Lethbridge on Saturday.
THIRD STAR: GK – Jadyn Steinhauer
Saskatchewan Huskies / Soccer

4th-year

Saskatoon, Sask.

Agriculture & Bioresources

GAME LOG: Friday, Oct. 11 – eight-save shutout in 1-0 win vs. Regina / Saturday, Oct. 12 – four-save shutout in 1-0 win at Regina.
Jadyn Steinhauer was perfect on the weekend, helping the Saskatchewan Huskies pick up all six points in a pair of games against their provincial rivals the Regina Cougars.
The fourth-year goalie was instrumental in Saskatchewan's victory Friday in Saskatoon, making a pair of breakaway stops and weathering a Cougars push that saw her forced into action three times in under 30 seconds.
Steinhauer, an agriculture & bioresources major, stayed strong the following day in Regina, making four more saves to help the Huskies record a pair of 1-0 victories.
Now with five shutouts on the season, Steinhauer hasn't conceded a goal in the past 270 minutes and her 65 saves on the year is the second-most in program history for a single season.
Looking to clinch a home playoff date on the final weekend of the regular season, the Huskies host the MacEwan Griffins and Alberta Pandas in what will be two pivotal matches this weekend in Saskatoon.
MEN'S THREE STARS
FIRST STAR: M – Trevor Zanatta
Fraser Valley Cascades / Soccer

2nd-year

Coquitlam, B.C.

Criminal Justice

GAME LOG: Friday, Oct. 11 – game-winning goal in 3-2 win at Trinity Western / Sunday, Oct. 13 – game-winning goal in 3-2 win vs. Trinity Western.
Trevor Zanatta provided déjà vu of the best kind for the University of the Fraser Valley men's soccer team, scoring game-winning goals in back-to-back victories over local rival Trinity Western.
On Friday, the sophomore midfielder from Coquitlam, B.C. took a pass from Manpal Brar in stride and fired a shot into the bottom right corner to give the Cascades a 3-2 lead in the 76th minute. The goal stood up as the winner in the first game of a home-and-home series between the two teams.
On Sunday, Zanatta played the hero once again, this time in the 75th minute, volleying home a shot off a scramble in the box to lift his team to victory by an identical 3-2 score.
As a holding midfielder, Zanatta is something of an unlikely offensive hero – his goals on the weekend were the second and third of his UFV career. He also provided a tireless work rate both nights as a dominant ball-winning presence in the midfield.
After entering the weekend with their playoff hopes hanging by a thread, the Cascades emerge with a 5-4-4 record, good for fourth place in the Pacific Division. They control their playoff destiny heading into the final week of the regular season, which sees them host the UVic Vikes on Friday and visit the UBC Thunderbirds on Sunday.
SECOND STAR: F – Jordan Xavier
Calgary Dinos / Hockey

3rd-year

Calgary, Alta.

Arts

GAME LOG: Friday, Oct. 11 – assist in 4-1 win vs. UBC / Saturday, Oct. 12 – game-winning goal, two assists in 5-4 OT win vs. UBC.
University of Alaska-Anchorage transfer Jordan Xavier has made a swift transition to Canada West hockey through two weekends.
Tied for sixth in conference scoring (2G – 4A – 6 Pts.), Xavier collected four points in a pair of wins versus the UBC Thunderbirds this past weekend at home.
On Friday night, the Calgary native picked up an assist in a 4-1 win before having a larger impact the following day where he had a three-point game.
In the matinee rematch, Xavier assisted on the opening goal, the tying goal, and then scored the game-winning goal at 3:14 of double overtime.
The Dinos travel east next weekend for a two-game set versus the Manitoba Bisons at the new-look Wayne Fleming Arena, Oct. 18-19.
THIRD STAR: F – Victory Shumbusho
UBC Thunderbirds / Soccer

3rd-year

Chilliwack, B.C.

Arts

GAME LOG: Thursday, Oct. 10 – two goals in 3-0 win at Victoria / Saturday, Oct. 12 – three shots in 4-0 win vs. Victoria.
Third-year forward Victory Shumbusho kept his recent hot streak alive, scoring twice in a 3-0 UBC win over the Vikes in Victoria on Thursday, giving him five goals in three games.
Shumbusho was held off the scoresheet in UBC's 4-0 win over the Vikes at Thunderbird Stadium Saturday afternoon, but still managed three shots, including one on target in 75 minutes of playing time.
Thanks to his recent explosion, Shumbusho now leads the Canada West with nine goals.
Currently on a nine-game unbeaten streak, the T-Birds have clinched first place in the Pacific division with a 9-1-3 record heading into the final weekend of regular season action.
UBC is in Langley to face the Trinity Western Spartans Friday night and will host the Fraser Valley Cascades Sunday afternoon.