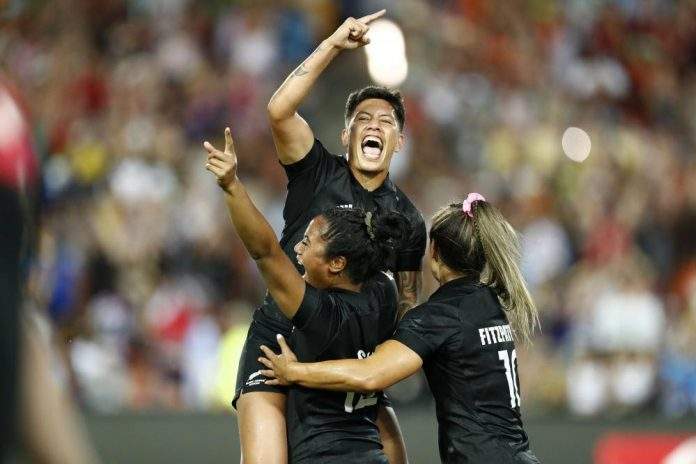 The Black Ferns Sevens continued their perfect record against Canada in Cup finals on the HSBC World Rugby Sevens Series to become the inaugural champions in Hamilton.
This was the seventh meeting of the sides in a title decider and just like the previous six it was the Black Ferns Sevens celebrating, more so this time after the 24-7 victory saw them crowned HSBC New Zealand Sevens champions to become the third team to win a title on home soil.
It is a third Cup title in a row after their success in Dubai and Cape Town last month and extended their winning run to 13 matches against Canada, whose only win against the Black Ferns Sevens came in Sao Paulo back in February 2016.
Canada had opened the scoring at FMG Stadium through Brittany Benn in the fifth minute despite the high tackle of Ruby Tui, which saw the World Rugby Women's Sevens Player of the Year sent to the sin-bin for two minutes.
New Zealand held firm in her absence and then with the clock deep into the red at the end of the first half they made the breakthrough, Stacey Fluhler being stopped short before Michaela Blyde went over from closer range than many of her tries this weekend.
Fluhler won the restart and the ball was quickly worked along the line to Blyde, who stepped her way through the Canadian defence for her eighth of the tournament. Niall Williams' try with little more than two minutes to play pushed the Black Ferns Sevens out to 19-7 and all but secured the title.
However, there was still time for HSBC Player of the Final Fluhler to turn another restart take into New Zealand's fourth try of the title decider and see her become the first player to score 10 tries in a series tournament since her fellow Black Ferns Sevens star Portia Woodman in Glendale in October 2018.
"This is massive. To everyone who has supported us over the last couple of days, thank you very much. We love all of our fans here in New Zealand," said captain Sarah Hirini.
"It was the heart and grit that got us over the line, we've been training for this for so long to be playing in New Zealand. Canada are amazing but the way that the girls fought to get the ball back in – obviously we've got some speedsters to score us some tries as well."
Fluhler added: "That was a very enjoyable moment. We know we'll only get one opportunity to play here at home this season so we really wanted to make our fans, our friends and our family proud and I think we did exactly that."
New Zealand sit top of the standings at the halfway point of the series with 76 points, 12 clear of Australia who finished fourth in Hamilton. Canada are close behind on 62 points, two more than USA with France's bronze medal taking them on to 56 points.
The teams now head across the Tasman to Australia for the HSBC Sydney Sevens at Bankwest Stadium on 1-2 February, round five of the series.
FRANCE WIN FIRST BRONZE
France have contested the bronze final on 14 occasions since the series began in late 2012 and agonisingly come away empty-handed every single time, including in Glendale and Cape Town this season. The bronze medal, only their second ever medal after silver in Kitakyushu in 2018, was to finally be theirs at FMG Stadium. They pounced on Australian errors to lead 14-0 thanks to tries by Lina Guerin and Shannon Izar, although Australia did reply through injury replacement Faith Nathan late in the first half. Coralie Bertrand crossed for a third France try with Australia only able to muster a late try from Demi Hayes to cut the deficit to 19-14.
Earlier, in the first of the Cup semi-finals, Canada's Bianca Farella became the second woman to score 150 tries on the series in between scores by Australia captain Sharni Williams and Ellia Green. Australia elected to play on with the clock in red and paid the price, Canada working Kayla Moleschi over after almost two minutes for a 14-12 lead. Dominique du Toit gave the Olympic champions the lead once more, but a missed tackle allowed Charity Williams to canter through before Ghislaine Landry raced away to wrap up the win and ensure Australia's two-year wait for a title continues.
The second semi-final was equally tight with both sides going close before a quick tap from  Hirini saw Theresa Fitzpatrick score the opening try against France. Fluhler saw yellow for taking a player out in the air from the second-half kick-off and France capitalised with Camille Grassineau powering over to give them a 7-5 lead. A Kelly Brazier kick through allowed Fluher to atone with a try, the conversion of which saw Tyla Nathan-Wong surpass Woodman as New Zealand's all-time point scorer. Brazier then had the final say as the hosts ran out 19-7 winners.
The eight teams that missed out on the Cup semi-finals were ranked according to their placing to play-off for fifth to 12 positions.
USA, frustrated at missing out on the semi-finals for the second tournament running, were determined to clinch fifth place and raced out of the blocks, Ilona Maher and Kristi Kirshe both scoring twice in the first half. England managed to avoid a whitewash by Ellie Kildunne crossing but Alev Kelter crossed to maintain her incredible record of only having failed to score a try in four matches this season.
The seventh place play-off between Fiji and Russia was a topsy-turvy affair with the Pacific islanders establishing a 14-0 lead only to be overhauled by Russia with Baizat Khamidova, Marina Kukina and Marina Myasnikova touching down before a penalty try made it 26-14. Fiji did give their fans something to cheer about with Tokasa Seniyasi's second of the match, but it was Russia who triumphed.
Invitational side China finished their tournament on a high with an impressive 31-0 defeat of Spain, Su Qi, Chen Keyi, Liu Xiaoqian, Yu Luping and Tang Minglin scoring the tries that clinched their second win of the weekend and ninth place overall in Hamilton.
Ireland and Brazil were both seeking a first win of the weekend in the 11th place play-off, but it was As Yaras who enjoyed the better first half with captain Isadora Cerullo and Bianca Silva tries giving them a 14-7 lead. Ireland surged ahead through Lucy Mulhall and Hannah Tyrrell but Brazil refused to give up, Silva grabbing her second to tie the scores only for Megan Burns to clinch a 26-19 win for the Irish.
POOL STAGE CONCLUSION
The final round of pool matches had kicked off day two with New Zealand, Australia and Canada finishing top of their respective pools to reach the Cup semi-finals, where they were joined by the best runners-up across the three pools in France, who edged out USA with their better point differential.
Canada knew they had to beat France to guarantee top spot but it was Les Bleues who scored first through Izar's break. A turnover quickly gave Canada the momentum to release Benn on the wing before Williams ran in at the end of the first half for a 14-7 lead. A quick tap and fend from Jade Ulutule tied the scores, but Williams again burst through for her second. France worked Guerin over but the conversion was crucially missed, giving Canada a 21-19 win and top spot in the pool.
France therefore needed Australia or USA to lose in order to claim the best runner-up spot. Australia did take the lead, Cherry kicking ahead and toeing the ball on once but missing the second time only for Green to be in support to score. Kris Thomas stepped Green inside and out to draw USA level, but Williams released Green for a run in for 12-7 at half-time. Williams couldn't stop Kelter from sprinting clear and under the posts to give USA the lead, but Australia went through the phases to work Green over for her hat-trick try and a 19-14 win.
A first ever win for Fiji over New Zealand would have hit France's hopes of a semi-final appearance and they made the series leaders work hard for their 21-14 half-time lead. Blyde showed she's back to her best after missing Dubai and Cape Town through injury by running in two tries only for Luisa Tisolo and Raijieli Daveua to draw Fiji level before good work from Hirini released Fluhler. Three second-half tries enabled the Black Ferns Sevens to wrap up a 38-21 victory, Fluhler scoring two of them to complete her hat-trick.
Spain had their strong defence to thank for their first victory of the weekend, keeping Ireland at bay in the opening three minutes before a double from Maria García put them in control. Ireland were only able to find a way through in the dying seconds, when Spain had two players in the sin-bin, through Louise Galvin but Spain guaranteed third spot in Pool C with the 14-7 win.
In Pool B, Russia picked up their 100th victory in series history after a hard-fought battle with a much improved Brazil side. Khamidova and Elena Zdrokova put Russia 12-0 ahead but Brazil fought back to lead early in the second half with another long-range run-in from their speedster Thalia Costa the stand-out try. There would be no first pool win this series for Brazil, though, as Kukina and Myasnikova saw Russia home 24-14.
China, as the invitational team this weekend, had sprung the surprise of day one in beating Fiji but they couldn't back that up with a win over England, who ran in five tries from Megan Jones, Helena Rowland, Deborah Fleming, Abbie Brown and Alex Matthews for a 31-0 victory to finish third in Pool A.