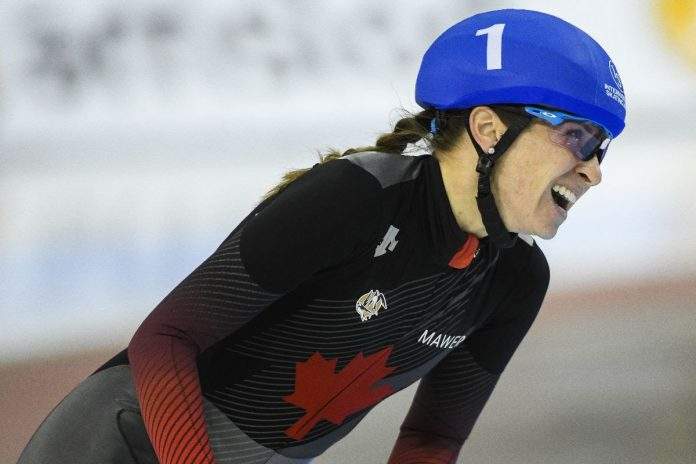 In a thrilling end to a weekend that saw the Canadian team capture a total of nine medals at the ISU World Single Distance Championships, the Mass Start skaters earned an additional three podium finishes on Sunday. Ivanie Blondin was crowned World Champion in the ladies event, while Jordan Belchos and Antoine Gélinas-Beaulieu battled their way to second and third place finishes on the men's side.
Blondin crossed the line in a time of 8:14.020, narrowly ahead of Korea's Bo-Reum Kim and Irene Schouten of the Netherlands. She relied heavily on the teamwork of Valérie Maltais (Saguenay, Que.), whose gruelling effort to lead the pack for much of the race earned her five sprint points and a sixth-place result. Blondin (Ottawa, Ont.) was able to make a dash to the finish with two laps remaining after remaining hidden within the group for much of the race.
In the men's event, Gélinas-Beaulieu (Sherbrooke, Que.) broke out of the pack in a small group early in the race but was able to hold on in the final laps to maintain third position with a time of 7:40.270. Belchos (Toronto, Ont.) conserved his energy for longer in the pack, sprinting forward to join the lead group in the middle of the race and clocking a time of 7:39.790. Dutch skater Jorrit Bergsma took gold.
Sunday's Mass Start result marks Gélinas-Beaulieu's first senior international podium finish and a first individual World Championships medal for Belchos.
Earlier in the day, Blondin skated to a seventh-place finish in the ladies 1500m with a time of 1:52.435, her best result in the event at the World Championships. Her teammates Isabelle Weidemann (Ottawa, Ont.) and Abigail McCluskey (Penticton, B.C.) were 16th and 19th, both skating personal best times.
On the men's side, Gélinas-Beaulieu earned the best result among Canadian men, also placing seventh with a personal best time of 1:42.550. Tyson Langelaar (Winnipeg, Man.), who celebrates his 21st birthday on Monday. also found the top-10 with a personal best skate to end in ninth. Connor Howe (Canmore, Alta.) was 19th.
Quotes …..
"I feel incredible, especially after the weekend that I've had. I wasn't really disappointed with my races themselves – my times were great – but I got beat so it's definitely nice to erase all that with a gold medal today. I used the energy from my previous races to fuel the Mass Start. I also had the perfect teammate to help me; Val led so many laps today and we worked so well together, which is just what I needed. Our team has done so well at these World Championships and I'm super proud."
– Ivanie Blondin
"I'm pretty happy. I've been close a few times now, which inspired how I raced today. Antoine and I were planning to work together and had developed a few options for how we could both individually succeed. I had certain guys I wanted to keep an eye on and then look for my moment to make a move. The race was a bit different than how we thought in the beginning, with the group heading up the track early on. When I caught up, I went on the attack and ended up with silver."
– Jordan Belchos
"This medal at the senior level proves that I am capabale of being among the world's best. For me, that's mission accomplished. I came back to speed skating four years ago in part because of the Mass Start, so it's fun to see that I can perform in the distance where I have dreamed of winning a medal. My strategy going into the race was the complete opposite of what happened. I was aggressive and did not conserve my energy, but it all worked out in the end. My legs had enough stamina even if the last lap was tough."
– Antoine Gélinas-Beaulieu