The COVID-19 pandemic not only cancelled the 2020 HarbourCats season, it also stalled the debut of a number of quality players in HarbourCats blue and white.
The HarbourCats are happy to announce that three of those players will get their chance to make that debut in 2021, as Cole Posey (New Mexico), Willie Lajoie (Chico State) and Mason Eng (UC Santa Barbara) have re-upped to join the HarbourCats next summer.
Also signed was Langley, BC native Russell Young (Gonzaga), who spent time on the Canadian Junior National Team last spring prior to heading off to college.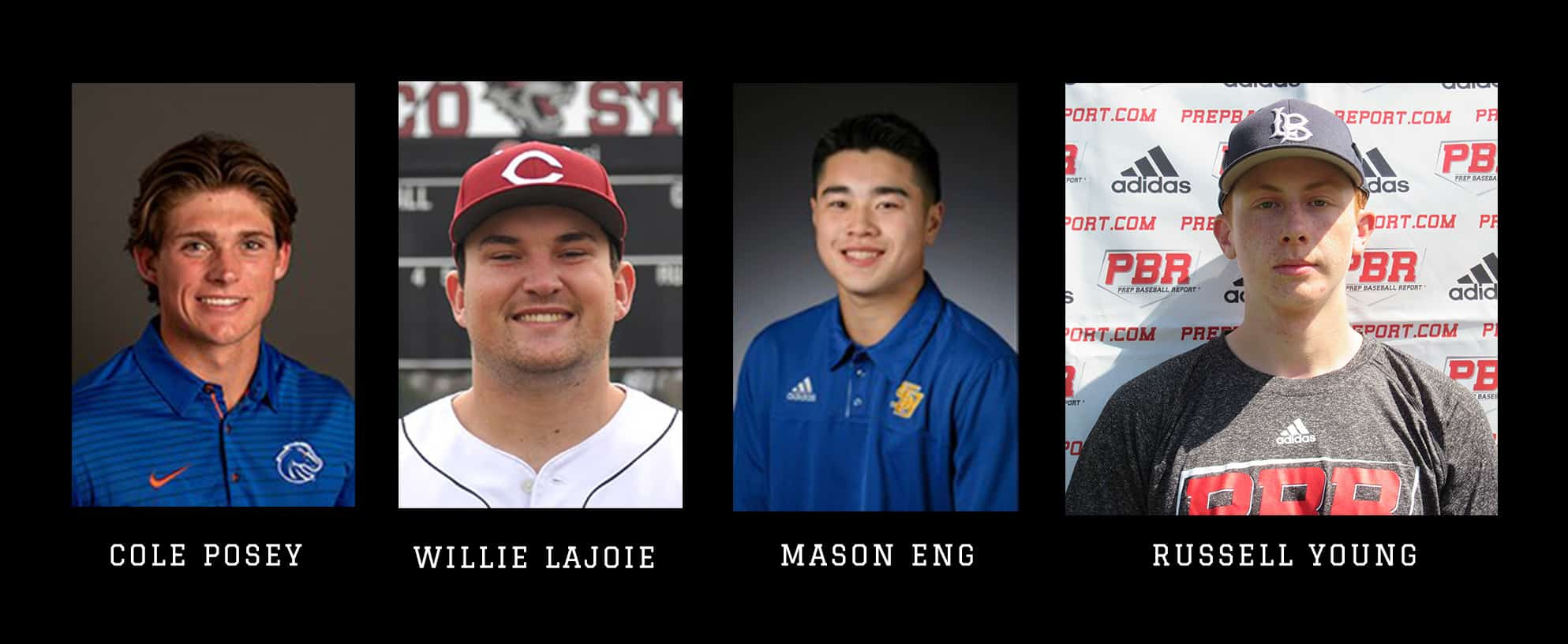 Posey is a 5-10, 185 lb. middle-infielder from Georgetown, Texas, who is entering his freshman year at New Mexico after initially signing with Boise State for 2020. He played 11 games there last spring before that program was shut down permanently, in part due to the COVID-19 crisis. A multi-sport star in high school, Posey ranks in top five all-time in Texas high school baseball history with 109 stolen bases. He played briefly for the Ridgefield Raptors in 2019.
Lajoie, a 5-11, 190 lb. infielder is the great nephew of baseball Hall of Famer Nap Lajoie, who played in the classic era — spending 1896-1916 for the Philadelphia Phillies/Athletics and the Cleveland Bronchos/Naps. Lajoie, from Irvine, California was a standout junior college hitter at Saddleback College, batting .321 in his two seasons with the Gauchos, collecting 27 extra-base hits and 87 RBI. In 21 games for Chico State in 2020, Lajoie hit .410 with three home runs and 18 RBI.
Eng, a 5-7, 165 lb. catcher from San Jose, California, is in his Freshman year at UCSB, and was an impressive 6 for 15 (.400) for the Gauchos in the abbreviated 2020 season. At Bellarmine College Prep, Eng caught for three years, earning second team all-league in his senior year, hitting .296 in 2017 and in 2018 hit .316 with 2 HR, 7 runners picked off, and 15 caught stealing.

HarbourCats fans hope to see a lot of this type of celebration from Lajoie in 2021 (Photo Chico State Baseball)
Young, a 5-11, 185 lb. catcher from Langley, British Columbia, is in his freshman season with Gonzaga and is a product of the Langley Blaze program in the BC Premier Baseball League, where he led the team in 2019 with a .398 average. He joined the Canadian Junior National team in the spring of 2020, participating in games in Florida in March, prior to the COVID-19 shutdown.
"We are excited to announce these players," said HarbourCats Hitting Coach and Director of Player Development Curtis Pelletier. "Eng and Young give us strength behind the dish and at the plate, Posey provides defensive strength up the middle and Lajoie is a hard-hitting first baseman who we know will love the hitting friendly dimensions of Wilson's Group Stadium."
The four players announced today add to previously announced local players Noah Takacs (Sacramento State), Josh Walker (Sacramento State) and Eric Luchies (Lower Columbia), as the HarbourCats continue to build their roster for the 2021 season.