The Cowlitz Black Bears used a four- run sixth inning Thursday night at Wilson's Group Stadium to beat the Victoria 7-4 and spoil the HarbourCats Canada Day Fireworks celebration.
Jon Mocherman was lights out on the bump for the Black Bears this evening, only surrendering four hits and one run through six innings of work. Mocherman also struck out three while walking two, which was the fewest strikeouts he has recorded in his five starts this season. His counterpart Noah Takacs ended the night after five innings, surrendering no runs on just three hits. He did walk four, but was much better than his last time out at Ridgefield and had the help of his defence to get out of some early trouble.
Jon Mocherman on the mound for the Black Bears (Photo: Christian J Stewart)
The HarbourCats struck first in the bottom of the 3rd inning thanks to a Jesse Brown's third home run of the season. That was the only offensive output for the HarbourCats crowd of 3,782 to get excited about until the 7th inning.
Jesse Brown takes a moment to admire his long home run (Photo: Christian J Stewart)
Cowlitz jumped out to a 4-1 lead in the top of the 6th after starting the inning with two home runs on two straight pitches. Those home runs came off the bats of Alec Arnone and Nick Hovland who gave HarbourCats reliever Josh Verdon a rude welcome into the West Coast League.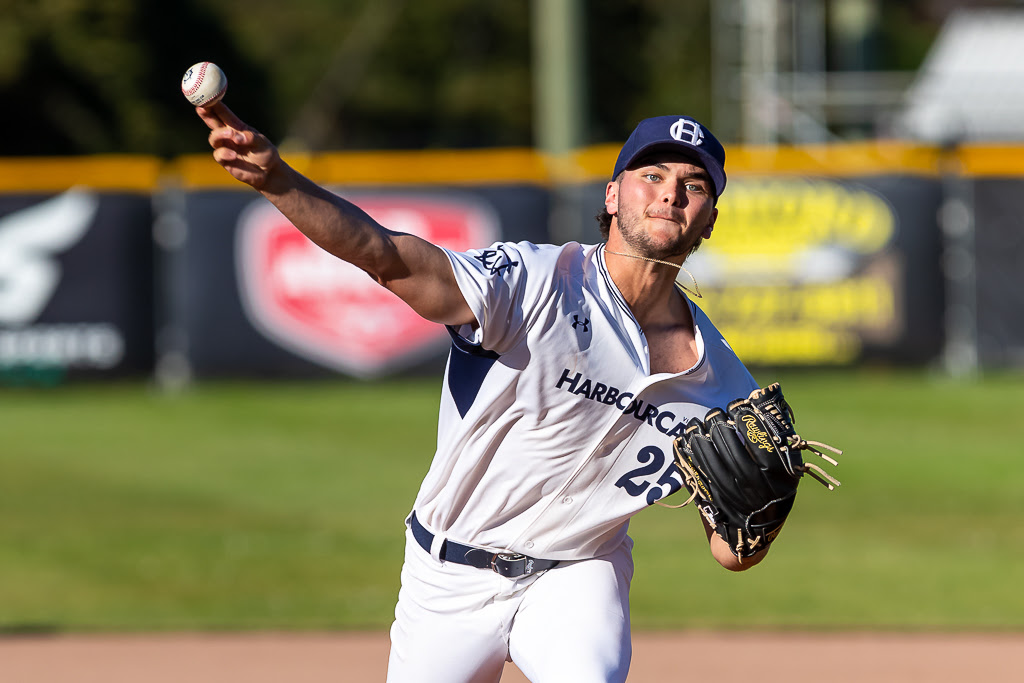 Noah Takacs made a very nice start Thursday for the HarbourCats with 5 shutout innings (Photo: Christian J Stewart)
The Black Bears would make that lead larger in the top of the seventh after Ethan Stacy's RBI single pushing the lead to 6-1 at the time. Victoria's bats couldn't be held down for long however, as they rallied for three in the bottom half of that seventh inning.
The HarbourCats come together to celebrate Jesse Brown's (5) homerun (Photo: Christian J Stewart)
Grady Morgan would first pick up an RBI single to plate Luke Cheng, who had doubled to lead off the inning. Roberto Gonzalez would then pick up the slack, sending two Cats players home to cut the deficit to two. That hit was one of four for Gonzalez Thursday evening.
Roberto Gonzalez continues to impress with his four hit effort (Photo: Christian J Stewart)
Cowlitz added another run for good measure in the top of the eighth after a dropped third strike would allow Nick Hovland to score. That would suck the energy out of Royal Athletic Park until the bottom of the ninth.
The HarbourCats would have a late rally that started with a Josh Rolling double down the left field line. He was then singled home by Grady Morgan. Victoria's  rally would be cut short after Colton Moore struck out looking to strand base runners on the corners.
Joseph Redfield gets back safely to first on an attempted pick off (Photo: Christian J Stewart)