Colton Moore's RBI double in the bottom of the eighth inning helped the Cats not only break through on the scoreboard, but come from behind and steal a game from the Kamloops NorthPaws 2-1 Sunday afternoon at Wilsons Group Stadium in Victoria. A perfect way to wish Harvey the HarbourCat his ninth birthday.
Victoria only put 3 hits up on the scoreboard on Sunday afternoon in front of 2,082 fans at Wilson's Group Stadium but a eighth inning rally allowed them to steal a win and series with a gutsy performance. They now are 3-4 in the second half of the season and this 2-1 series victory over the Kamloops NorthPaws could not have come at a better time.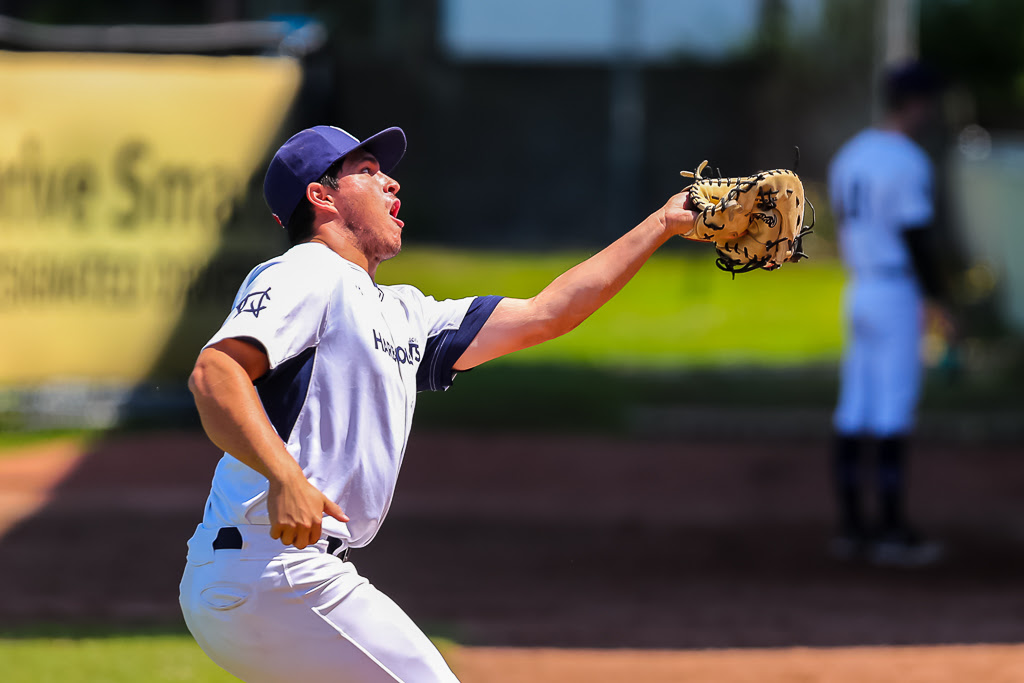 John Ceccoli goes a long way to make a eyepopping basket catch (Photo: Christian J Stewart)
That entire eighth inning rally started after Roberto Gonzalez reached first on a dropped third strike which then led to a five pitch walk to Joseph Redfield in an uncompetitive at bat from Kamloops hurler, Kole Turner. Colton Moore, who leads the team in runs batted in, then added to his total with a double down the third base line to score Gonzalez for Colton's 22nd RBI of the year, which is also good enough for third in the North division.
Colton Moore picked up his 22nd RBI of the season to lead the HarbourCats in the eighth inning (Photo: Christian J Stewart)
Joseph Redfield would then score on a wild pitch, giving the HarbourCats a 2-1 lead that would hold up for their second straight win as Jack Seward came out of the bullpen for the ninth and closed things down with a 1-2-3 ninth inning and displayed visible energy after striking out Daniel Martin to put a cherry on top of a lovely afternoon at the park.
Mascots from around the city were in attendance to celebrate Harvey's birthday, and decided to get in on the line up exchange (Christian J Stewart)
It was a pitching duel to say the least at Royal Athletic Park, as only five hits were recorded between the two teams until the top of the seventh when Kamloops scored their first run. Both starters were nearly untouchable as the HarbourCat's Cooper Crompton went six innings with no walks, three hits, eighth strikeouts and no runs. On the other side, Sean Heppner also went six innings while allowing no runs on two hits and walking four Cats batters.
Cooper Crompton retired the first nine batters he faced for the HarbourCats (Photo: Christian J Stewart)
Sam Walbridge picked up the win for the HarbourCats Sunday afternoon after coming into the game in the seventh inning and pitching two innings of two hit and three strikeout ball. He did surrender the first run of the game but it was unearned however, due to a two base error.
Roberto Gonzalez picked up another hit giving him 14 hits in his last eight games. He has quickly become a fan favorite in Victoria with his consistent play and catchy walk up tune which never fails to get the HarbourCat faithful out of their seats.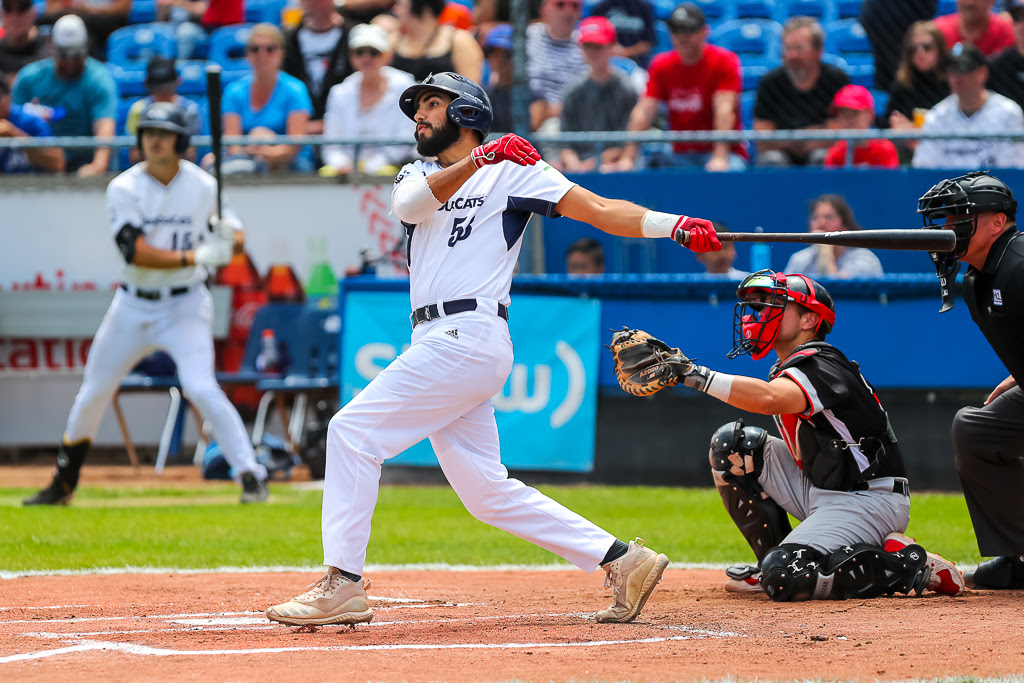 Roberto Gonzalez doubles down the third base line in the bottom of the first (Photo: Christian J Stewart)