Saskatchewan Huskie Sabine Dukate leads the conference awards pack, as the Latvian has been named the 2018-19 Canada West Women's Basketball Player of the Year.
The veteran guard earned the award after being selected by the conference's 17 women's basketball head coaches, who picked all six of the CW major awards announced Thursday.
Dukate was one of two Huskies to earn an individual award, as teammate Summer Masikewich (F) claimed the Defensive Player of the Year award.
Saskatchewan is set to host the CW Women's Basketball Championship Game this Friday night in Saskatoon. The game is set for 7 p.m. CST and can be seen live on SaskTel max TV channels 49/349 in Saskatchewan, along with TELUS Optik TV on channels 998/9998 in Alberta and British Columbia.
The game is also available on Canada West TV.
Along with Dukate and Masikewich, Trinity Western's Nicole Fransson (F – Rookie of the Year), UBCO's Jordan Korol (F – Student-Athlete Community Service), and Alberta's Brooklyn Legault (F – Courage Overcoming Adversity) also claimed awards.
Calgary's Damian Jennings rounds out the individual honourees, as he was named the CW Coach of the Year.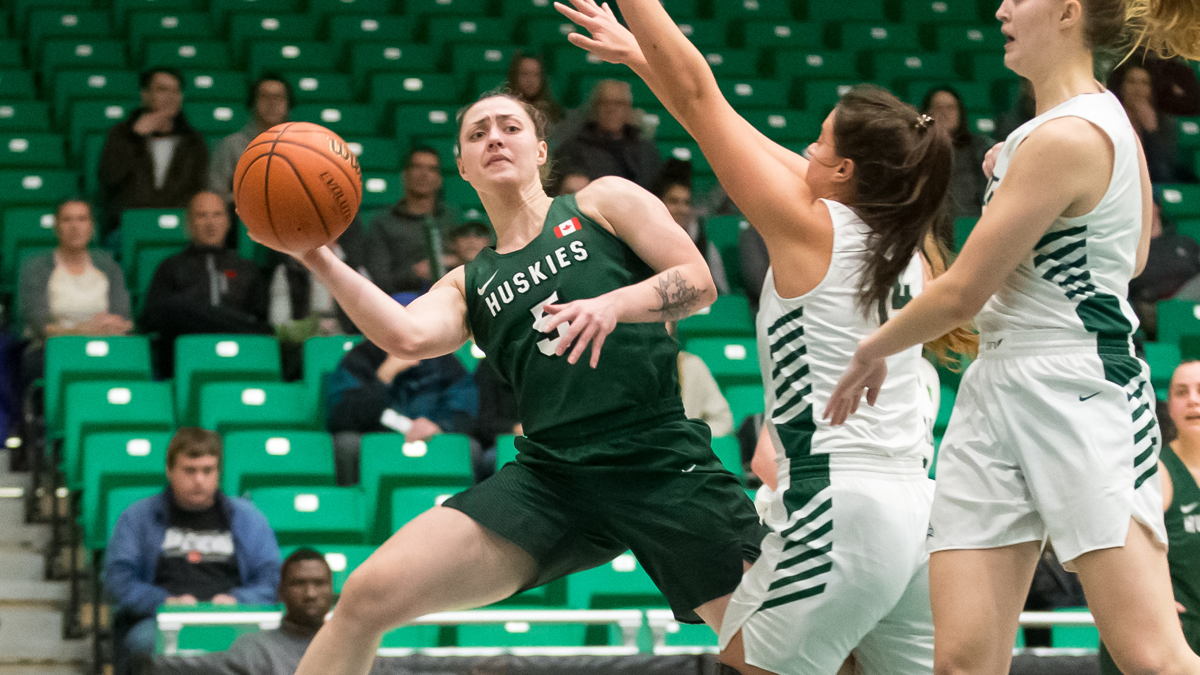 PLAYER OF THE YEAR: Sabine Dukate
Saskatchewan Huskies

Guard

4th-year

Ventspils, Latvia

Arts & Science
After leading the Saskatchewan Huskies to the top seed in the playoffs, Sabine Dukate is the conference's Player of the Year.
Dukate helped Saskatchewan to a 16-4 record, starting all 20 regular season contests. The Arts & Science student led the conference in three-pointers with 67, while finishing second in three-point percentage at 43.
Her total of 23.2 points per 40 minutes was seventh in the conference, while her 117 field goals was ninth best in Canada West.
Coach's comments:
"I'm thrilled to see Sabine being honoured for her performance on the court this year. From the day Sabine arrived on campus, we knew she would be a special player for us. Her unbelievable shooting ability with unlimited range, combined with her speed and athleticism, provides our team with a dimension that is truly unique. I'm so proud of Sabine and the work that she has put in to be recognized with this honour." – Saskatchewan Head Coach Lisa Thomaidis.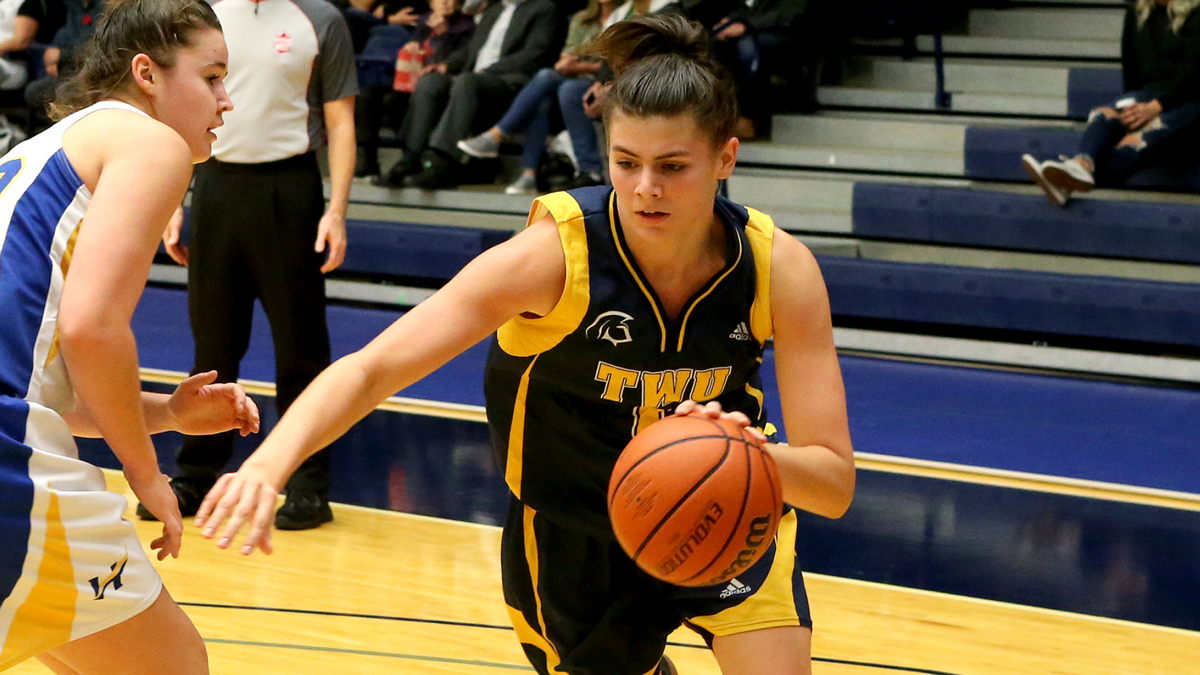 ROOKIE OF THE YEAR: Nicole Fransson
Trinity Western Spartans

Forward

1st-year

Edmonton, Alta.

Science
Edmonton's Nicole Fransson is the conference Rookie of the Year after making an impact for the Trinity Western Spartans.
The first-year forward finished fourth on the Spartans in scoring, averaging 11.6 points per game, as TWU went 12-8 this season.
It didn't take long for Fransson to make her presence felt, as she posted double-digit point totals in seven of her first 10 CW games.
Coach's comments:
"It's been a pleasure watching the trajectory of Nicole's development this season. From the beginning of pre-season all the way through to playoffs, she continued to demonstrate a willingness to learn, to improve and to compete, becoming not only one of the top scoring and rebounding rookies in our conference and country, but doing so in a league of dominant forwards that are years ahead of her.
She was able to step up when others were out with injury and displayed a game readiness beyond her years. She didn't back down from tough match-ups, always wanted to know how she could become more competitive, and came back better every time she stepped into the gym. We really look forward to seeing her continued development in the years to come with the opportunities she has had to learn from playing with and playing against some of the best in Canada West." – Trinity Western Head Coach Cheryl Jean-Paul.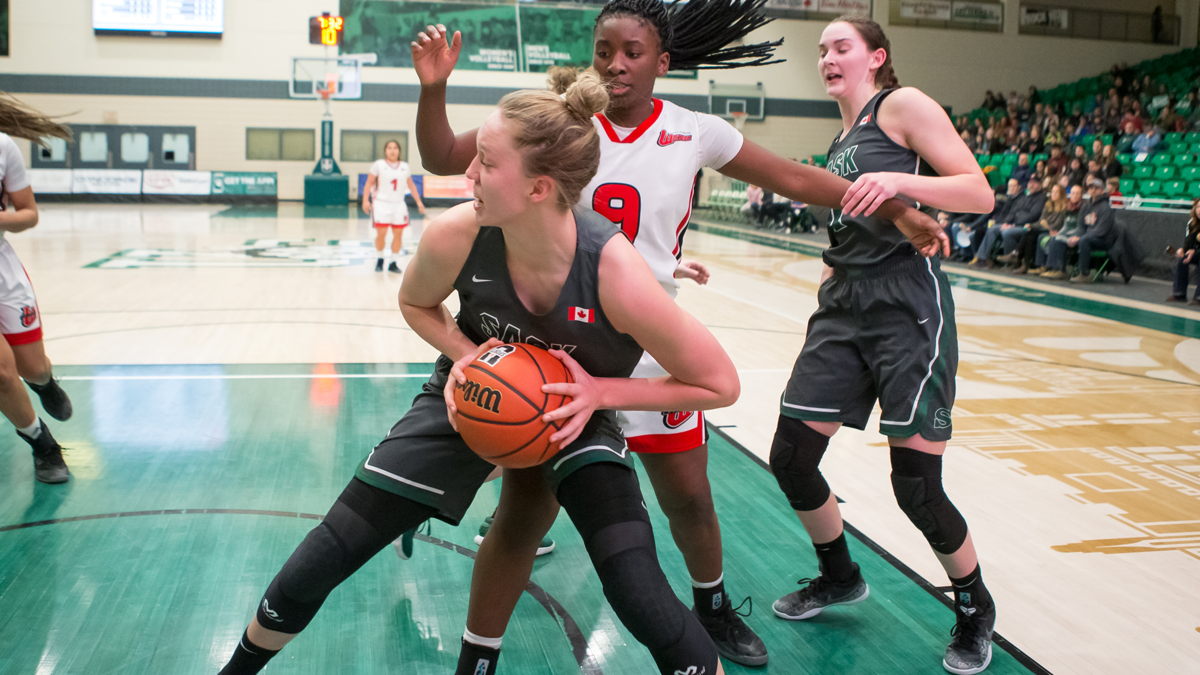 DEFENSIVE PLAYER OF THE YEAR: Summer Masikewich
Saskatchewan Huskies

Forward

3rd-year

Calgary, Alta.

Arts & Science
Second team all-star Summer Masikewich is the Canada West Defensive Player of the Year.
The third-year forward was a force at both ends of the floor for the Huskies, as she started all 20 games for Saskatchewan.
Masikewich finished fifth in conference shooting percentage at 48.6 per cent, was fourth in offensive rebounds with 67, and sixth in the conference in blocks with 19.
Her tough defence helped the Huskies yield a conference best 56 points per game.
Coach's comments:
"Summer comes to the gym every day to work hard and get better, so I'm excited to see her get this well-deserved recognition. She has been an anchor for us all year at the defensive end due to her ability to defend all five positions on the floor. Her defensive presence is a big reason why our team had the league best points-against average this season." – Saskatchewan Head Coach Lisa Thomaidis.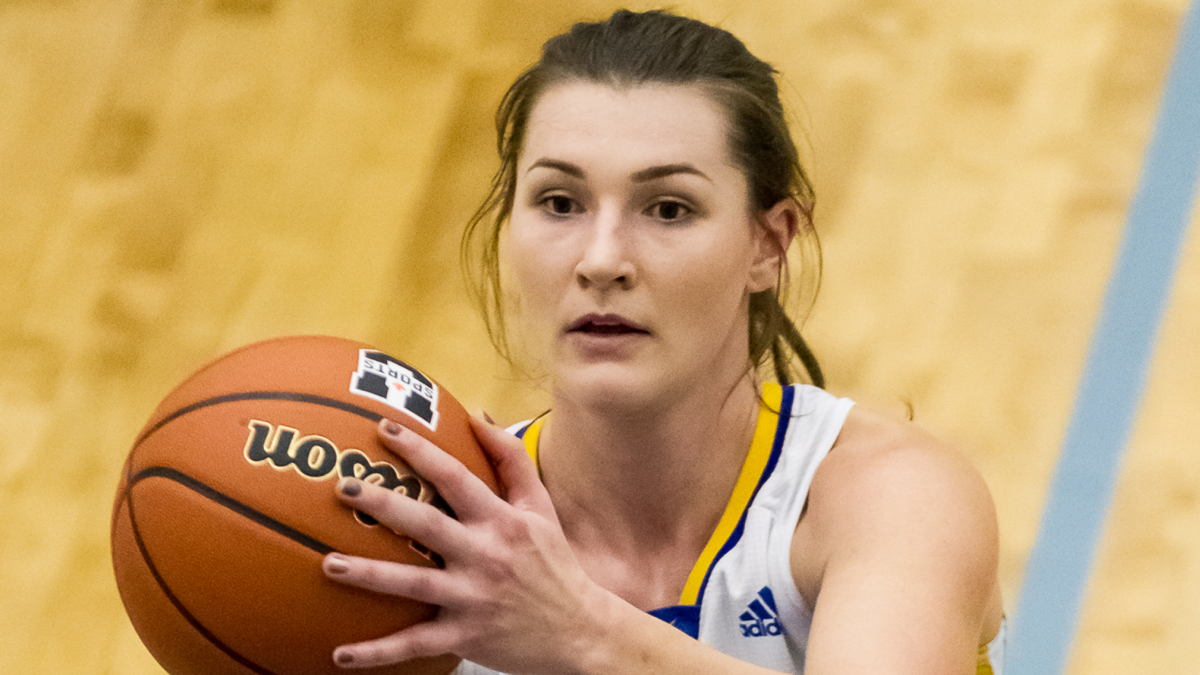 STUDENT-ATHLETE COMMUNITY SERVICE: Jordan Korol
UBC Okanagan Heat

Forward

4th-year

Coldstream, B.C.

Arts
Academic All-Canadian Jordan Korol is the Student-Athlete Community Service award winner after an outstanding 2018-19 season.
The UBC Okanagan forward averaged a double-double this season for UBCO, averaging 13 points and 10.2 rebounds per game. Her 204 total rebounds was second best in the conference this season.
A cancer survivor herself, Korol has made an impact off the court volunteering for the BC Cancer Society, and is strong in the classroom as well, with a fall semester average of 94.
Coach's comments:
"I think I can speak for not only the women's basketball team but the entire Heat family that we are all very proud of Jordan to win this award, a first for the school and program.  Jordan is the perfect example of how a student-athlete should carry themselves on and off the court and she does it consistently. For our women's program she's laying the foundation for what the Heat way looks like. Players already in the program or those coming in don't need to look very far to see this example. Again, we are all very proud of her." – UBCO Head Coach Bobby Mitchell.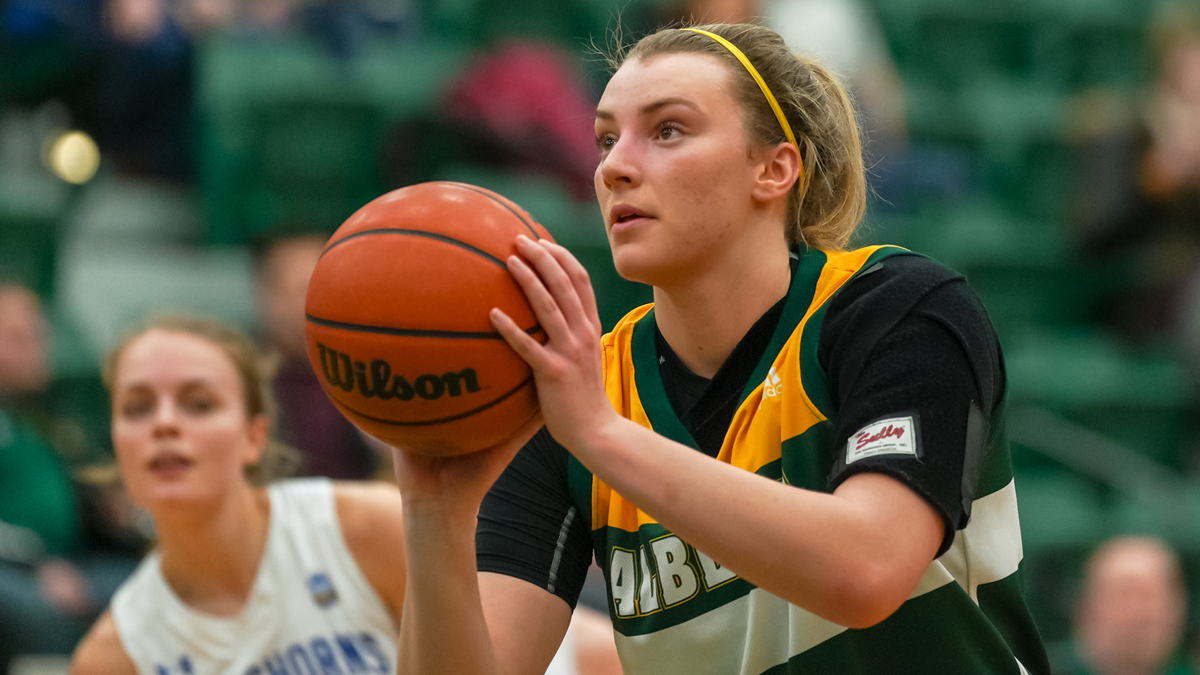 COURAGE OVERCOMING ADVERSITY: Brooklyn Legault
Alberta Pandas

Forward

3rd-year

North Vancouver, B.C.

Kinesiology, Sport, & Recreation
After claiming the Canada West and U SPORTS Rookie of the Year award in 2016, Alberta Panda Brooklyn Legault has had to work for every moment on the court.
The third-year forward suffered a broken foot in November of 2016, return to action in February of 2017, only to suffer a shoulder injury which proved significant.
After battling injuries for the better part of two seasons, Brooklyn showed grit and determination to get back on the court, as she played 16 games this season for Alberta, averaging just under 20 minutes per game.
The stingy defender made her presence felt, finishing sixth in the conference with 19 blocks for the 15-5 Pandas.
Coach's comments:
"When Brooklyn joined our program we knew she was going to be a special player. There are, unfortunately, many athletes who have been injured, missed seasons and returned to play. There are fewer still who have had to do this multiple times during their careers. Brooklyn has, through surgery, rehab, her own doubts and challenges, been able to succeed due to sheer will and determination. Brooklyn is an example of what hard work, a positive attitude and a never quit mentality can do. It's just a treat to watch her play again and succeed in the game she loves." – Alberta Head Coach Scott Edwards.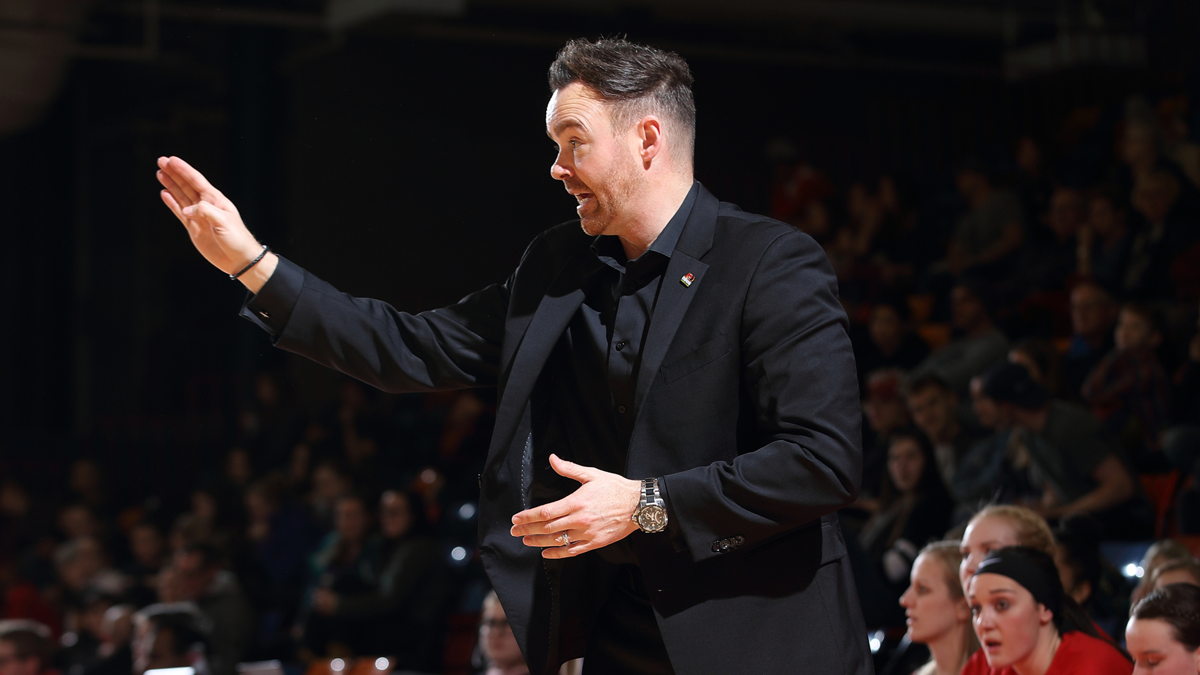 COACH OF THE YEAR: Damian Jennings
For the second time in his seven-year Canada West career, Damian Jennings is the conference's Coach of the Year.
Jennings guided the Calgary Dinos to a 17-3 record this season, recording the sixth double-digit win total in his seven years guiding the program
An assistant coach at the 2012 London Olympics for Team GB, Jennings previously claimed the conference's top coaching honour back in 2012-13 after guiding Calgary to a 19-3 record in his rookie season in the Stampede City.
Athletic director's comments:
"Damian has done a tremendous job creating a culture where excellence is the standard in both the classroom and on the court. The rise of the Dinos women's basketball team into a consistent Canada West contender is a direct reflection of his dedication to student-athlete development. His dedication to growing the game through community outreach and coach education is crucial in the continued development of the sport in Calgary." – University of Calgary Director of Athletics Jason Kerswill.