Mark November 1st on your calendars, as Canada West hoops action is set to return.

The 2019-20 CW men's and women's schedules were unveiled Tuesday, with changes to the conference playoffs the biggest news of the day.

Regular season play opens at the start of November, before eventually wrapping up Saturday, February 8th.
CLICK HERE FOR THE COMPLETE 2019-20 SCHEDULE
The first round of the conference playoffs remain unchanged, and will once again feature single-elimination games between the No. 5 through 12 seeds, while the top four seeds earn a bye (seeding determined by RPI). The teams advancing from the play-in round will be re-seeded 5-8 ahead of the revamped quarter-finals.
Both the quarter-final and semifinal rounds have been compressed, both in terms of the number of games and weeks.
Instead of best-of-three quarters and semis, both rounds will now be single-elimination games, being played the same weekend. The top two seeds will host each side of the draw, with the winners eventually meeting the following weekend in the Canada West Championship game.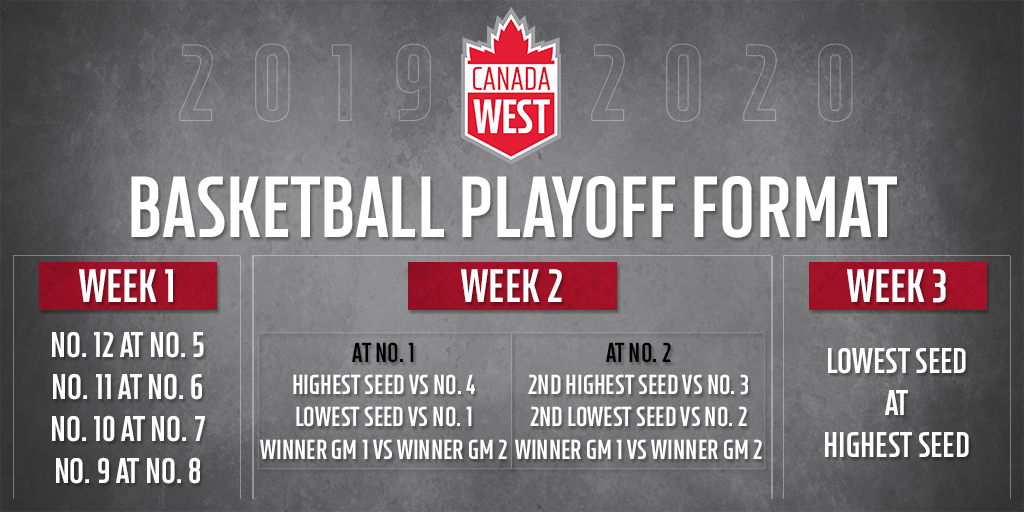 The changes were formally approved earlier this year after CW membership indicated a desire to condense the playoffs to three weeks.
Aiming to defend their conference titles will be the University of Saskatchewan Huskies women's squad, along with the University of Calgary Dinos men's team.
Both teams have experienced tremendous success recently, with Saskatchewan winners of four of the last six CW women's titles, while Calgary has claimed three of the last four men's banners.
For fans looking to watch every conference game, 2019-20 Canada West TV passes are now on sale, with the best early-bird pricing available until the end of June. An all-access pass ($79.99), or a basketball sport pass ($31.99), can be purchased by clicking here.
2019-20 SCHEDULE RELEASES
Monday, June 10: Volleyball (men's and women's)

Tuesday, June 11: Basketball (men's and women's)

Wednesday, June 12: Hockey (men's and women's)

Thursday, June 13: Soccer (men's and women's)

Monday, June 17: Field hockey

Tuesday, June 18: Rugby 15s

Wednesday, June 19: Championship sports (golf, swimming, curling, track & field, wrestling)