There was time when athletic teams from Spectrum Secondary School in Victoria, B. C., were primarily known for being the only high school in B.C. without a team nickname.  What is less known is Spectrum's athletic alumni have won national university and professional championships on both sides of the U. S. – Canada border while others have excelled on an international stage at both Winter and Summer Olympic Games and the school wants to celebrate this history of success with the inaugural induction class for the Spectrum Alumni Athletic Hall of Fame.
The idea for creating the Spectrum Alumni Athletic Hall of Fame was developed with the help of a group of teachers, coaches and administrators at the school along with the Spectrum Alumni Association.  The goal was to shine a spotlight on the school's long history of success on the courts and the fields throughout the province over the years with the hope of educating the Spectrum school community about these successes and the athletes who attended the school along with its predecessor Mount View Secondary School, which closed in 1974; Spectrum opened in 1974 on the same site in the same building and the new school construction was not completed until 1975 at its present site.
"Spectrum and Mount View combined have had a long history of athletic success, but our committee did not think there had been enough done to celebrate this success over the years," said Spectrum teacher and athletic director Dom Butcher.  "We want to celebrate the past and inspire those in the present toward future excellence."
This inaugural induction class includes 20 athletes who competed at either Spectrum or Mount View high-school.  The accomplishments of the inductees while they attended high school and after they graduated were considered in making the selections.   A formal induction ceremony will be held once the pandemic has passed.
"This induction celebrates both schools' rich history in athletics while also acknowledging our community and place," said Spectrum principal Bruce Bidney.  "I would like to congratulate the inductees and thank the hall of fame committee members for their hard work on this project."
"We want to recognize what these people have done during their athletic careers and highlight their connections to our school," added Butcher.  "I think people will be surprised to see some of these athletes attended Spectrum or Mount View and the wide range of sports these athletes represent."
Individual plaques with photos of each inductee and a summary of their accomplishments are now hanging along the wall at the entrance to the school's gym where there is space to celebrate more successes in the future.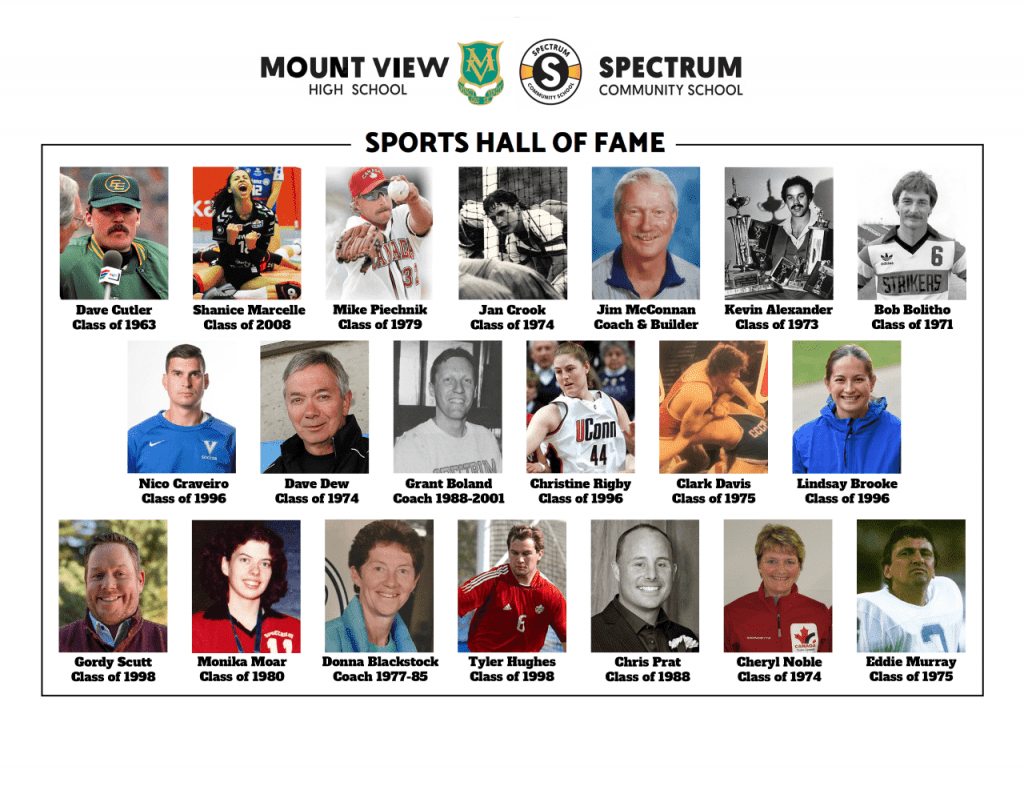 "We have a long list of athletes who we hope potentially to induct in future years," said Butcher.  "We have lots of wall space to add names and hopefully we will keep producing student athletes who want to earn a spot alongside these school legends."
The list of inductees in the inaugural class of the Spectrum Alumni Athletic Hall of Fame is as follows:
Kevin Alexander:  When the discussion takes place about the greatest players in the history of lacrosse, Kevin Alexander has earned a place on the short list.  Alexander led Victoria McDonald's to the 1976 Minto Cup junior lacrosse national championship when he scored 217 points in 28 games.  In his senior lacrosse career with the Victoria Payless / Shamrocks and the Nanaimo Timbermen, Alexander amassed Gretzky-like numbers with 797 goals and 584 assists in 300 Western Lacrosse Association games covering 10 seasons while winning two Mann Cup senior lacrosse championships.  Alexander was also a star member of the Buffalo Bandits team which won professional National Lacrosse League championships in 1992 and 1993.  He was also a field lacrosse star being named to the All-World Team as a midfielder during the 1986 world field lacrosse championship tournament.
Donna Blackstock:  Unlike their paid U. S. counterparts, high-school coaches in B. C. spend thousands of hours volunteering their time in gyms and on fields around the province with very little fanfare.  Donna Blackstock was an early coaching star at Spectrum.  Coaching several sports during every season of play, the former University of Victoria basketball player was the backbone of the female coaching staff at Spectrum in the 1970s and 1980s.  Blackstock led the Spectrum senior girls volleyball team to the school's first two provincial championship tournaments in 1978 and 1979.  Blackstock has also shown she is no slouch on the athletic fields herself as she was a member of the Doc's Blues senior women's fastball team which earned a silver medal at the women's world fastball championships while she was also a member of the team which won a silver medal in women's triples at the Canadian senior women's lawn-bowling championships.
Grant Boland:  Grant Boland was a local high-school basketball star who played for legendary coaches Don Horwood at Oak Bay, Stan Stewardson at Simon Fraser and Ken Shields at the University of Victoria.  With lessons learned from these legends of Canadian basketball, Boland brought his knowledge to the Spectrum gym to develop teams which won the 1990 Vancouver Island 3A basketball championship and qualified for the provincial championship tournament. During his tenure on the bench at Spectrum, Boland's teams never had a losing record and they were perennial contenders at the Lower Island and Vancouver Island playoff levels.
Bob Bolitho:  Mount View grad Bob Bolitho had one of the most successful homegrown Canadian soccer careers in the country's history.  After leading his Mount View team to a Colonist Cup soccer championship in high school, Bolitho used his play with the Victoria-based London Boxing Club as a springboard to roles with the Canadian national team and the Vancouver Whitecaps of the North American Soccer League.  Bolitho started for Canada at the 1976 Montreal Summer Olympics and he earned 37 caps over seven years with the Canadian national men's soccer team program.  With the Whitecaps, Bolitho was a member of the team from 1977-1980 and won the 1979 NASL Soccer Bowl championship over the Tampa Bay Rowdies at Giants Stadium.
Lindsay Brooke:  While small in stature, Lindsay Brooke was a giant on the court and one of the best point guards ever to play B. C. high-school girls basketball.  Brooke led Colquitz to a B. C. junior championship in 1994 before moving up the road to lead the Spectrum no-names to a B. C. 3A girl championship win over Salmon Arm in 1995 before losing to Thomas Haney in the 1996 championship final.  After Spectrum. Brooke moved into the starting lineup for legendary UVic women's basketball coach Kathy Shields and she led the Vikes on the court for five seasons producing Canadian Interuniversity Sports national championships in 1997 and 1999.  While playing at UVic, Brooke was named a first-team All-Canadian in 2000 when she was also selected as the winner of the TSN Sylvia Sweeney Award for her combined academic, athletic and community efforts.
Nico Craveiro: Nico Craveiro played both basketball and soccer when he attended Spectrum, but it was on the soccer field where Craveiro showed his best talents.  After helping his Spectrum team to win two Lower Island soccer league championships, Craveiro earned a scholarship to play soccer at Fresno State University.  He would later return home to suit up for the UVic men's soccer team where he earned a CIS All-Canadian award in 2000.  Craveiro continued his soccer career as a member of the Vancouver Whitecaps program from 2002-2004 before he was later named a member of the Canadian national men's futsol team.  He is still involved in the local soccer community as an assistant coach with the UVic men's soccer team while also serving as the technical director for the Bays United Soccer Club.
Jan Crook:  Jan Crook was a multi-sport force when she attended Mount View.  Crook was named an honorable-mention all-star at the 1974 B. C. high-school girls basketball championships before she also won a Lower Island shot put championship.  She then attended UVic where she became the first in a long line of locally-developed star field hockey players.  Crook was named UVic's rookie athlete of the year in 1975 and in 1978 she earned the President's Cup for the athlete best combining athletic and academic success.  From 1974-1981, Crook was a member of the Canadian women's national field hockey team and she competed in four world championship tournaments, serving as team captain in 1981.  After her playing career finished, Crook moved to the sidelines where she served as the women's field hockey head coach at the University of Saskatchewan (1980-1982) and the University of Calgary (1983-1988) before she became an assistant athletic director at the U of C (1988-1994).  Not one to sit around long, Crook continues to be active as she competes as a swimmer in the Canadian Masters Championships.
Dave Cutler:  Another Mount View grad known for kicking balls, Dave Cutler started as a star rugby kicker in high school as he led Mount View to a Howard Russell rugby championship for Lower Island schools.  He would join the inaugural football team at Simon Fraser as a walk-on in 1965 and he started kicking as a sophomore when he was bored at practice one day.  Cutler parlayed this random practice activity into a hall-of-fame kicking career with the Edmonton Eskimos of the Canadian Football League.  Cutler scored a professional football record of 2,237 points helping the Eskimos win six Grey Cup championships.  He set CFL records for most career field goals, most points in a career and most points in a season when he retired while being named a three-time western conference all-star, a two-time all-Canadian and being inducted into the Canadian Football Hall of Fame in 1998.
Clark Davis:  Clark Davis turned the solitude of a wrestler's life into a lengthy starring role on the world stage as one of Canada's most decorated wrestlers.  Davis was a three-time Olympian in the 90-kilogram weight category as he earned spots in the boycotted 1980 Summer Olympics in Moscow while competing in the 1984 Games in Los Angeles and the 1988 Games in Seoul with his best showing being a fourth-place finish in Los Angeles.  Davis won a total of 10 gold medals at Canadian junior and senior men's national championships while also claiming two world cup championship titles, two senior men's world championship silver medals and two Commonwealth Games gold medals.  In 1986, Davis finished second behind sprinter Ben Johnson in voting for the Lionel Conacher Award recognizing the Canadian male athlete of the year.  For all his achievements on the wrestling mat, Davis was enshrined in the Canadian Wrestling Hall of Fame in 1994.
Dave Dew:  Dave Dew is a familiar face to anybody who has been around Victoria-area soccer fields during the past five decades.  Dew is one of the most experienced and most qualified soccer coaches in Canada with his work at all levels with both males and females.  Dew has served terms as the head coach with the B. C. provincial team program, the Vancouver Whitecaps women's team and the Victoria Highlanders women's team while also serving as an assistant coach with the Victoria Highlanders men's team and with the Canadian national women's program, including the national U16 and U17 teams and the 1995 women's World Cup in Sweden.  Dew presently works as an assistant coach with the UVic women's soccer team while also coaching the Vancouver Island Wave youth program and the Gorge Soccer Club senior women's team where he also serves as the club's technical director.
Tyler Hughes; Tyler Hughes showed he was a soccer prodigy when he made his debut playing for the Gorge Soccer Club in the Vancouver Island senior men's league when he was only 14 years old.  In 1997, Hughes would lead Spectrum to a Colonist Cup Lower Island soccer championship and a second-place finish at the B. C. high-school soccer championship tournament.  This high-school success helped Hughes earn a scholarship to attend Coastal Carolina University of the Big South Conference where he earned all-conference honors multiple times and he was inducted into the school's athletic hall of fame.  Hughes also earned selections to the Canadian national U18-U23 men's age-group soccer teams before earning a senior men's selection in 2004.  Following an eight-year professional career playing in Canada, Sweden and the United States, Hughes remains involved in the local soccer community as the technical director of the Cowichan Soccer club.
Shanice Marcelle:  Shanice Marcelle graduated from Spectrum to join the University of B. C. women's volleyball program and start a career which saw her leave one of the most impressive legacies in the history of Canadian women's university volleyball.  Marcelle led the Thunderbirds to five consecutive national championships while earning CIS player-of-the-year honors in 2011 and 2013.  She was also named the BLG CIS Female Athlete of the Year across all sports in 2013.  Marcelle played professional women's volleyball in Germany for several years while also playing for Canada's national women's volleyball team and she was the Canadian flag-bearer at the 2013 FISU Student Games and a team member at the 2014 FIVB World Championships.  Marcelle continues to compete as she is pursuing qualification with the Canadian beach volleyball program for the 2021 and 2024 Summer Olympic Games.  She is currently working as an assistant women's volleyball coach at York University in Toronto.
Jim McConnan: Jim McConnan was the backbone of the Spectrum athletic department during his 30-plus-year tenure as a teacher, coach and athletic director at the school.  After helping to oversee the transition from Mount View to the opening of the new Spectrum, "Mac" showed his versatility as a coach over the years as he coached teams in cross country, track and field, boys and girls volleyball, boys and girls soccer, girls basketball, rugby and badminton.  McConnan had more involvement with more students playing with more teams than any other individual coach in the history of the school and without his thousands of volunteer hours an untold number of students would have been denied the opportunity to participate in athletics at the school.
Monika Moar:  Monika Moar was one of the first athletic stars at the new Spectrum when she helped to lead the school to its first two B. C. high-school championship titles at the 1978 and 1979 B. C. girls volleyball championship tournaments while being selected as a provincial all-star both years.  Moar also starred at the club level as she helped lead the YMCA club program to the Canadian U18 national championship in 1978 and a second-place finish in 1979 while sweeping provincial championships both years.  After she graduated from Spectrum, Moar moved down the McKenzie Avenue corridor to play three seasons as a starter with the UVic women's volleyball team.
Eddie Murray:  Eddie Murray played soccer and rugby at Spectrum, but he did not start playing football until after he graduated and he earned a spot with Saanich Hornets playing in the Lower Island Junior Football League.  A scout from Tulane University in New Orleans discovered Murray at a camp and offered him a football scholarship to attend the school as a kicker.  When Murray graduated from Tulane, he left as the school's all-time leading scorer and the Detroit Lions selected him in the seventh round of the 1980 National Football League draft.  Murray would kick for 16 seasons in the NFL earning four all-pro selections, being named to the 1980 NFL all-rookie team and earning a second-team selection to the NFL 1980s All-Decade Team.  One of Murray's highlights saw him kick three field goals to help the Dallas Cowboys win the 1994 Super Bowl.  When he retired in 2000, Murray left the NFL as the league's 12th all-time leading scorer with 1,594 points scored.
Cheryl Noble: Cheryl Noble first made her mark in athletics as a multi-sport star at Mount View in field hockey, basketball, volleyball and soccer while also starring as one of the country's top youth female sprinters.  This diverse athletic experience led Noble to start curling in 1981 which led to an incredibly successful national and international career on the ice.  Noble earned a long list of curling honors, including winning two B. C. mixed championships in 1993 and 2001, two Canadian senior ladies titles in 2008 and 2010 and two World senior ladies championships in 2009 and 2011.  Her competitive curling career reached the highest levels of the sport when her team won a World ladies championship in 2000 and culminated with winning a bronze medal representing Canada at the 2012 Salt Lake Winter Olympics.
Mike Piechnik: After starting his softball career as a youngster playing at local parks in the Spectrum area, Mike Piechnik developed into one of the world's all-time greatest fastball pitchers over his 24- year-plus career playing at the highest levels of club and international men's fastball. The hard-throwing lefthander won four Canadian and two U. S. national club championships while playing with some of the top club teams in the world.  Piechnik was also the pitching workhorse for the Canadian men's national team from 1987-1999 helping the team to win Pan-Am Games gold medals in 1995 and 1999 and a silver medal at the 1996 International Softball Federation world championships.  Piechnik is one of Canada's most honored athletes as he has been previously inducted into seven other sports halls of fame.
Chris Prat:  Chris Prat starred as a multi-sport athlete at Spectrum as he helped the school's teams win Lower Island Colonist Cup soccer and Howard Russel rugby championships.  However, it was in lacrosse where Prat showed his real athletic prowess. Prat earned a scholarship to play field lacrosse at Rutgers University in New Jersey in 1990 before he returned in 1993 to put on the uniform of the powerhouse Victoria Shamrocks playing in the Western Lacrosse Association.  A gifted goal-scorer with a quick shot and a commanding physical presence on the floor, Prat was a first-team WLA all-star selection three times and he helped the Shamrocks win Mann Cup national lacrosse championships in 1996 and 1997.  Over the course of his senior lacrosse career spanning 243 WLA games, Prat scored 294 goals, 351 assists and 645 points.  Prat was also a high-scoring star in the professional National Lacrosse League as he compiled totals of 128 goals, 171 assists and 299 points in 85 games with several teams during seven seasons.  For his efforts, Prat was inducted into the Canadian Lacrosse Hall of Fame in 2011.
Christine Rigby:  When Christine Rigby showed up to basketball tryouts in grade 9, she was a gangly and awkward six-foot-tall athlete trying to find a way to contribute.  By the time she graduated in grade 12, Rigby had grown into a solid 6'6" and she helped her teams to win B. C. championships at Colquitz and Spectrum and she was named the B. C. high-school most valuable player when Spectrum won the 1995 3A-girls provincial championship.  Rigby graduated from Spectrum and spent two years playing at Santa Clara University earning all-conference honors before transferring to play for the legendary University of Connecticut women's program, winning a NCAA national championship in 2000 on a team which featured future WNBA all-stars Sue Bird, Swin Cash and Diana Taurasi. Rigby also played for the Canadian women's junior and senior national basketball teams during her career.
Gordy Scutt:  Gordy Scutt may be the most-unassuming athlete named among the inaugural hall-of-fame class.  Scutt is one of the most successful youth golfers in B. C.'s golfing history.  Scutt won a Canadian juvenile golf championship in 1996 and he was the winner of the B. C. junior achievement award in 1996 and 1997 before he had graduated from high-school.  Scutt built on this early success in 1997 when he finished 13th at the world junior golf championship and he was named Sport B. C.'s junior athlete of the year.  Scutt's hot streak continued in 1998 as he won both the Canadian junior and the B. C. amateur championships while representing Canada at two international tournaments. With an impeccable golf resume already compiled, Scutt earned a scholarship to play golf at the University of Washington in Seattle.  During his career with the Huskies, Scutt earned a second-team all-Pac-10 conference all-star award while winning two tournaments during the 2000 season.  After graduating from the University of Washington, Scutt competed on the Canadian professional tour from 2002-2006 and he has won the PGA of B. C. championship twice while being named the B. C. PGA player of the year in 2014 and 20016.  Scutt currently works as the associate golf professional at the Victoria Golf Club.