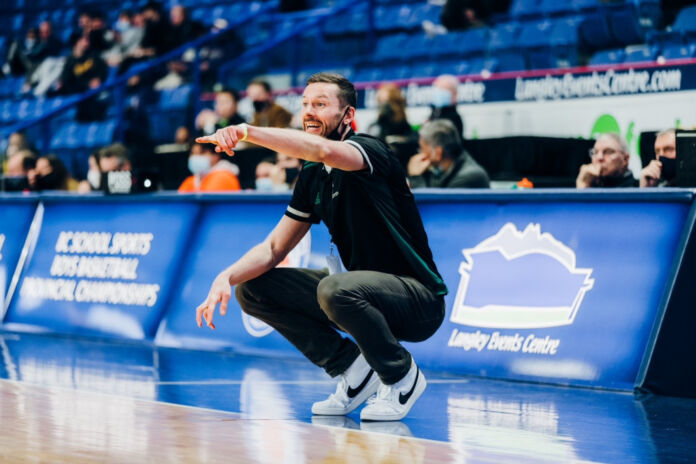 Geoff Pippus will be joining the Chargers as head coach of the men's basketball team starting for the 2022/23 season. Pippus brings a wealth of experience through his academic background, time spent as a player at the post-secondary level, and years coaching and studying the game.
Pippus has worked as a skills development coach with young athletes since 2012, as well as coaching from the bench in various capacities. Most recently, he was the head coach of the Bay Nation U16 team and assistant coach of the Oak Bay High School senior boys' team that won the island championship and placed ninth at provincials this past season.
"I am thrilled and honoured to have the opportunity to work with the team at Camosun," said Pippus. "The team is returning a terrific group of student-athletes and I am eager to earn their trust and help them strive for success both on and off the court."
"I am pleased that Geoff will be the new head coach of the men's basketball team," said Manager, Athletics and Student Life, Scot Cuachon. "I know firsthand the wonderful challenges, joys, and fulfillment coaching this program can bring. More importantly, Geoff is perfectly aligned with Chargers Athletics in our shared belief that sport is a medium for transformative experiences. Our student-athletes will be great beneficiaries of his modernized and evidence-based methods to coaching delivery as a holistic approach. His passion for teaching, advanced education, and playing and coaching experience have set him up as the ideal leader to move the men's basketball program forward."
"We are extremely excited to welcome Geoff to Camosun College, the Chargers athletics department, and the men's basketball team," said Director, Student Affairs, Evan Hilchey. "His passion for basketball and his vision for the team makes him a great addition to the program."
"I believe that post-secondary sport can be a transformative experience for young people, and I hope to lead a program that fosters winning habits and relationships that have a positive lifelong impact," added Pippus.
This past season, the Camosun Chargers men's basketball team finished second in the Pacific Western Athletic Association (PACWEST) regular season. Pippus hopes to improve their 15-5 record next season and push to be a championship contending team.